JMU baseball picked to finish fourth in CAA South Division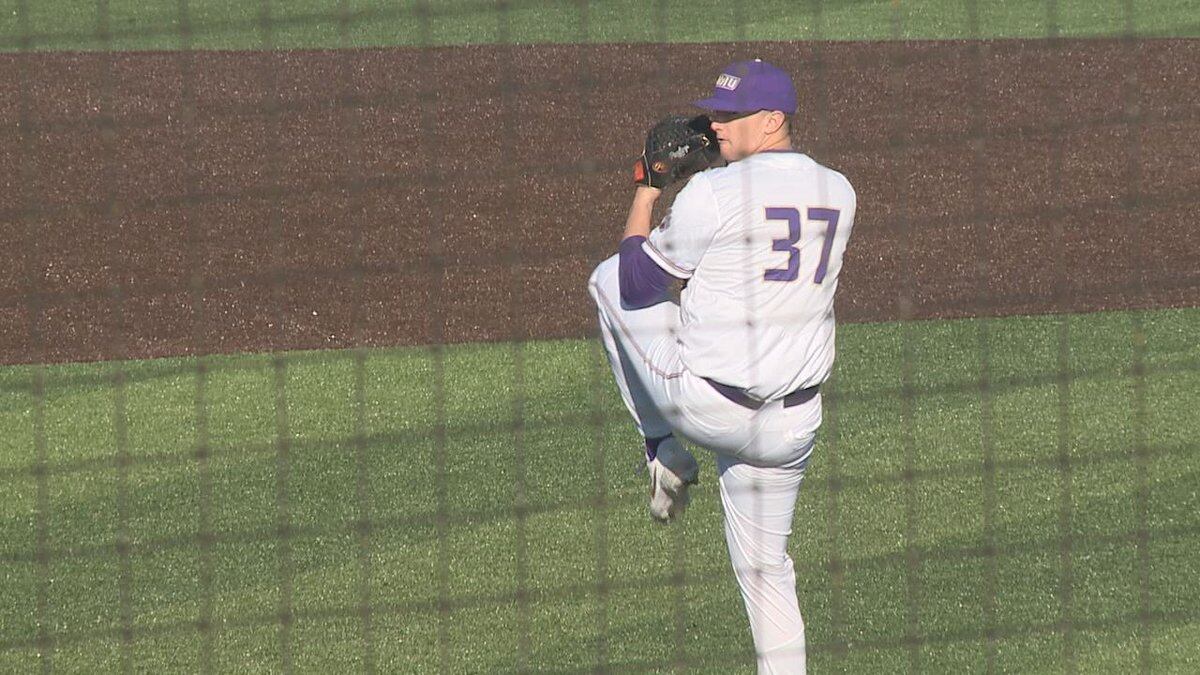 Published: Feb. 5, 2021 at 4:52 PM EST
HARRISONBURG, Va. (WHSV) - The James Madison baseball team has been picked to finish fourth in the CAA South Division in 2021.
The CAA South Division features JMU, UNCW, Charleston, Elon, and William & Mary this spring. The Dukes compiled a 10-6 overall record in 2020 before the season was shut down due to COVID-19.
Press Release from JMU Athletics - Friday, February 5
James Madison two-way player Chase DeLauter, designated hitter Kyle Novak, and pitcher Justin Showalter were all named to the 2021 Preseason All-Colonial Athletic Association Baseball Team, the league announced on Friday morning. The Dukes were selected to finish fourth in the South Division for the season.
UNCW was picked to win the South Division, earning seven first-place votes. Charleston, who received the other two first-place votes, Elon, JMU, and William & Mary round out the South Division. Northeastern was the selected favorite for the North Division with eight first-place votes. Delaware received the other first-place vote, with Hofstra and Towson rounding out the North Division.
The conference is using a divisional format this season to reduce travel and with the health, safety, and well-being of coaches and student-athletes in mind.
DeLauter was selected to the preseason team as an outfielder, although he is a two-way player. He played and started in all 16 games last season and led the team in batting average (.382), runs (14), hits (26), doubles (seven), slugging percentage, and was tied for lead in stolen bases (seven). The Martinsburg, W.Va. native went 0-3 with a 7.98 ERA in four starts. He tossed 14 strikeouts in 14.2 innings pitched. DeLauter also ranked in multiple CAA statistical categories.
Novak earned his second straight appearance on the preseason team heading into the 2021 season. He led the team last season in RBIs with 16, and finished the year with a slash line of .317/.460/.361. The Oakton, Va. native finished with 20 hits, three doubles, and two home runs in 16 games of action.
Showalter appeared on the preseason team after a strong 2020 season. He appeared in five games, starting four, and went 4-0 with a 0.68 ERA. He threw his first career shutout last year and led the team in innings pitched (26.2) and strikeouts (21). The Bridgewater, Va. native kept opposing hitters to a .144 average, and didn't allow an earned run in 25.2 consecutive innings which was the longest streak in program history since 1995.
The Dukes open up their 45th season of Division I ball on Friday, March 5 at home against Bowling Green.
2021 CAA BASEBALL PREDICTED ORDER OF FINISH
North Division
Northeastern (8 first-place votes) 29
Delaware (1 first-place votes) 19
Hofstra 16
Towson 12
South Division
UNCW (7 first-place votes) 35
Charleston (2 first-place votes) 30
Elon 18
James Madison 17
William & Mary 10
2021 CAA BASEBALL PRESEASON ALL-CONFERENCE TEAM
Player, School Pos. Cl. Hometown
Matthew Trehub, William & Mary C Sr. Southborough, Mass.
Joseph Carpenter, Delaware IF Jr. Cornwall, Pa.
Ian Fair, Northeastern IF Jr. Walpole, Mass.
Austin Gauthier, Hofstra IF Sr. Lorton, Va.
Scott Holzwasser, Northeastern IF Sr. Sudbury, Mass.
Ari Sechopoulos, Charleston IF Sr. Windsor, Ontario, Canada
Cole Weiss, UNCW IF Sr. Winston-Salem, N.C.
Noah Bridges, UNCW OF Jr. Benson, N.C.
Chase DeLauter, James Madison OF Fr. Martinsburg, W.Va.
Jared Dupere, Northeastern OF So. Amesbury, Mass.
Anthony D'Onofrio, Hofstra OF Jr. Wantagh, N.Y.
Jack Cone, William & Mary UT So. Fairfax Station, Va.
Kyle Novak, James Madison DH So. Oakton, Va.
Landen Roupp, UNCW SP Jr. Rocky Mount, N.C.
Justin Showalter, James Madison SP Jr. Bridgewater, Va.
Caswell Smith, Charleston SP Fr. Ball Ground, Ga.
Jared Wetherbee, Elon SP Jr. Fiskdale, Mass.
Brandon Dufault, Northeastern RP Jr. Windham, N.H.
Bryce Greenly, Delaware RP Fr. Milford, Del.
Adam Smith, UNCW RP Fr. Hampstead, N.C.
CAA Preseason Player of the Year: Landen Roupp, UNCW
Honorable Mention: Jack Goan, C, Delaware; Matt McDermott, IF, William & Mary; Rob Weissheier, IF, Hofstra; Kyle Baker, OF, Delaware; Javon Fields, OF, Towson; Anthony Galason, OF, Elon; Donald Hansis, OF, Charleston; Hunter Hart, DH, William & Mary; Luke Gesell, SP, UNCW; Kyle Murphy, SP, Northeastern; Derek Wakeley, RP, Delaware
Copyright 2021 WHSV. All rights reserved.