Forest fire in Rockbridge County at 25% containment as crews monitor fluctuating conditions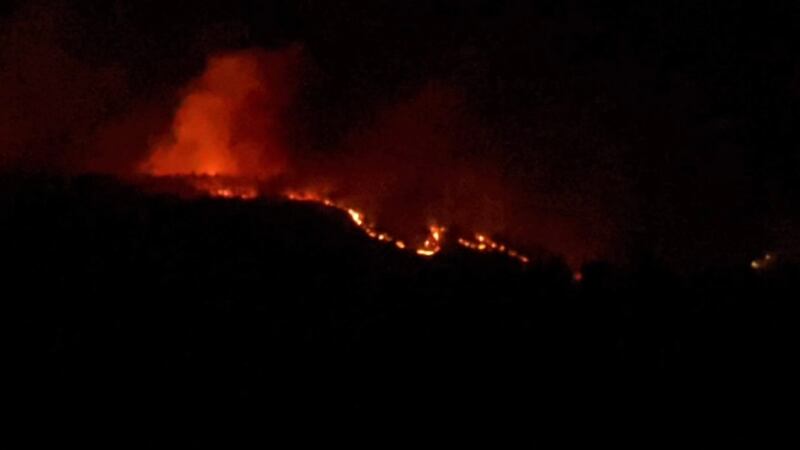 Published: Apr. 30, 2021 at 10:23 PM EDT
ROCKBRIDGE COUNTY, Va. (WDBJ) - UPDATE: According to Regional Forester Chris Thomsen, the fire is now at about 25 percent containment and has reached an area of 1350 acres.
About 40 crew members from around the Commonwealth are on-scene Sunday as they continue to construct fire lines and hope for rainy weather.
There is no threat to any homes in the vicinity.
UPDATE: According to Regional Forester Chris Thomsen, flames from a Rockbridge County forest fire are 10 percent contained after firefighters had originally believed they were fully under control.
A crew of 35-40 people is working the fire with members from the Virginia Department of Forestry, Department of Wildlife Resources, and the US Forest Service.
Their efforts are being focused on protecting residential buildings, with no homes currently in danger.
There are two VDOF engines and one Department of Wildlife engine on scene.
VDOF bulldozers and one federal bulldozer are also working to make fire lines.
Check back for updates.
UPDATE: According to Rockbridge County Fire-Rescue & Emergency Management, the fire started around 6:30 Friday evening.
Due to strong winds, the fire spread quickly and burned around 700 acres through Saturday around 2 p.m.
The flames are contained, but smoke is expected to be visible for the next couple days.
No structural damage was reported.
EARLIER STORY: Crews responded Friday night to the area of Wildwood Lane and Farmhouse Road for a forest fire in Rockbridge County.
According to Rockbridge County Fire, there is no current danger to those in the area, however, multiple residents independently chose to leave their homes.
Officials are working to determine the cause of the flames, and described the reach as large but without any specific acreage yet.
Multiple forestry units responded to help get the fire contained, while a handful of volunteer fire departments are aiding with structure protection.
Copyright 2021 WDBJ. All rights reserved.