'He was irreplaceable': One year after Adam Oakes' death, his family continues push for change
Published: Feb. 28, 2022 at 4:23 PM EST
|
Updated: Feb. 28, 2022 at 5:02 PM EST
RICHMOND, Va. (WWBT) - The past year has been filled with tears, grief and pain for Eric and Linda Oakes after losing their only child, Adam Oakes, on Feb. 27, 2021.
One year ago, Adam Oakes was found dead in an off-campus house after accepting a bid to join the Delta Chi Fraternity chapter at Virginia Commonwealth University.
On Sunday, Adam Oakes' family and friends created a memorial in front of the home on West Clay Street where Adam was found dead one year ago.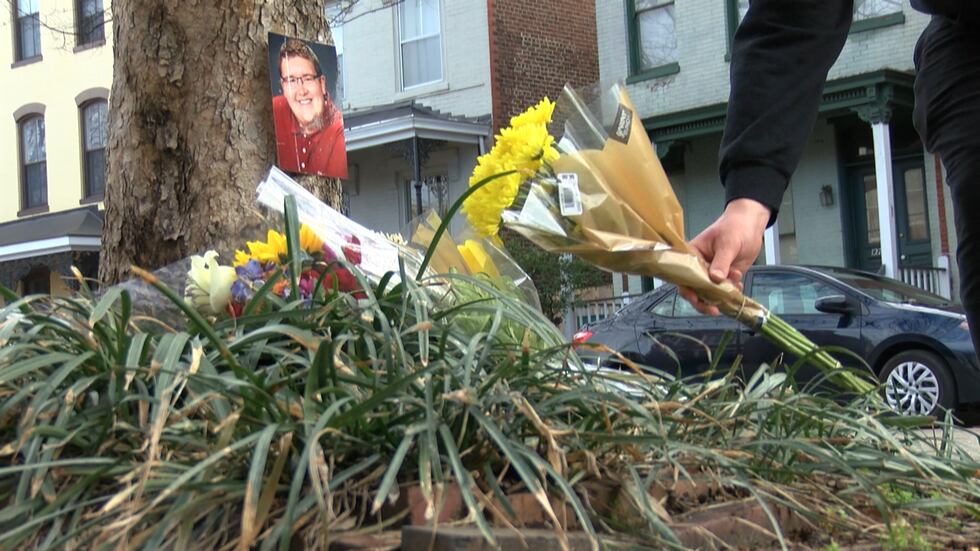 The loss is painful for Adam's parents and Courtney White, Adam Oakes' cousin.
"You don't know the joy until it's taken away, and once it's taken away, you can't have it back," said White. "I can't see him walk through my door, and I can't walk through my door and see him."
For Eric Oakes, the days have been gloomier after losing his ray of sunshine.
"He was our sunshine," said Eric Oakes. "You might look outside and say it's a nice, sunny day. I see it as a grey, cloudy overcast day without him."
Adam's family said he was a gentle giant with a big heart and big smile.
"When he walked into a room, you immediately smiled because you were happy to see him," said Eric Oakes.
Oakes' family said Adam died after being told to drink a large bottle of whisky as part of his initiation into the Delta Chi chapter at VCU.
In May, the medical examiner ruled Adam's death accidental by alcohol poisoning.
One month later, the Delta Chi Fraternity was permanently banned from VCU, which means the chapter is no longer authorized to operate as a student organization.
In September, 11 people were charged with misdemeanors in connection to Adam's death.
One of the 11 charged, Andrew White, pleaded guilty to two Class 1 misdemeanors of unlawful hazing of a student and buying alcohol for a minor.
In the meantime, Adam's family continues their push for change from the state's hazing laws to more education on hazing prevention.
"It's not just Adam that's passed because of this, but it's Adam's story that's going to make the change here in Virginia," said White.
Throughout the year, Adam Oakes' family has been advocating for this change through their nonprofit called "Love Like Adam Foundation."
Last year, the nonprofit awarded three $1,000 scholarships to high school seniors from Potomac Falls High School to help students with their move to college.
White also said there's a goal to bring Adam's story to middle school and high school classrooms as part of an anti-hazing curriculum, but has to wait until the proceedings involving the 11 suspects connected to his death are complete.
"We are going to develop a curriculum that we're going to present starting with our local schools, but then hoping to broaden it to Virginia and going around Virginia schools," she said.
His family's push for change is also reaching this year's General Assembly session with two bills.
One is called "Adam's Law," which would require hazing prevention training on college campuses. The bill would also require institutions to post hazing incidents on campus publicly.
"Helping build awareness and building, you know, skills so if you see someone in trouble, you call 911," said Eric Oakes. "If anyone would've called 911 that night, Adam would be alive today."
On Monday afternoon, leaders from the Virginia House and Senate passed their versions of "Adam's Law."
There's also another bill in front of General Assembly leaders, which aims to increase the hazing criminal penalty to a Class 5 Felony if it results in death or serious injury. The bill also provides immunity for arrest and prosecution to bystanders who seek medical attention during a hazing incident.
The bill is expected to be discussed during conference this week so lawmakers can agree on a final version of the bill.
In regards to the two anti-hazing bills introduced in this year's General Assembly, a spokesperson for Governor Glenn Youngkin sent NBC12 the following statement:
"The governor supports strengthening anti hazing laws and looks forward to reviewing the final versions at his desk."
For White, this push for change means preventing another family from facing the pain they've experienced this past year.
"Everything that I do, I love to think he's there with me because I love to think he's seeing what we're doing and that he's driving what we're doing and we're doing the right thing," said White.
Andrew White's sentencing is scheduled for Tuesday at 9 a.m. inside Richmond Circuit Court.
Copyright 2022 WWBT. All rights reserved.
Want NBC12's top stories in your inbox each morning? Subscribe here.