More than a dozen arrested at Wegmans police brutality protest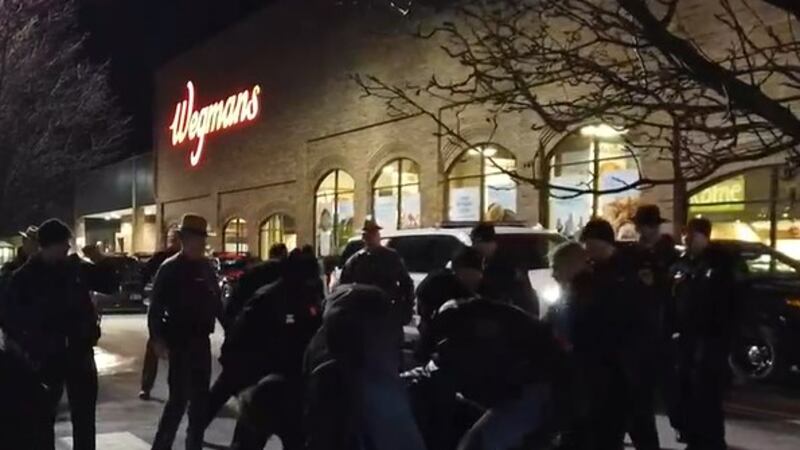 Published: Feb. 2, 2023 at 11:00 AM EST
JOHNSON CITY (WBNG) -- Johnson City Police Chief Brent Dodge said 15 people were arrested at a protest against police brutality Wednesday evening. He said those arrested are facing resisting arrest and trespassing charges.
Dozens of protesters showed up at the Wegmans parking lot on Harry L Drive to speak out against the death of Tyre Nichols in Memphis and an incident in which a Binghamton Police Officer kneeled on the neck of a man on New Year's Day.
The protest, which was planned days in advance, began at 7 and was over by 7:45 p.m. The arrests occurred in that 45-minute window. In at least one instance, a police officer discharged pepper spray. A K9 remained in a patrol vehicle.
Officers from Binghamton, Endicott, the Broome County Sheriff's Office and New York State Police assisted Johnson City Police with dispersing the protesters.
One protestor, Angela Collins, told 12 News what she allegedly saw in the parking lot.
"I witnessed a very young person, probably late teens to early twenties literally say, 'I'm out of here' and when to leave and a cop literally chokeholded them as this went down to the ground and pepper sprayed him," said Collins.
She was not one of the 15 people who were arrested in the ordeal. However, according to Chief Dodge, former Binghamton Mayor Matt Ryan was. Dodge said Ryan yelled profanities and approached police until he was in custody. He has not yet been charged, but charges are likely, Dodge said.
Yet, Broome County District Attorney Michael Korchak said his office is reviewing the cases of those who have been charged.
"The right to peacefully protest is a Constitutional right, but the conduct of the charged protesters last night at Wegmans is unacceptable," Korchak said. "The protesters negatively impacted a local business, its employees, and customers creating a dangerous situation for the public, police, and themselves."
A spokesperson for Wegmans also said the protesters caused a safety concern for its employees and customers. The company said the protestors were blocking the entrance and were asked multiple times to move to the sidewalk. Wegmans referred to law enforcement after the protestors wouldn't move.
"While we respect people's right to peacefully protest, all Wegmans locations are private property and we maintain the right to have anyone who endangers the safety and well-being of our customers or employees removed," the store said.
Dodge said more information about charges will be released as details are sorted out. All subjects were released from the police station in accordance with bail reform laws, he said.
Copyright 2023 WBNG. All rights reserved.