Cignetti pleased with JMU football spring game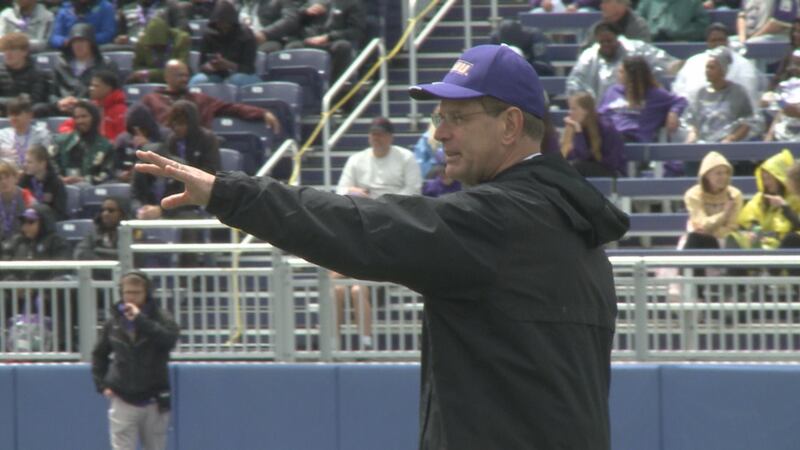 Published: Apr. 22, 2023 at 6:21 PM EDT
HARRISONBURG, Va. (WHSV) - On Saturday, James Madison football spring camp came to a close with the annual spring game.
The defense prevailed over the offense 24-22 and head coach Curt Cignetti believes both sides of the ball made plays.
For the first time under Cignetti, there is a four-way quarterback battle to replace former JMU starter Todd Centeio. All four quarterbacks took reps on Saturday: Alonza Barnett III, Jordan McCloud, Billy Atkins, and Brett Griffis.
The play of the game came in the second quarter when Jordan McCloud hit Reggie Brown for a 64-yard touchdown pass. Cignetti says the quarterbacks had a successful outing on Saturday.
"They busted a coverage, Reggie got open and [McCloud] got him the ball," said Cignetti describing the 64-yard touchdown pass. "They'll go to bed tonight knowing they made a few good plays."
Saturday's game marked the first time the Dukes tackled during spring camp. Cignetti acknowledged the tackling was rusty.
"We got to get them game ready in the fall," said Cignetti. "It'll be a tougher camp."
Defensive lineman Jalen Green says it felt good to be back competing in Bridgeforth Stadium.
"The last time we were able to do this was back in November when we matched up against Coastal [Carolina,]" said Green. "That was a great day. It felt good to have all the fans back, family back and to have game-like competition."
All things considered, Cignetti was pleased with the 2023 Spring Game.
"Without watching the tape, I thought it was a good scrimmage, let me just put it that way," said Cignetti.
Copyright 2023 WHSV. All rights reserved.