May snow for the Allegheny Mountains
A historic May snow event but how does it compare to May 1923?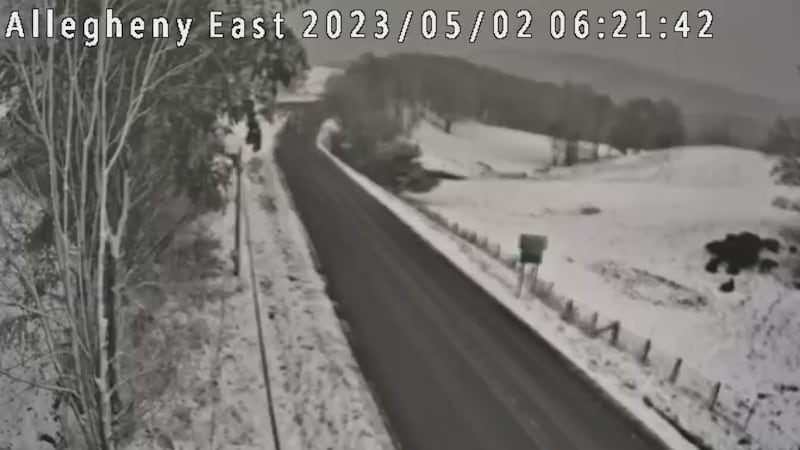 Published: May. 2, 2023 at 11:01 PM EDT
|
Updated: May. 3, 2023 at 11:05 PM EDT
(WHSV) - Snow in May? Well it does happen occasionally along the Allegheny mountains. However this May 2023 event over 3 days might be one for the record books.
As of the morning of Wednesday, May 3rd, 2023 here are some storm totals from along the Allegheny mountains. At times there were a few snowflakes and small hail, even some graupel in the Valley but no accumulation has been reported. Most of the snow melted as the moisture moved east.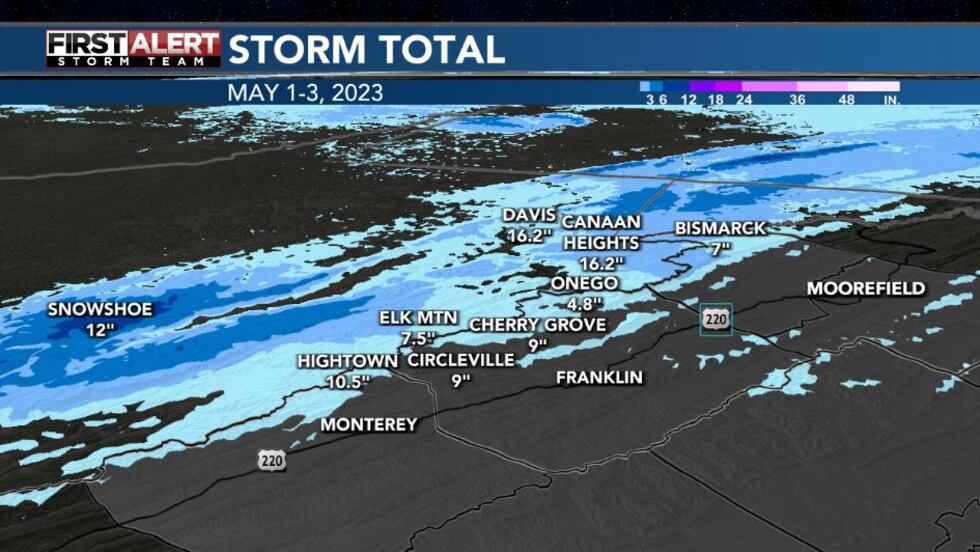 PAST MAY SNOWS (Flurries in the Valley)
Across the Shenandoah Valley, there are a few instances in our history where flurries have fallen in May, and a few recordings of a trace of snow from a similar setup, snow squalls. One of the most recent events was on May 7, 1989. A similar setup led to snow squalls across the area, and a few of these squalls were heavy enough to leave behind a trace of snow for parts of the Valley.
Roger Bauserman took this photo during the light snow at one point, and is pointing to the May calendar. It's a little difficult to see but this is from May 7, 1989.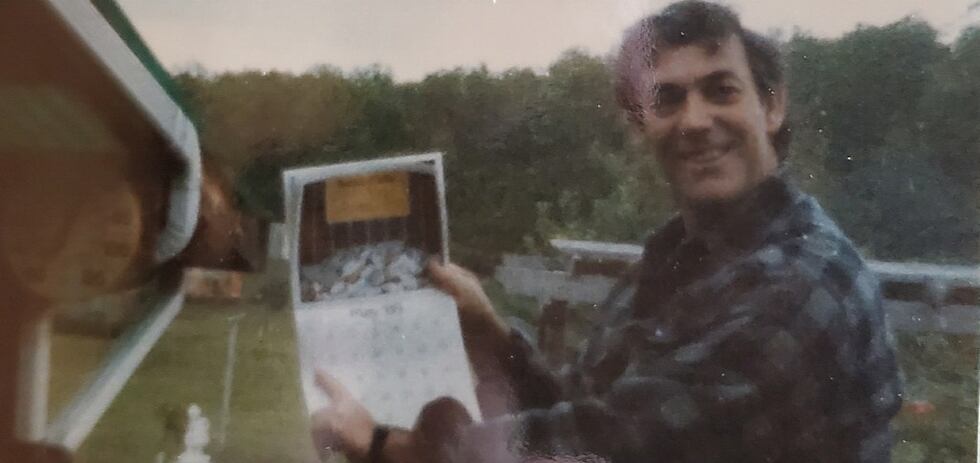 JMU even wrote about it because the light snow was falling during the 1989 commencement address. From the JMU website, "Even though it was May 7 in the South, light snow swirled around the stadium during (Michael G.) Gartner's address."
There have been a few other times when snow squalls in May led to a trace of snow for a few spots in the Valley. This happened in 1963, 1916, 1908 and 1897 according to the Dale Enterprise records.
But how significant is this 2023 event for the highest elevations along the Alleghenies? Looking back at the records the only comparable event really looks to be May 9-10, 1923. That's 100 years ago.
| LOCATION | YEARS OF RECORD | BIGGEST MAY SNOW | AMOUNT |
| --- | --- | --- | --- |
| SNOWSHOE, WV | 1975-CURRENT | 2020 & 1989 | 3″ EACH |
| BAYARD, WV | 1902-CURRENT | 1923 | 5″ |
| BECKLEY, WV | 1893-CURRENT | 1923 | 10″ |
| THOMAS, WV | 1930-CURRENT | 1954 | 1.60″ |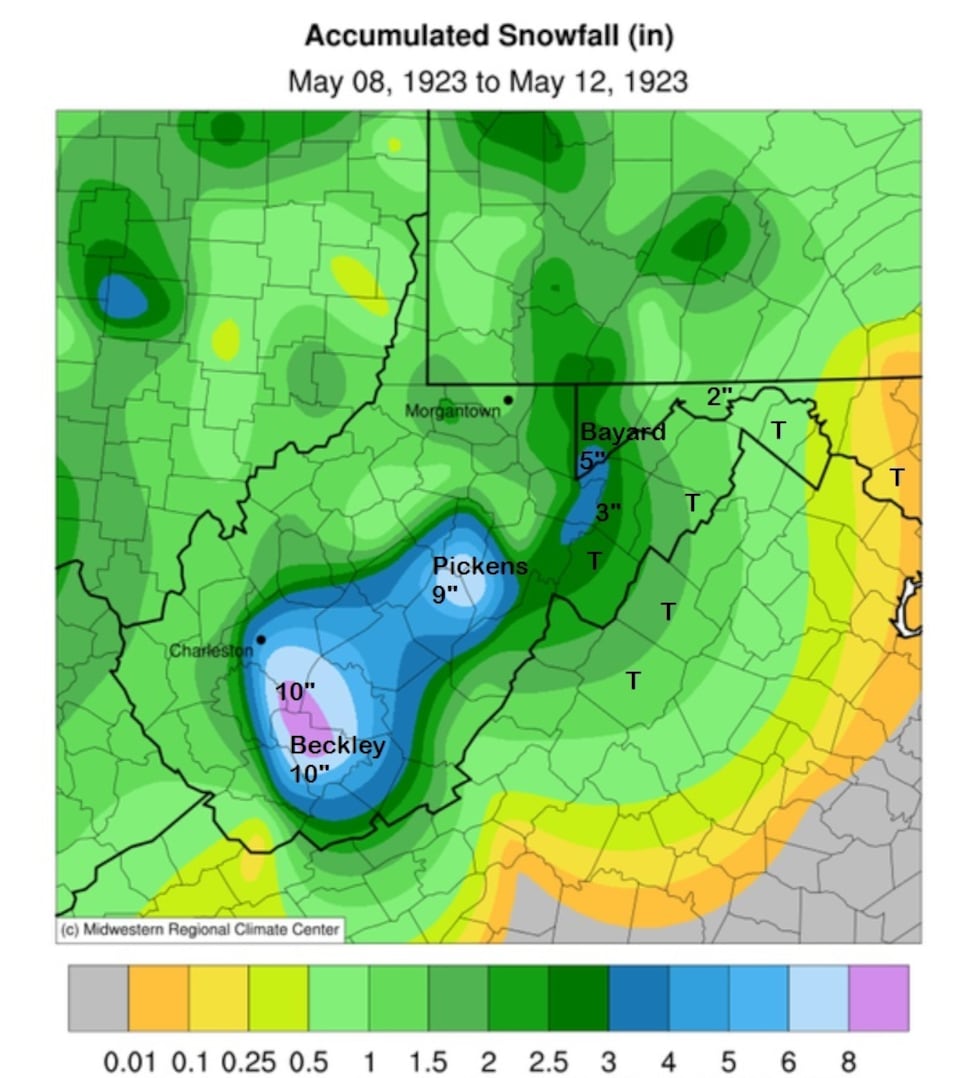 MAY 9-10, 1923
A two day snow event with a similar setup, the upper level low over the Great Lakes. With cooler temperatures in place and gusty winds, several inches of snow fell. In what is today the Baltimore, Washington D.C. National Weather Service forecast area, every weather station at that time recorded at least a trace of snow. According to the weather records, the bullseye was in Beckley- but you also have to remember that we didn't have as many weather stations at that time. This event looks like it was just a couple of degrees cooler than in 2023.
Even in the Shenandoah Valley, a trace of snow fell. The Harrisonburg Daily News Record headline read, "May snowstorm startles Valley, first on record." The newspaper does refer to a storm in May 1878 however that looks to be more of a mountain event with snow not making it into the Valley. Low temperatures during the May 1923 storm did drop to freezing across the area so the big concern was the fruit trees.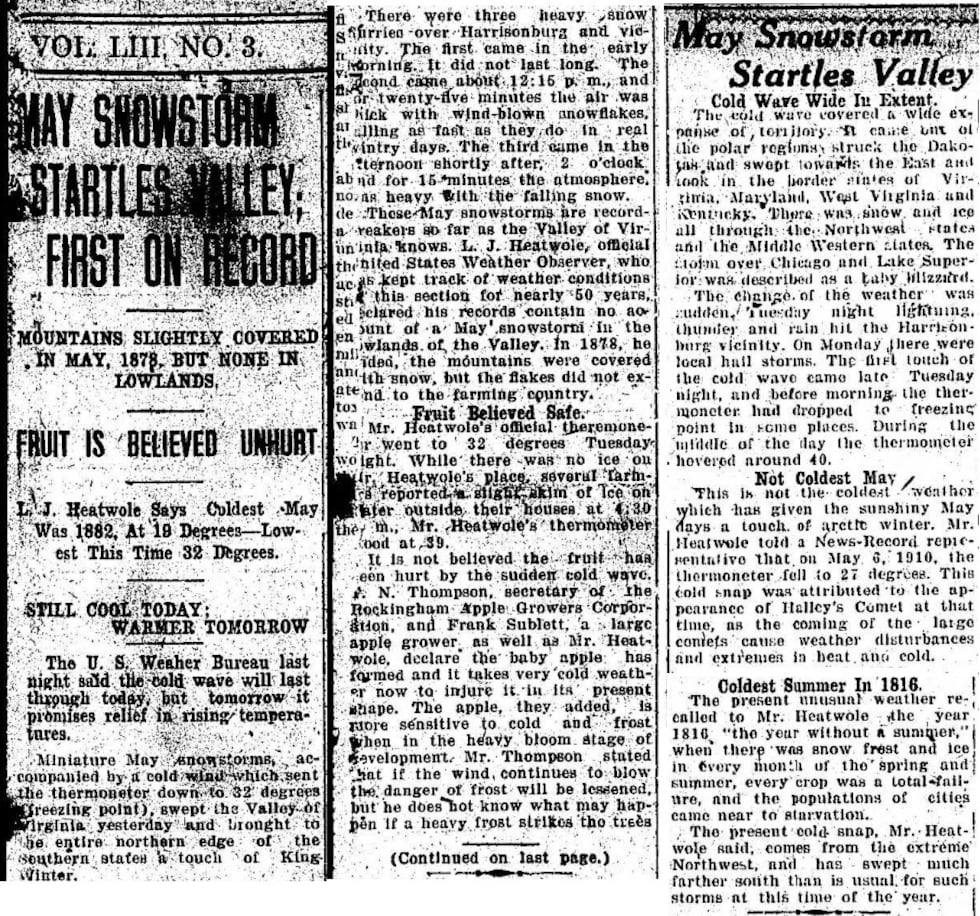 So what's the result? At this point I would consider both events pretty comparable. In 1923, Beckley set basically a state record for single day snowfall for West Virginia with 10″. In 2023, the Davis weather station in Tucker County surpassed that with 10.2″ in a single day.
We don't have any significant snowfall amounts reported from the May 1923 event in Grant or Hardy county, however we were able to find an old newspaper report from the Grant County Press, this states that in Bismarck the snow drifts were 3-4 feet high! So that would lead you to think that the snowfall would be pretty significant.
Now in 2023 we do have more weather stations. At this point I would consider both 1923 and the 2023 May snow events comparable and pretty similar.
Because of more weather stations, we can officially say that the 2023 event was more significant with two weather stations in Tucker County reporting 16.2″ of snow.
WHSV did speak with the National Weather Service in Charleston on their thoughts comparing the two events, 100 years apart. The 1923 event was "a similar setup but snow did reach some lower elevations areas, which was impressive considering the storm hit a week later in the month. Temperatures were also slightly colder in 1923."
NWS agrees that both storms are pretty comparable and that it's hard to say which was more impressive because of the lack of weather stations at that time, but that it does seem like the 1923 event was slightly more widespread.
Copyright 2023 WHSV. All rights reserved.