Former employees of Annandale Millwork in Winchester allege years of sexual harassment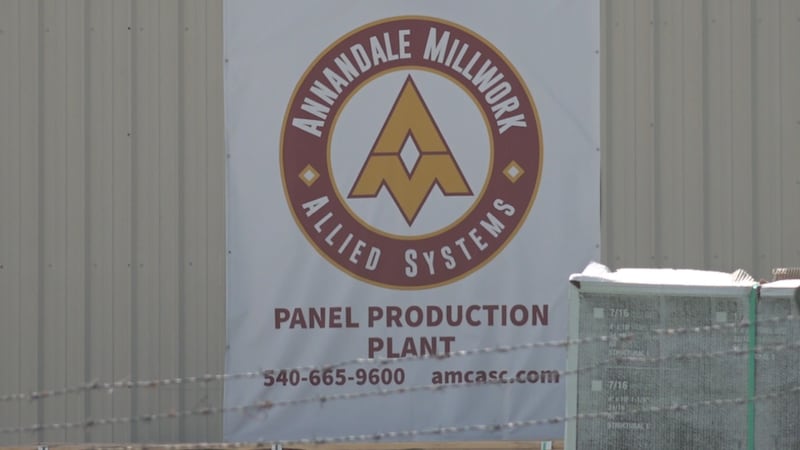 Published: Aug. 4, 2023 at 6:14 PM EDT
|
Updated: Aug. 4, 2023 at 6:32 PM EDT
WINCHESTER, Va. (WHSV) - A major company in Winchester now faces allegations from multiple former employees who claim their manager sexually harassed them and other female employees for years.
Two women have filed "Charges of Discrimination" with the U.S. Equal Employment Opportunity Commission (EEOC) against Annandale Millwork and Allied Systems, which now has until January to either file a lawsuit itself or issue a Notice of Right to sue to the women.
Charges of Discrimination against Annandale have been filed with The U.S. Equal Employment Opportunity Commission (EEOC). The EEOC has 180 days to investigate the claims at which point it may file a lawsuit against Annandale itself or if it is unable to settle the dispute it will issue a Right to Sue to the women and their attorneys; at which point the Charges of Discrimination will be brought forward as a lawsuit in court.
WHSV spoke with two of the women alleging sexual harassment at Annandale, one of whom filed an EEOC charge, as well as the attorney representing her. The women shared troubling stories of constant workplace harassment.
The women's names have been left out of this story at their request as has the name of the manager facing the allegations.
"I couldn't be around it anymore it was too much. I was so uncomfortable and so humiliated, it was affecting my quality of work, it was affecting my mental health and I just couldn't do it anymore," said one of the women who did not file a Charge but provided a witness statement.
The first woman WHSV spoke with worked at Annandale for a little over a year ending last year and starting just after she graduated high school. She was just 18 and said the harassment started on her very first day as she was constantly isolated by her manager who was a much older man.
"Anytime that I had a question and I would ask him he would come into the conference room and shut the door and then kneel down beside my in the chair that I was in. He would put his hands on my legs and touch the inside of my thighs," she said.
The woman said she was placed alone in the conference room for the first month of her employment, something that only appeared to happen with new female hires while new male hires were given a cubicle right away. She later got her own cubicle but said the harassment did not stop.
"He would say inappropriate things. I would be walking by and he'd be like 'Wow I like those jeans on your or you look really good in that outfit or I bet you would look so hot in a bikini or your legs look so nice.' it was just constant," she said.
The woman said the harassment also carried on outside of work, something women who complained to the EEOC also alleged.
"He would text me pictures of himself at the gym without a shirt on and say 'just got a good workout in' he would text me things like saying 'oh that's ok cutie' if I said I wasn't feeling good and couldn't make it to work. He would call me inappropriate nicknames like that," she said.
The woman said he would constantly touch her or grab at her waist when she passed in the hallway. She said he would also call her into his office to discuss inappropriate personal topics.
"Every time I'd be in the office talking to him and he would shut the door to talk about inappropriate things, when I would walk out of the office he would always pat me on either my back or the back of my leg. Constantly touching, it was unwanted and unnecessary," she said.
The woman said she tried her best to put up with the harassment for the sake of her job as the manager had power over her employment at Annandale. However one particular incident in his office became her final straw.
"I had mentioned that I was going to the gym again and he tells me that everything on me is so tight and toned and then slaps me on my behind and says everything looks great on you. I was just in shock and I walked away from the office, went and sat at my cubicle, and didn't get up for the rest of the day until he left," she said.
The woman did not go to HR as nothing had been done when one of her other coworkers brought harassment claims against the manager to HR and nothing was done. Instead, the woman confronted her manager after the incident and he did apologize, saying he went too far.
"He apologized and said 'I'm so sorry I never meant to make you feel uncomfortable I look at you like my daughter' which was really weird. He said he was just joking around and sometimes he forgets that I'm his employee and not his friend," she said.
The woman did record her conversation with the manager and played the recording for WHSV where the manager admitted he went too far but she said his behavior did not change after the confrontation.
Not long after this incident, she said he even became upset when he saw several of the female employees at the office (multiple of whom he'd allegedly harassed) talking one day. The conversation was led by the other woman WHSV spoke with who filed an EEOC charge.
"He told me that she was crazy, that I shouldn't trust her, that he doesn't like me being around her, that she doesn't have good judgment and I shouldn't be influenced by her, basically just things to that affect. He was pretty much yelling this at me, he was obviously aggravated and it was scaring me," said the first woman.
The woman resigned from Annandale shortly after this incident.
The second woman who spoke with WHSV said she dealt with the harassment for years before she eventually went to Annandale Human Resources.
"I went to HR the harassment just got more.. I would say it just got more aggressive in the sense of how he would touch or the things he would say," she said.
The woman who is a plaintiff in the lawsuit started working at Annandale in 2017 and said that harassment from the manager was constant.
"He caught me in the hallway, again isolated and leaned in and whispered in my ear and said 'I just want to hug you so bad today' making situations like that happen, it was very uncomfortable," she said.
The woman said the manager was also constantly touching her in many of the same ways he touched the other women. She said in a few instances she even felt like he was preying on her.
"There was one day I texted my husband and said 'I think he is trying to do something today' he's trying to catch me alone, he likes to isolate people, so I felt like he was trying to catch me alone," she said. "I sent a text message to my husband and I said he is asking me what time I'm leaving today, are certain people in the office? All texting me through my personal cell phone number."
After realizing that several of her other female coworkers were allegedly experiencing the same thing, including several who were still very young, she went to HR to make a complaint in April of 2021.
"Once I did give that information to my HR rep I received no follow up, I received no emails, I received no meetings, I was not talked to by anyone," she said.
The woman said that HR never interviewed any of the women who she told them were also being harassed by the manager. She said that after she complained to HR management began to freeze her out leaving her out of the loop on important work communications.
"Getting no communication, no guidance, no constructive anything, I was totally frozen out," she said.
Not long after she made the initial complaint to HR and after no follow-ups she was eventually called in to HR and told she was being fired. Management told her it was because she was 'a hard person to work with and that no other people wanted to work with her and she made the work place uncomfortable'.
The woman said she did not leave the property on good terms with Annandale, she said the company's Vice President Laurie Frogale claims the woman assaulted her despite nothing of the sort happening and Frogale never calling the police. She said Frogale then sent a letter of no trespassing to her house the day after she was fired.
"I received retaliation from them, they made it very hard for me to get unemployment at first. There were a lot of situations where my manager was going back through and deleting text messages trying to cover his tracks," she said.
Both women who spoke with WHSV said that there were at least three or four other woman who experienced the same type of sexual harassment from the manager. They said that they believe Annandale did nothing to stop the harassment because the manager made them money and the company has power and felt untouchable.
"They think that they can do whatever they want and it doesn't matter. They just plain out did not care what was going on with their employees they just looked at us like a paycheck. Our feelings and the things that we went through did not matter to them whatsoever," said the first woman.
Joshua Friedman is an attorney from New York whose firm is representing the women. He said that he hopes Annandale understands it can't just ignore credible complaints of sexual harassment and acknowledged that there is another woman who complained to the EEOC who did not wish to be interviewed.
"In some ways this is almost a case study in how not to handle a complaint of sexual harassment," said Friedman. "An employer is under a duty to take action which is reasonably calculated to stop the harassment. And it went on for over 2 years after that, they all had to continue suffering."
Friedman said he hopes that letting people know what was going on at Annandale encourages more women who may have been harassed by the manager to speak out.
WHSV did reach out to Annandale for comment and spoke briefly with Vice President Laurie Frogale who said the company adamantly denies all of the women's allegations and said that nothing illegal was done.
*A previous version of this article mistakenly reported that the former Annandale employees had filed a lawsuit filed against Annandale. It has been updated to reflect that the employees filed Charges of Discrimination with the EEOC, a precursor step to filing a lawsuit.
Copyright 2023 WHSV. All rights reserved.