Family passes down story of 1921 Mint Spring tornado
Published: Sep. 21, 2023 at 9:23 AM EDT
|
Updated: Sep. 21, 2023 at 5:55 PM EDT
MINT SPRING, Va. (WHSV) - In mid-September 1921, a very strong cold front brought thunderstorms into the area. On Wednesday, September 21 one of those storms led to a tornado in Augusta County.
According to newspaper reports and family photos of the damage, this was likely a strong tornado, but thankfully damage was limited to three homes between Mint Spring and Barterbrook in Augusta County, just south of Staunton.
Scott and Bobby Glenn recall the family story that has been passed down over the years. "We grew up hearing the story from different family members," says Bobby Glenn. They are the grandsons of Marvin and Adelle Ballew.
It was a Wednesday afternoon. Several strong storms crossed the area ahead of a powerful cold front, but one storm in Augusta County dropped a brief but strong tornado that destroyed two homes from Mint Spring to Barterbrook. The path was around 4.30 miles long.
The worst damage was at the home of Marvin Ballew, right off of Route 11 which is south of Staunton. Marvin was not at home during the storm, but his wife Adelle was. She was pregnant, and home that day with her two sons Lewis and Murray.
Glenn recounts the scary moments when the home was hit by the tornado, "She was thrown, she was pretty much thrown some distance. The home was pretty much totally destroyed, right down to the bare ground. It just pretty much leveled the whole house." Adelle and one son were injured during the tornado.
Their other son, was in the shed during the tornado and was unharmed.
The house next door to the Ballew home, "Is virtually unscathed."
The twister continued moving to the northeast to Barterbrook. Ms. Nora Bocock saw the tornado coming toward her house. She was outside at the time.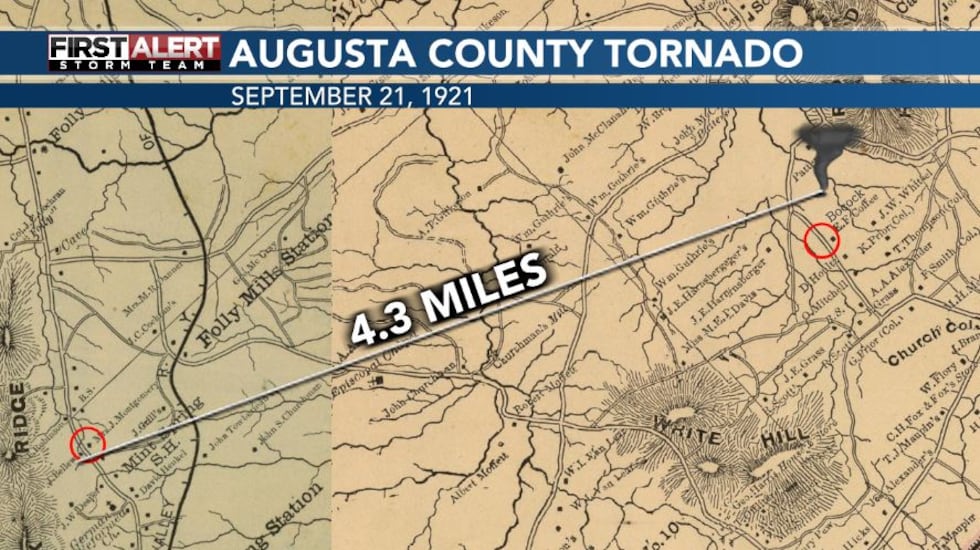 According to the newspaper, "One end of the house was torn out." She was reportedly not injured.
Many people witnessed the tornado, and the only injuries were Adella and her son in Mint Spring, and they ended up recovering.
The community came together to help raise money for the Ballew family after their home was completely destroyed. Mr. Ballew stated at the time, "On my own behalf and on behalf of the members of my family, I desire to express my very great appreciation for all that has been done for us."
The home was rebuilt on the original foundation, and it still stands today.
One of the oddities of the tornado. A piece of paper, Mr. Ballew's insurance policy was blown 13 miles to the northeast near Crimora.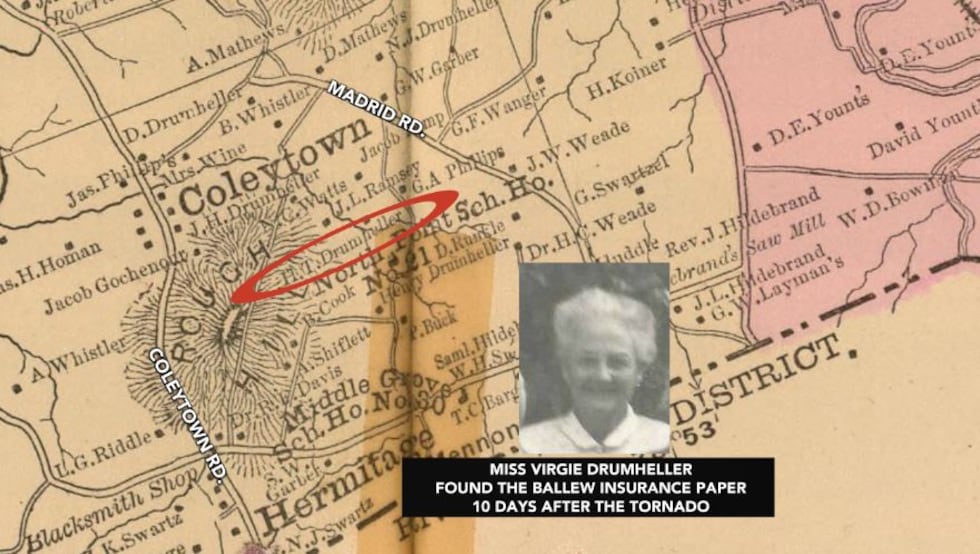 That piece of paper was found about 10 days later by Miss Virgie Drumheller on Madrid Road. That just shows the power of this tornado, and a family story that lives on more than one hundred years.
For more on our local tornado history, CLICK HERE.
NEWSPAPER ARTICLE
Copyright 2023 WHSV. All rights reserved.