"We did something pretty incredible the last three weeks." JMU stays unbeaten after three-game streak on the road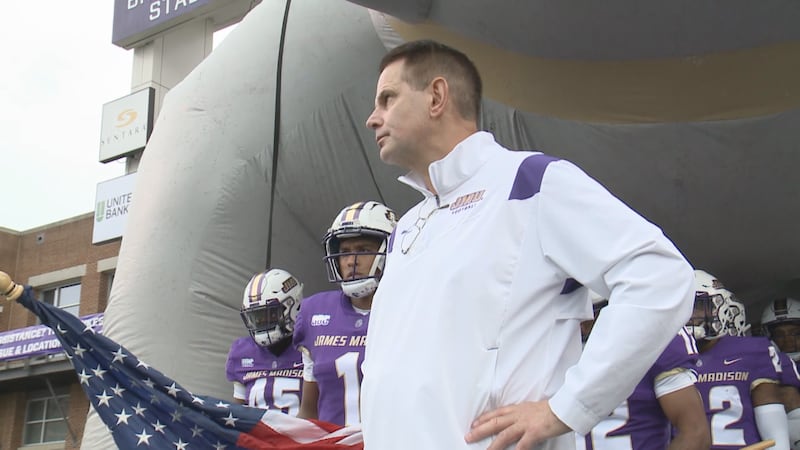 Published: Sep. 25, 2023 at 12:12 AM EDT
HARRISONBURG, Va. (WHSV) - James Madison football is unbeaten heading into week five.
Over the weekend, the Dukes survived Utah State, escaping with a 45-38 win. The Dukes started strong on offense and their early performance proved to be vital. JMU took a 31-7 lead heading into the second half but the Aggies came within one touchdown of the Dukes heading into the fourth quarter.
James Madison narrowly out-gained Utah State 512-500 yards. JMU quarterback Jordan McCloud went 23-of-34 for 364 passing yards and four touchdowns.
JMU is one of the only FBS programs in America that played three road games in a row during weeks one through four. According to the Dukes, the consecutive trips made the team stronger heading into the bulk of Sun Belt play.
"We did something pretty incredible the last three weeks," said JMU head coach Curt Cignetti.
JMU redshirt senior wide receiver Reggie Brown led the Dukes with five receptions for 160 yards and two touchdowns.
"We're resilient. We have a tough team and not many teams go through this but we came out strong," said Brown.
JMU redshirt senior defensive lineman Jamree Kromah registered three tackles against the Aggies.
"This group has the opportunity to rise up to another level," said Kromah. "We have to work on the things we need work on."
The Dukes return home to Bridgeforth Stadium to host South Alabama on Saturday at noon. This game will be streamed live on ESPN+.
Copyright 2023 WHSV. All rights reserved.