JMU President Alger highlights qualities he's looking for in next athletic director
Published: Sep. 27, 2023 at 11:05 PM EDT
HARRISONBURG, Va. (WHSV) - Jonathan Alger will have to do something for the first time as president at James Madison University that he hasn't had to worry about during his 11-year tenure.
Hire an athletic director.
It comes after current JMU Athletic Director Jeff Bourne announced on Sept. 15 he'd step away from the role and into retirement during Spring 2024.
At a news conference on Wednesday afternoon, Alger believes the university is in a really good position to find someone that's a good fit.
"Jeff gave us the luxury of time to do this the right way," said Alger noting Bourne's early announcement. "That doesn't always happen in these circumstances. We're as well prepared as we could be for this next chapter."
Bourne has served as athletic director at JMU since 1999. During his time, Bourne has elevated JMU Athletics to new heights on and off the field. Facilities have been upgraded and improved but the quality of teams orchestrated has also improved. Most notably, Bourne led the athletic department through the transition to the Sun Belt Conference, which included the football program making the jump from the championship subdivision (FCS) to the bowl subdivision (FBS).
"The best time for transition is when things are on a high," said Bourne. "If you look at our history, with things under President Alger's leadership, the transition to the Sun Belt, now that we're through the transition to the Sun Belt, I really couldn't think of a better time."
Bourne reiterated his love and appreciation for The University, adding whoever takes over as athletic director is walking into one of the best roles in the country.
Speaking of who's taking over, Alger says The University is currently looking to hire an external search consultant to help conduct a national search for the next athletic director. After the search firm is selected, a search committee will be assembled to help lead the search.
Bourne has agreed to help with the search in any way possible.
"I want the best person that can possibly be in this role to be in it," said Bourne. "It's our future. It's an important time."
Alger was asked what characteristics he's looking for in the next athletic director and he outlined the traits in the graphic below.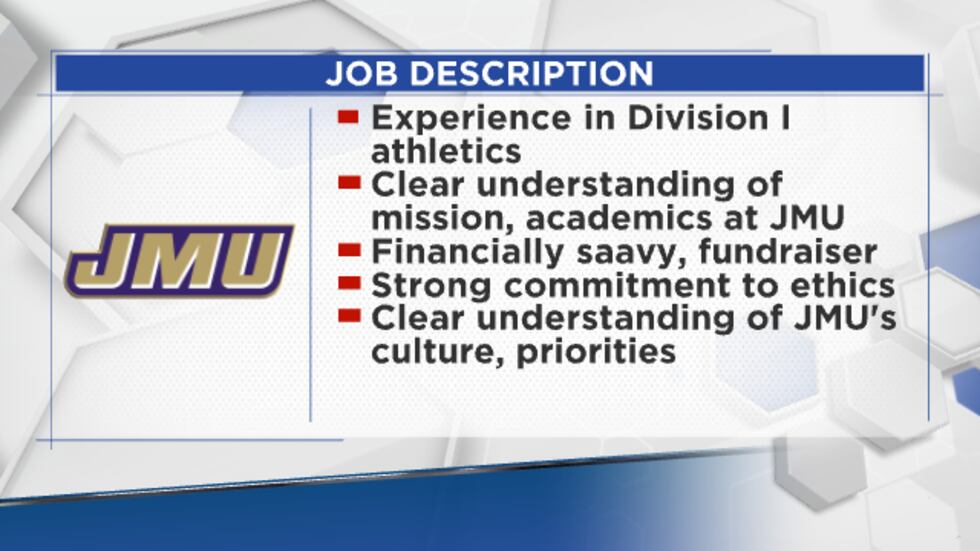 Alger was asked by WHSV if JMU would look to fill the position with an internal candidate.
"We'll have a fully open and inclusive national search," said Alger. "We're open to all sorts of candidates from all sorts of backgrounds but we don't have a preconceived notion of who it's going to be."
You can view the entire press conference with Bourne and Alger in the video below.
Copyright 2023 WHSV. All rights reserved.