Fall Foliage Update: 10-19-2023
Fall foliage turning in typical high elevation areas along the Alleghenies
Published: Sep. 29, 2023 at 6:22 PM EDT
|
Updated: Oct. 19, 2023 at 10:39 PM EDT
(WHSV) - The fall foliage is looking spectacular in West Virginia and the Virginia Highlands and many areas are at peak now. Elsewhere it continues to develop along the sides of the ridge. The best color is estimated to be at elevations around 2,500′-3,500′.
Skyline drive is still patchy with color, but reports are the best color right now is in the southern district and there is decent color in the northern district. The central district is more muted with dull color.
Seneca Skyway Drive
Here is the drive suggestion from the Elkins-Randolph County tourism:
We're also teaming up with a new website, Explorefall.com so make sure to check this website especially for locations outside of our area.
This website was put together by East Coast Storm chasers, photographers and Meteorologists who love fall. Their foliage forecast is based off of weather, and not just elevation. This makes it extremely unique. This will also help with the foliage forecast this year since the drought will lead to irregular dates and weather is a factor with the change.
NEW 3-D Blue Ridge Map
Here's a new way to look at the average peak fall color dates for the entire length of the Blue Ridge Parkway. This map is from Explorefall.com and it's interactive. Now these dates will vary based on the weather and drought but it's a nice timeline for the Blue Ridge.
So when you see some great fall color, you can send in your photos here: We want to see views or pockets or color, not just a single tree. One tree doesn't tell the story of how the color change is coming along in an area.
Take a look at average peak foliage dates (this will be slightly different year to year and varies based on weather), fall wildfire season and daylight loss. There's a lot to do in our area for fall, check out one of the local scenic chair lifts, links below at the bottom.
AVERAGE PEAK FOLIAGE- WEST VIRGINIA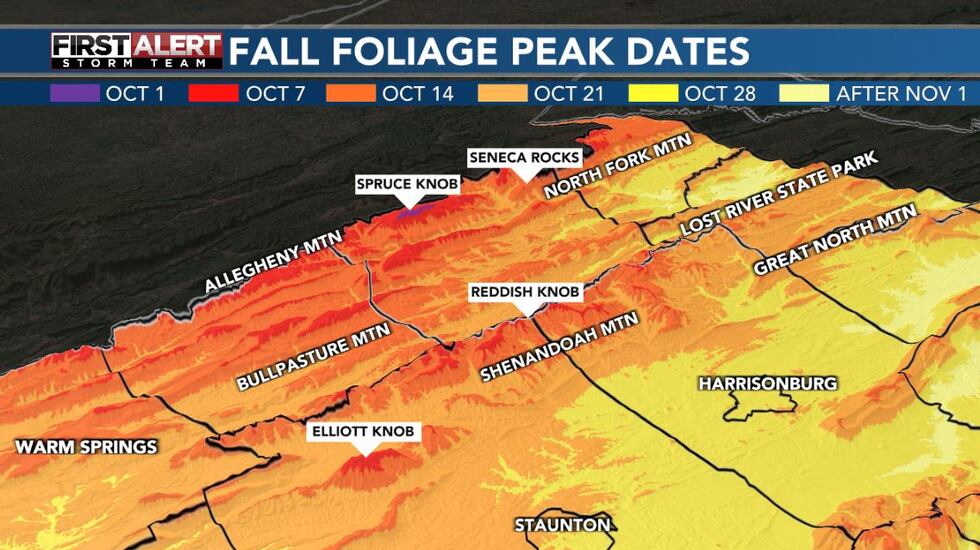 AVERAGE PEAK FOLIAGE- VIRGINIA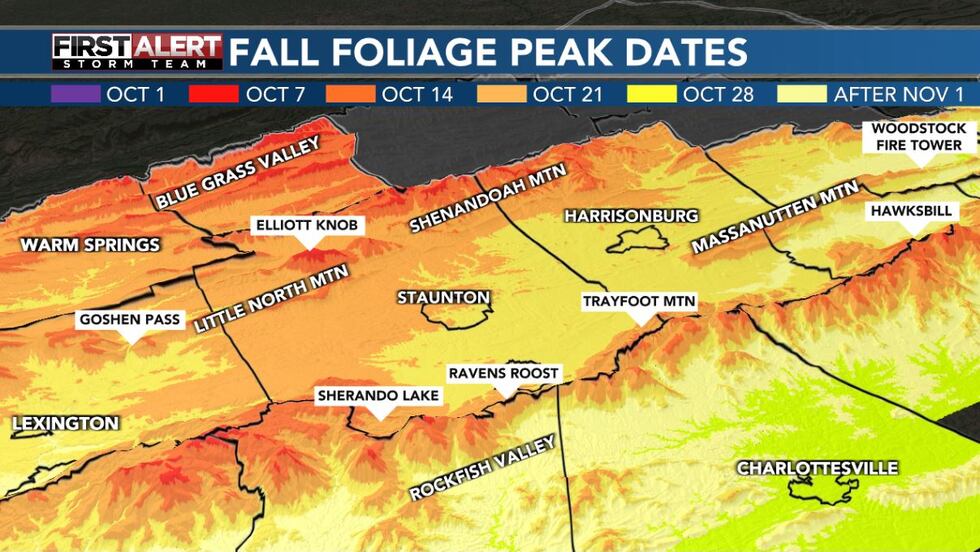 FALL WILDFIRE SEASON
RESPECTING NATURE WHEN YOU'RE OUT LEAF PEEPING OR HIKING
SCENIC CHAIRLIFT
What better way to see the beautiful fall colors than a scenic chairlift. Check out the links below for price and days available.
Copyright 2022 WHSV. All rights reserved.