Quaker Run wildfire continues to burn
Significant improvements made
Published: Nov. 10, 2023 at 2:20 PM EST
|
Updated: Nov. 20, 2023 at 7:48 AM EST
MADISON COUNTY, Va. (WHSV) - UPDATE 11/20/2023: While the weather has fluctuated over the past week, fire crews continue to mend impacted trails and land that was burned by the fire. They are also searching for remaining hot spots or areas where fire could still spark due the the lack of rain. However, rainfall is on the way.
Thankfully, a significant storm system arriving Tuesday before Thanksgiving will bring a widespread one to two inches of rainfall to the parched landscape. Heavy rain and cooler temperatures will help firefighters and resources in containing to extinguish the fire.
MADISON COUNTY, Va. (WHSV) - UPDATE 11/17/2023: The Quaker Run Wildfire has now been 100 percent contained thanks to the efforts of firefighters and resources. While the fire is not fully out, the containment lines are hopeful to continue to hold through Friday night when light rain showers arrive.
Although not a significant source of rainfall, any showers will be welcomed to assist fire fighting crews across the region. The latest's acreage burned remains at 3,937 as first responders continue to work the fire lines and mop up hot spots. Work is also being done to repair roads, trails, and any other damaged locations within the fire perimeter. Incoming showers will not only help this fire, but others across the region that continue to burn hot.
While progress is now being made quicker, a shift in winds are still expected overnight Friday into Saturday with very low humidity levels. Wind gusts of 20-30 mph are expected along the ridge tops, with a more sustained 10-20 mph breeze in lower elevations.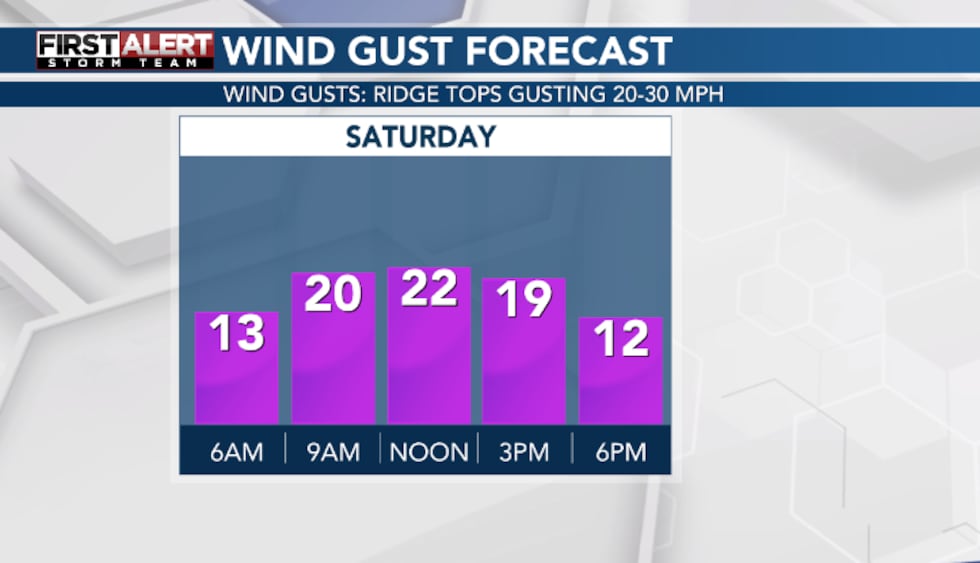 The National Weather Service to issue a Fire Weather Watch for the Shenandoah Valley Saturday.
A full update on the Quaker Run fire can be found from Inciweb here.
MADISON COUNTY, Va. (WHSV) - UPDATE: As of Thursday afternoon, the Quaker Run wildfire in Madison County is now 90 percent contained and resources that have been fighting the fire, ranging from crews to equipment, are now being sent to other locations to fight additional fires across the region.
A total of 3,393 acres have burned as of Thursday, with 134 personnel, one engine, and one and one crew still actively fighting the fire. Those resources will continue to monitor any reburn that may take place and the fire perimeter that is uncontained.
The forecast continues to fall for a breeze that may hinder firefighters with a south-southwest breeze of 5-10 mph. Relative humidity values are expected to be very low through late Thursday. South facing slopes that quickly dry out are most likely to burn quicker, with north and east facing slopes likely to remain damp longer and burn slower.
Air quality across the region is generally expected to be of the Good category from this fire, but may be lower in overall quality due to other fires across the region. This will likely be the case into the weekend when stronger gusty winds arrive behind a Friday night cold front, bringing light, but beneficial rainfall.
MADISON COUNTY, Va. (WHSV) - UPDATE: The Quaker Run wildfire in Madison County, and in part throughout the Shenandoah National Park, is now 61 percent contained as of Wednesday morning with 3,937 acres being burned.
While it is important to know that progress has been made with fire containment, that does not mean the fire is not burning. Containment refers the amount of the fire perimeter in which firefighters have under control, in comparison to having a fire that is no longer burning. Even at 100% containment, fires are still burning but first responders at least have a strong perimeter around the outskirts of the fire.
Crews continued to battle the blaze throughout the weekend and into the week as dry weather has kept operations moving.
Shenandoah National Park continue to keep a handful of trails closed as safety is a top priority to the public using the Park for recreation, but also to those who are fighting the fire.
You can find the full update below.
For more updates on the fire, check out the latest Inciweb report here.
MADISON COUNTY, Va. (WHSV) - ORIGINAL: Fire crews are still working to fully contain the Quaker Run Fire that first sparked on Oct. 24.
The latest update from Virginia's Department of Forestry on Friday shows the fire is burning about 3,700 acres and is 40 percent contained.
The fire started in Madison County and spread into the Shenandoah National Park. There are complete burn bans in both areas. Anyone who violates those bans can face a Class 3 misdemeanor as well as potentially be responsible for the full amount of all expenses incurred in suppressing such fire. You can find more information by visiting https://www.madisonco.virginia.gov/AlertCenter.aspx and https://www.nps.gov/shen/planyourvisit/quaker-run-fire-information.htm.
The cause of the fire is still unknown at this time.
According to DOF, crews were working on Upper Hollow Trail to prevent the fire from spreading to the northeast yesterday. The weather Thursday did present a challenge to firefighters, but they were able to successfully complete the operation there. Friday's rain is expected to reduce the fire's behavior substantially.
The focus now remains to hold containment lines as crews make every effort to protect Camp Hoover, also known as the Historic Rapidan Camp – National Park Service, by putting fire hoses, water tanks and sprinkler heads in and around the camp.
If the weather allows, crews will finish putting in sprinkler heads around Camp Hoover and continue to work north of Rapidan Family Camp, near the Rapidan Wildlife Management Area.
There are voluntary evacuations in place for homes north of 681 Finks Hollow.
The following closures are in effect in Shenandoah National Park:
Rapidan Camp area near the eastern boundary in the center of the park. The closure includes the area around the historic camp and the trails leading to it including the following:

Mill Prong Trail

Mill Prong Horse Trail

Stony Mountain Trail

Fork Mountain Trail

Laurel Prong from Cat Knob intersection

Upper Dark Hollow Trail (does NOT impact access to falls)

The lower Rapidan Fire Road beyond the portion open to bicycles

Graves Mill Trail from the intersection of the Staunton River Trail to the Rapidan Fire Road

Wilhite Wagon Trail

After November 12, Harry F. Byrd, Sr. Visitor Center across from Big Meadows in the center of the park will be temporarily closed. Power in the area has been turned off for firefighter safety. Interpreters who usually work at this center have moved to Dickey Ridge Visitor Center near Front Royal in the northern part of the park. That center will be open seven days a week while the Harry F. Byrd Visitor Center is closed.

Rapidan Tract of Rapidan Wildlife Management Area
DWR is also noting that a temporary flight restriction is in place over the Quaker Run Fire area from the surface up to and including 6,500 feet to provide a safe environment for firefighting. For more information, visit: https://tfr.faa.gov/save_pages/detail_3_7678.html.
If you would like to make a donation to help with firefighting efforts you can do so by taking them to Madison County Department of Emergency Medical Services at 1494 N. Main Street, Madison, VA 22727
Copyright 2023 WHSV. All rights reserved.