Smoke and haze from wildfire impacting the Valley
The wildfire is located south of Augusta County in Bedford County, Va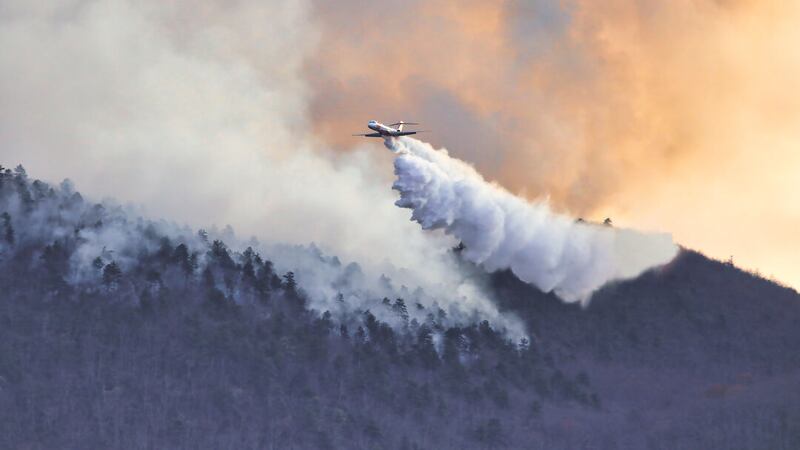 Published: Nov. 15, 2023 at 11:26 AM EST
|
Updated: Nov. 26, 2023 at 4:21 PM EST
HARRISONBURG, Va. (WHSV) - UPDATE 11/26/2023: As of Sunday afternoon, the Matts Creek Fire is now 93 percent contained. 108 fire and medical personnel remain on scene, searching for remaining hot spots but fire activity is currently minimal and no spread is expected. No additional changes have been reported Sunday.
HARRISONBURG, Va. (WHSV) - UPDATE 11/25/2023: While dry weather has continued into the weekend, firefighters at the Matts Creek site have improved containment to 91 percent, increasing for the third consecutive day.
Drone routes proved beneficial for those in the field since Friday as crews identified several hot spots and were able to successfully extinguish them, taking another step in the first direction. However, heavy equipment usage was slowed due to the muddy and unstable ground from recent rainfall this past week.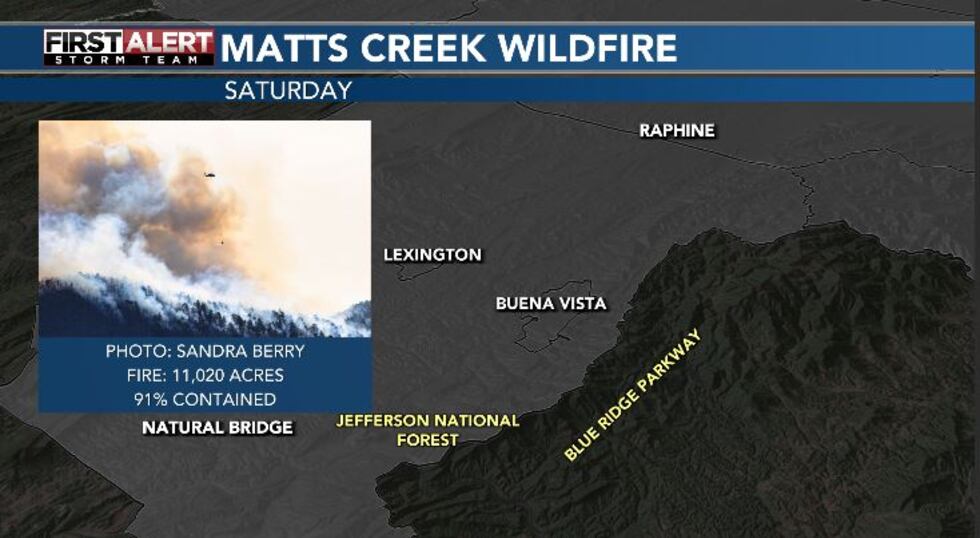 Drone work continues into Saturday as hand crews scour the ground to remove any potential hot spot debris including drying leaf litter and dead, fallen trees. Weather expectations remain mostly dry with lighter winds through the weekend ahead of a dry cold front, although a few stronger gusts Sunday night can't be ruled out.
The next forecast concern is the increasingly likely northwest winds Monday and Tuesday behind the front, with gusts reaching 30-40 mph on the ridges into Tuesday. There is no concern about the fire spreading at this time but officials will continue to monitor the forecast as humidity values remain in the 50-60 percent range.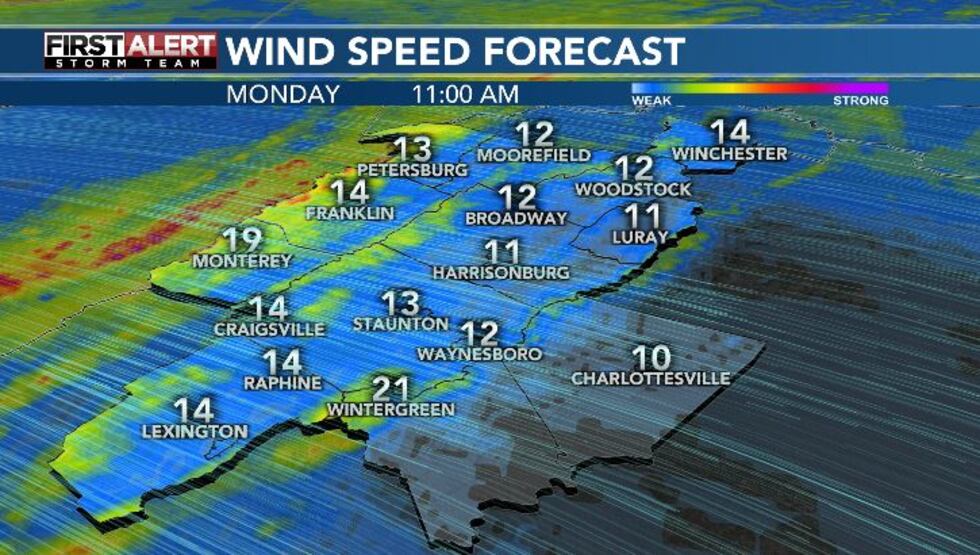 HARRISONBURG, Va. (WHSV) - UPDATE 11/24/2023: Work has continued throughout the holidays this week to minimize the spread and growth of the Matts Creek Fire and those efforts and showing major improvement. The fire is now 88 percent contained as of Friday night, with no additional new acreage burned being reported at this time.
Infrared radar flights Thursday night indicated fire temperatures along the outer perimeter are cool, while the fire continues to burn hot only on interior locations. Crews working the fire were able to receive a Thanksgiving meal at the Incident Command Post before going back to work.
Cloud cover, higher humidity values, and cooler temperatures are allowing some resources and firefighters to be relieved of duty as workloads begin to shift. Trail and roadway clearing and repair continue, as well as mopping up current hot spots for any rekindling. No spread of the fire is currently occurring, with smoldering of leaf litter more commonly found Friday. While it will remain dry, temperatures staying cool will continue to help firefighters as they battle the blaze.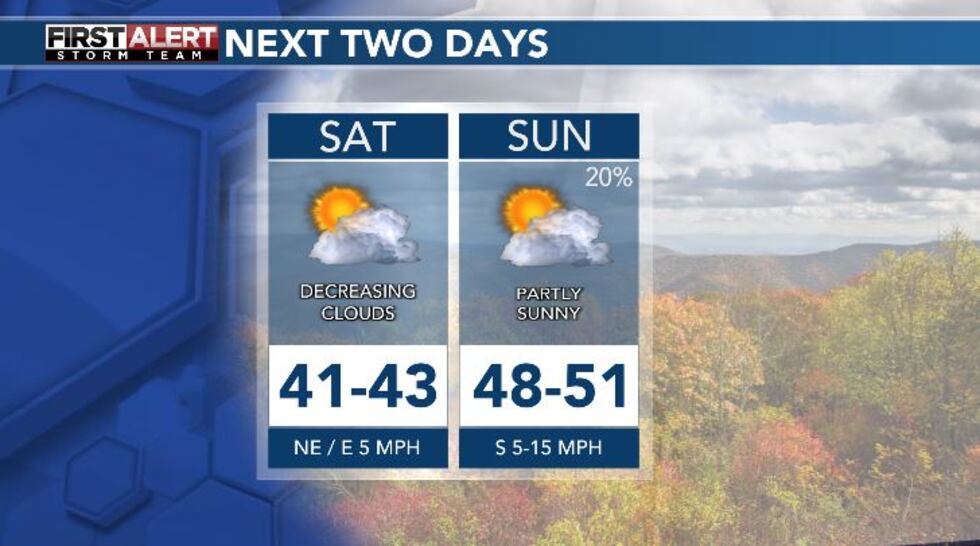 Aerial drones and flights will continue to assist ground operations in searching for hot spots as air temperatures remain cool. As of Friday night, 249 personnel are working the fire, including thee hand crews, four engines, one water tender, two ambulances, and one drone.
The weekend forecast continues to trend dry and colder Saturday with temperatures only reaching the low 40s and low relative humidity. High temperatures Sunday are expected to reach near 50 degrees, but a with a dry front arriving Sunday night. Winds will increase into early next week out of the northwest at 10-20 mph, gusting at times to 30 mph, creating the next layer of concern for those who continue to battle the fire.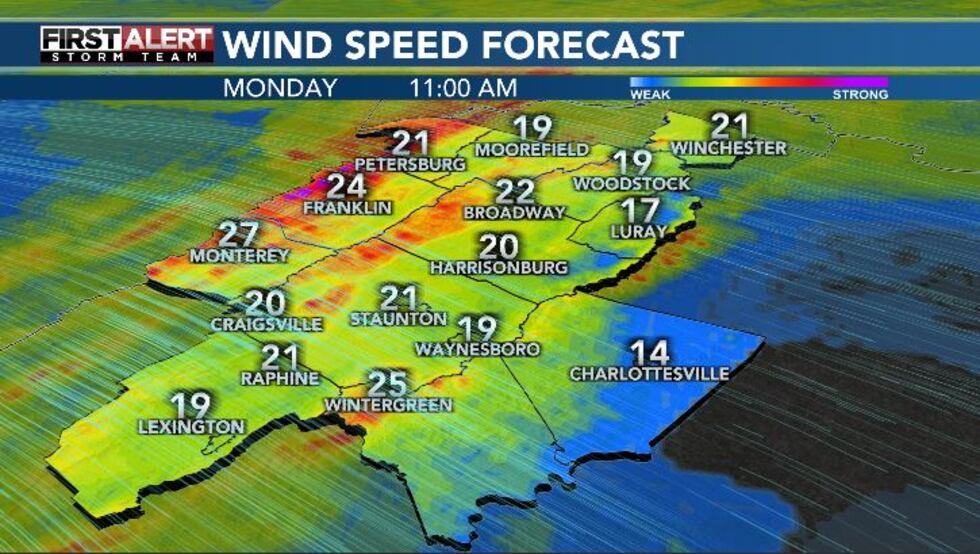 HARRISONBURG, Va. (WHSV) - UPDATE 11/23/2023: Following a notable rain event this Tuesday, and hard work by firefighters, the Matts Creek Fire is now 84 percent contained, as of Thursday evening. The fire has burned a total of 11,020 acres, nearly the same reported burned acreage as Tuesday morning.
Rainfall for much of the day Tuesday helped slow the fire growth but the drought is far from done. In fact, most locations barely made a dent in the drought and need a significant amount of rainfall to still break out of the drought.
The James River Face Wilderness, including select areas and the Appalachian National Scenic Trail, remain closed due to fire suppression and trail hazards. Currently, firefighters continue to fight the fire from the ground and air, both by handheld techniques to minimize fire spread and growth, and water drops via aerial equipment.
Smoke may still be seen across the nearby region but officials say there is little to no threat in the fire spreading at this time. Work continues to protect and repair impacted trails and roadways. Fire personnel and equipment being utilized at this time include 6 hand crews, 13 engines, 1 water tender, 2 ambulances and 1 drone. First responders from 38 states and Washington D.C will continue to comb for hot spots and mop up any areas that continue to smolder through the end of the week.
The forecast continues to provide weaker winds to end the holiday week, with no strong wind gusts expected through the weekend. Temperatures will remain dry with daytime highs into the 40s and low 50s, while overnight temperatures are expected to drop into the 20s and 30s with a dry front arriving Saturday. The next potential for rain arrives Sunday night, although very isolated and limited coverage is most likely.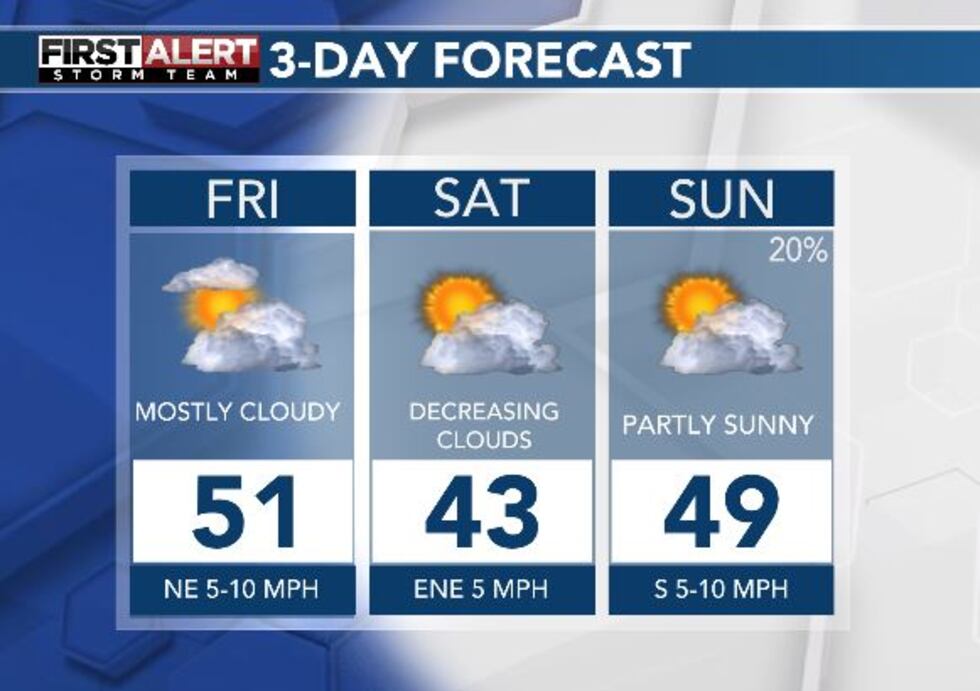 HARRISONBURG, Va. (WHSV) - UPDATE 11/21/2023: With favorable weather for fire growth early in the week, the Matts Creek Fire has now burned a total of 11,016 acres as of Tuesday morning. The fire is now 33 percent contained and there is hope that rainfall in the area can knock down some of the smoke and spreading fire.
Rain is falling across the region early Tuesday, becoming steady to heavy at times. Rainfall is expected to continue for the entire day, with a limited icing threat on the ridge tops. Rainfall totals of 1-2 inches are still expected for the regin, with isolated totals over two inches possible east of I-81 and close to the Blue Ridge.
HARRISONBURG, Va. (WHSV) - UPDATE 11/20/2023: With changing weather over the past week, firefighters remain hard at work to contain the Matts Creek Fire along the Bedford and Rockbridge County line.
As of Monday morning, the fire is now 27 percent contained and has burned a total of 10,106 acres. Smoke and air quality aren't concerns for the Valley itself but closer to the fire, thick smoke has been consistently plaquing the neighboring communities for days.
With dry conditions over the weekend, leaf litter and dried out logs became fuel that the fire quickly ate up. The fire has now spread closer to the James River, even with all resources working around the clock to contain the fire.
The forecast remains dry for Monday but a significant rainstorm will arrive Tuesday morning, even producing any ice wintery mix of sleet and freezing rain along the ridge tops. Rainfall totals of one to two inches are expected into Tuesday night, creating a window of opportunity for firefighters to gain massive ground on a fire that continues to burn by the hour.
Following the beneficial rainfall Tuesday, winds are expected to greatly increase Wednesday before Thanksgiving. Northwest winds of 15-25 mph are expected, with gusts along the ridges up to 25-30 mph. The wind will once again dry out the ground but with more moisture in place from Tuesday's system, hope remains for those battling this blaze.
HARRISONBURG, Va. (WHSV) - UPDATE 11/18/2023: The Matts Creek Fire has now officially burned 6,835 acres as of Saturday evening. The fire is now 15 percent contained, thanks to equipment, resources, and firefighters working around the clock.
Dry conditions Saturday allowed for the fire to grow once again, even after rain showers damped the ground Friday evening. Dry northwest winds allowed for all fuel to dry out quickly into the day Saturday, in addition to very low humidity. These factors combined for a high fire danger and potential for rapidly spreading fires.
Thanks to the rain showers and passage of a cold front Friday night, the weekend has already seen a large jump in air quality Saturday. These safe values are expected to continue into Sunday and the start of the new week, ahead of the next weather maker Tuesday of Thanksgiving week.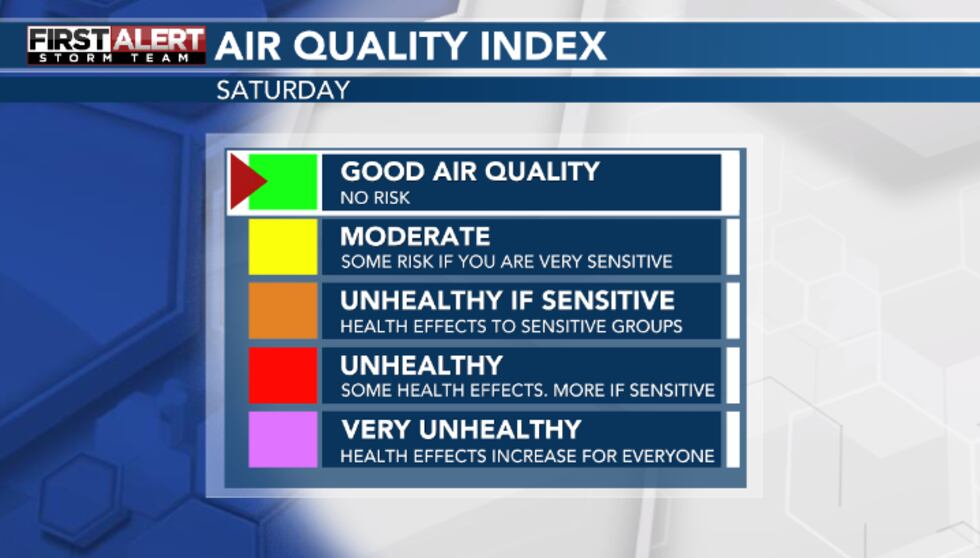 More sunshine is expected Sunday with increasing clouds Monday. Both days are expected to remain dry, with only a light breeze. A weather system arriving Tuesday ahead of Thanksgiving will likely bring much needed rainfall to the region. This will help fire crews and resources in containing and putting out the fire.
HARRISONBURG, Va. (WHSV) - UPDATE 11/17/2023: As of Friday evening, 5,978 acres have been burned from the Matts Creek Fire, with the fire still burning hot.
Light rain showers are arriving Friday night with the passage of a cold front but will do little to assist firefighters in their efforts to put out the fire. Winds behind the front are expected to be quite breezy Saturday, with ridges gusting 20-30 mph at times.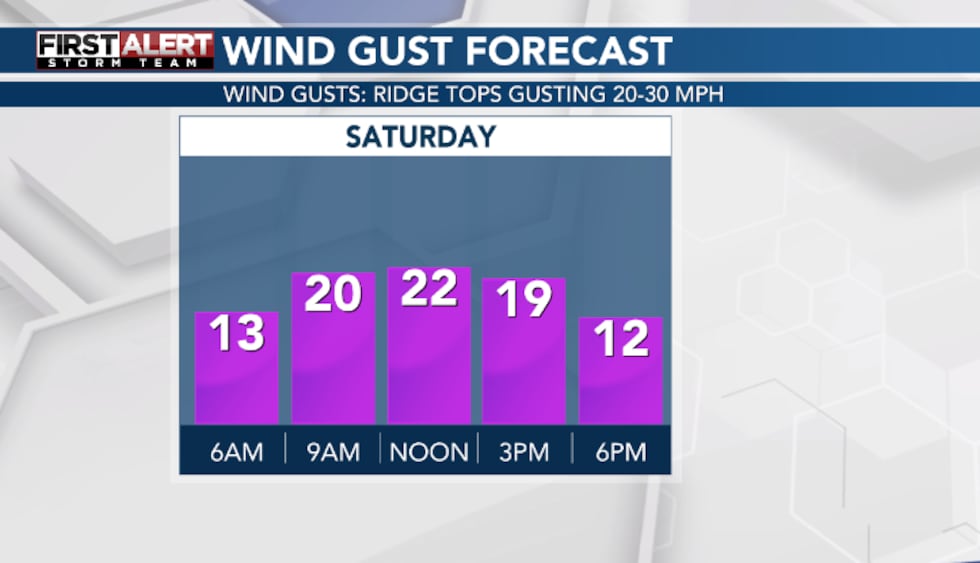 While the northwest winds will clear out the Shenandoah Valley Saturday, improving air quality and visibility, locations to the south of this fire will be socked in for another day of heavy smoke as the wind will create another challenge to those on the front lines.
We are waiting for additional details on the fire at this time. Check back for more information.
HARRISONBURG, Va. (WHSV) - UPDATE: With the continued growth of the Matts Creek Fire in Bedford County, the amount of resources that were previously utilized have been altered as the fire strengthens. As of Thursday evening, approximately 200 firefighters and support staff, eight fire crews, eight type-six engines, and three type one helicopters are battling the blaze. Nearly 5,148 acres have burned as of Friday morning.
Due to the poor air quality, Rockbridge County and Lexington City schools are closed on Friday, in addition to parts of the Blue Ridge Parkway that are currently closed due to the fire threat including the worsening smoke, and extra space for emergency crews to stage their equipment.
The terrain across the region is quite steep, and while it can be possible to attack the fire from the ground, impacts will be minimal at this time. Several air drops have been continuously thrown onto the fire and nearby areas to halt the spread of the fire.
The forecast into Friday remains dry ahead of our next cold front, which will bring limited but beneficial showers Friday night into very early Saturday morning. However, a shift in wind speed and direction are expected post front with gusty winds through the weekend that will impact how the fire is attacked.
HARRISONBURG, Va. (WHSV) - ORIGINAL: Smoke and haze continues to impact the area Thursday because of a wildfire south of the area. According to Inciweb, the Matts Creek Fire is located within the James River Face Wilderness in the Jefferson National Forest in Bedford County, which is northwest of Lynchburg.
According to Stephanie Chapman with the U.S. Forest Service, the fire is now burning around 2,750 acres of all National Forest Land. There was no backburning on Wednesday so the smoke was from the fire growing.
Crews working on the fire has increased to "approximately 120 firefighters and support staff, 6 fire crews, 1-hot shot crew, 2 type-6 engines, 3 Type 1 helicopters, and 2 fixed wing air tankers using water only."
"The entire fire is on National Forest lands, there are no structures threatened."
The fire began on Sunday, November 12, and as of Thursday afternoon is 2% contained. The cause of the fire is under investigation.
Southerly winds forecast for Thursday will continue sending the smoke northward into our viewing area leading to a smoky smell and haze. We also have high pressure overhead, which means sinking air. So the smoke is getting dragged north with southerly winds, but also it's settling closer to the ground.
According to Airnow.gov, the air quality Thursday is now in the 'unhealthy' category near Staunton and the surrounding area along with Harrisonburg and the surrounding area.
Closures: Blue Ridge Parkway announces temporary closure from milepost 66.3 to 85.9 to assist crews battling the nearby Matt's Creek Fire. A full closure from milepost 66.3, near US Highway 501, to milepost 85.9, at VA Route 43, on the Blue Ridge Parkway will go into effect beginning Wednesday evening, November 15, 2023, until further notice. Park visitors should plan for a detour from the north or south using these adjacent routes and Interstate 81. For additional closures please check out the full details here.
SMOKE FORECAST:
Smoke will continue to be an issue Friday. Not only will you smell smoke, but it can lead to low visibility at times Friday. There will be more of a breeze Friday and eventually a wind shift Friday night. Limit time outside if possible, especially if you are sensitive as air quality is poor. Smoke will continue to be thick through the end of the week. Improvements expected over the weekend.
This is a developing story, stay tuned for updates.
Copyright 2023 WHSV. All rights reserved.