Animals, human skull, fake IDs: Customs officers seize hundreds of packages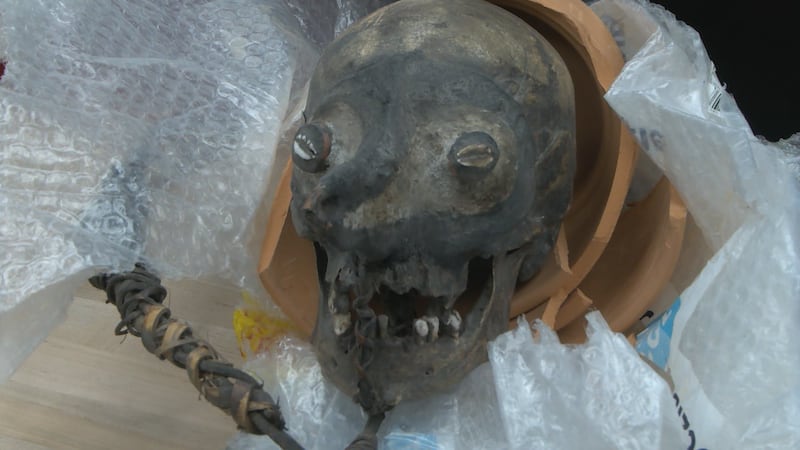 Published: Nov. 16, 2023 at 2:44 PM EST
CINCINNATI (WXIX) - With some jobs, you never know what your day might entail, and that rings true for customs officers in Cincinnati.
Some of the things these officers come across might surprise you. Sometimes, it even surprises them.
From big batches of drugs to dinosaur eggs to counterfeit bags and fake IDs, they find hundreds of illegal items throughout the year.
Each night, dozens of workers are sorting, searching, and seizing packages at the Port of Cincinnati.
"Our staff does a fantastic job at keeping bad things off the streets and keeping people safe," says Acting Assistant Area Port Director Eric Zizelman.
The thrill of the chase is what excites Zizelman.
"We've had dinosaur eggs. We've had saber-tooth tiger skulls," explains Zizelman. "We've seen cultural property out of Iraq after the Iraq war. Baby cobras, we've had lizards, turtles, tarantulas, whip scorpions. We've seen bush meat. You name it, we've seen it."
Right now, the officers are trying to track down the ethnic group that is missing a human skull.
"[This] cultural artifact, we intercepted it coming out of Europe destined to the United States," says Zizelman. "We are looking to get it repatriated back to the proper group where this skull would have originated, where it would've been modified."
Between October 2022 and September 2023, the fiscal year, customs officers processed about 65 million packages and had more than 3,400 seizures. 814 of those seizures were shipments stuffed with drugs.
"The bad guys, they have all the time in the world to sit around and think about how they're gonna beat us, and you know, we have to use our ingenuity to try and intercept," says Zizelman.
While FOX19 NEWS crews were at the port, they witnessed officers finding a stash of methamphetamine hidden in an art piece.
A narcotics K-9 trained to sniff out substances also helped officers discover cocaine inside of a cooler.
How drugs are packaged changes, but the types of illegal substances are consistent.
During the fiscal year, CBP Cincinnati seized 820kg of meth, 359kg of cocaine, 207kg of ketamine and 5.5kg of Fentanyl.
"Proceeds from the narcotics sales [are typically] going back to cartels, typically in central South America, Mexico area," Zizelman says.
It is not just drugs that officers find when looking through packages though. They also find counterfeit goods, like counterfeit shoes, watches, purses and even hats.
The officers have dealt with credit card skimmers, fake jerseys, and fake IDs, which Zizelman says are often smuggled in for underage college students, but are also sometimes used for criminals seeking a new identity.
Officers have a trained eye to alert them to counterfeit things.
This fiscal year, officers seized 344 counterfeit shipments, which totals more than $12 million.
"The proceeds from those items can be used for terrorists, to support terrorists," says Zizelman. "[Counterfeit goods] have been proven to support terrorism."
Although customs officers keep busy all year, they are now preparing for peak season.
While the number of packages goes up during the holidays, Zizelman says the officers' dedication never slows down.
"It's rewarding because you go downstairs on the exam floor, you intercept a package of methamphetamine, a package of coke, fentanyl, whatever it may be, right? You know you've done your part to at least help to the best of your ability to keep that stuff off the street," Zizelman explains.
Once an item is seized, those involved will get a notice and will have the option to file a petition or a claim to try to get it back.
If something illegal was inside, agencies like Homeland Security and the FBI take over the investigation to potentially prosecute the people responsible.
See a spelling or grammar error in our story? Please click here to report it.
Do you have a photo or video of a breaking news story? Send it to us here with a brief description.
Copyright 2023 WXIX. All rights reserved.