ESPN celebrates 30th anniversary of College GameDay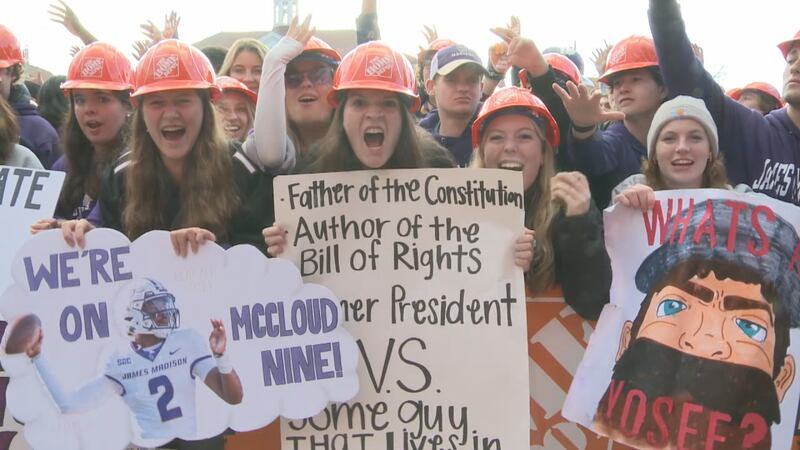 Published: Nov. 18, 2023 at 5:20 PM EST
HARRISONBURG, Va. (WHSV) - Thirty years ago, Bill Clinton was sworn into office, Michael Jordan walked away from basketball, and the first College GameDay on the road aired on ESPN.
GameDay first went live in Notre Dame, Indiana in 1993 to preview Notre Dame taking on Florida State. Over the past three decades, the show has grown into a weekly affair featuring multiple pregame shows on campus. This weekend, the most well-known college football show visited James Madison for its 30th anniversary on air.
"I never cease to be amazed at the response we get," said College GameDay host Rece Davis. "They're not coming out to see the Jonas Brothers, although they literally are this week."
JMU College GameDay featured a Saturday morning performance by the Jonas Brothers and Bailey Zimmerman, along with the iconic pregame show on ESPN.
"When they come to our show, they're coming out because there's an appreciation for the show but they also want to showcase the pride in their own program," added Davis. "The fact that they choose to do that through our show is really gratifying."
This weekend marked the third time that GameDay visited James Madison. The Dukes rose to the occasion, packing the quad with a record-breaking 26,000 fans for the anniversary show on Saturday morning.
"It's just a great honor to be a part of such a big show that is so important to college football," said College GameDay host Desmond Howard. "To be here for this celebration of the anniversary is huge."
Copyright 2023 WHSV. All rights reserved.