President Joe Biden orders US flags lowered in memory of former first lady Rosalynn Carter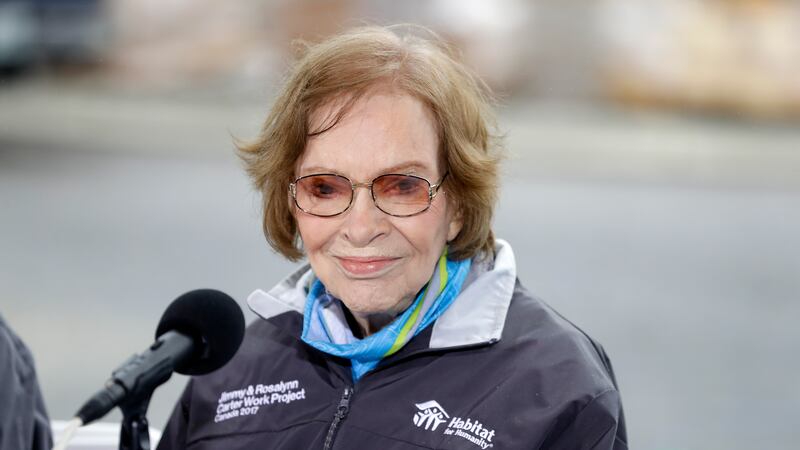 Published: Nov. 21, 2023 at 3:41 PM EST
PLAINS, Ga. (AP) — President Joe Biden has ordered that U.S. flags on federal government buildings and property will be lowered to half staff for five days in recognition of former first lady Rosalynn Carter, who died Sunday at the age of 96. Biden's order calls for flags to fly half-staff from Saturday through sunset on Wednesday, Nov. 29, the day Carter will be buried in Plains, Georgia, the hometown she shared with former President Jimmy Carter.
The order applies to flags at the White House, all other federal buildings and grounds, and all military and naval posts, including navy vessels, in the U.S. and its territories, along with all U.S. diplomatic, military and naval outposts abroad.
Such orders are common when major federal government figures die, including first ladies. Presidential spouses, though, do not receive state funerals.
Rosalynn Carter will be honored with public events beginning Monday in Sumter County, Georgia, where she and the former president were born, wed and lived most of their lives. Jimmy Carter, who is 99, remains at home under hospice care.
A service for Rosalynn Carter will be held in Atlanta on Tuesday, followed by a final funeral Wednesday at Maranatha Baptist Church in Plains, where the Carters were members for more than 40 years after leaving Washington in 1981. She will be buried on land near the home where she and the former president have lived since 1961, with the exception of four years in the Georgia Governor's Mansion and four years in the White House.
It is not clear whether Biden will attend Rosalynn Carter's Atlanta service. Former presidents and first ladies often attend the funerals of former first ladies.
Biden has said he plans to deliver the eulogy for former President Carter when the time comes.
Copyright 2023 The Associated Press. All rights reserved.