Anchor/Reporter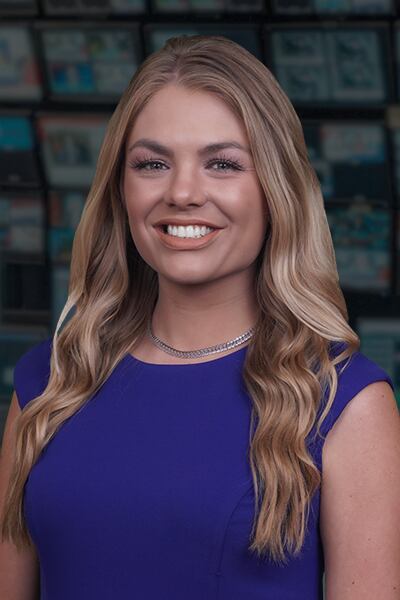 Kristin Rogers co-anchors KCRG-TV9 First News and the KCRG-TV9 Morning News in her hometown of Cedar Rapids.
Kristin graduated from Washington High School in 2011. After high school, she attended the University of Nebraska Omaha where she double majored in broadcasting and speech, as well as competed on the track and cross country teams. During college, Kristin interned in the sports department at KETV in Omaha for a summer, where she had a front-row seat to College World Series coverage. In addition, Kristin regularly contributed to the ESPNU Campus Connection program where she would cover the stories behind college athletes. During this time, she had the memorable opportunity to shadow Mike Tirico at a Nebraska basketball game.
Kristin graduated from UNO in 2015 and immediately moved back to Cedar Rapids to begin working as the KWWL bureau reporter. During this time she covered everything from the Iowa caucus to the 2016 flood. She contributed to a regional Emmy Award for the 'KWWL News at 6' before leaving the station in 2018.
After her time at KWWL, Kristin worked for a digital marketing company in Cedar Rapids. During the pandemic, she started to truly miss her passion of TV news. Kristin started as a reporter at KCRG-TV9 in October of 2020. In 2021, she contributed to a regional Emmy Award for the 'KCRG-TV9 News at 6pm: The Funeral of Sgt. Jim Smith.' During her time as a reporter Kristin covered numerous murder trials, breaking news events and follow-up stories. In 2022 this included an interview with a woman who survived an attack from an accused killer in Cedar Rapids. That story won 1st place for General Reporting at the Iowa Broadcast News Association awards. Kristin was also on-site shortly after a plant explosion in Marengo which injured several people in 2022. Team coverage of the event and its aftermath won a regional Edward R. Murrow award for KCRG-TV9.
Kristin moved to the anchor desk in February of 2023.
For fun she enjoys running, shopping, biking, kayaking, putting outfits together, caddying for her husband on the golf course, cheering on the Huskers, going out to local restaurants, and every moment spent with friends or family. She especially values time with her husband, son and daughter.
Be sure to say hi if you see Kristin around and feel free to email her your story ideas at kristin.rogers@kcrg.com.
Updated: Sep. 16, 2022 at 10:31 PM EDT
|
By
Kristin Rogers
and
Jordan Gartner
A dozen teachers from a small Eastern Iowa school say they have been diagnosed with breast cancer within the last decade.
Updated: Jun. 1, 2022 at 9:52 PM EDT
|
By
Kristin Rogers
and
Andrew McMunn
A home where police say a 22-year-old woman was murdered in April was visited by police more than 90 times in 5 years.