The Sears Hill Pedestrian Bridge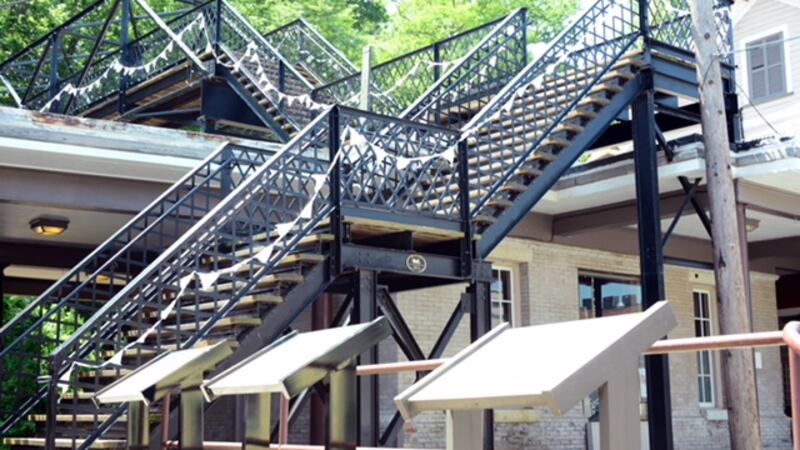 Published: Jun. 8, 2018 at 10:02 AM EDT
The Sears Hill Bridge dates from 1888 when a wooden pedestrian structure was built across the C and O Railroad to connect the Sear Hill residual area to the Wharf District in Staunton, VA. In 1905 when the present train station, designed by noted local architect T. J. Collins, was erected an iron truss pedestrian bridge was constructed to replace the wooden structure. This rare structure is listed with Virginia Landmarks Register and the National Register of Historic Places.
Today, the bridge connects the Sears Hill neighborhood and park, located on the steep hill south of the tracks, to the historic Wharf District of Staunton. It is an important visual element of the Wharf District's historic landscape, and has become a popular vantage point in recent years for tourists. With the help of Frazier and Associates, contributions from local residents, foundations and businesses a recent $200,000 renovation of the pedestrian bridge brings new life to a rare structure that has connected the Sears Hill neighborhood and Staunton's Wharf District for more than a century.
On the Sears Hill side of the bridge is a wonderful park that many visitors frequent annually. Located in the park overlooking the City of Staunton, Virginia are a series of interpretive signs. These signs guide visitors as they overlook the historical reference points that really complement this beautiful view of the City of Staunton, Virginia. A visit to the historic Wharf District and a short walk across the bridge is a something you must add to your "to do list"!