Craft brewing booms in Virginia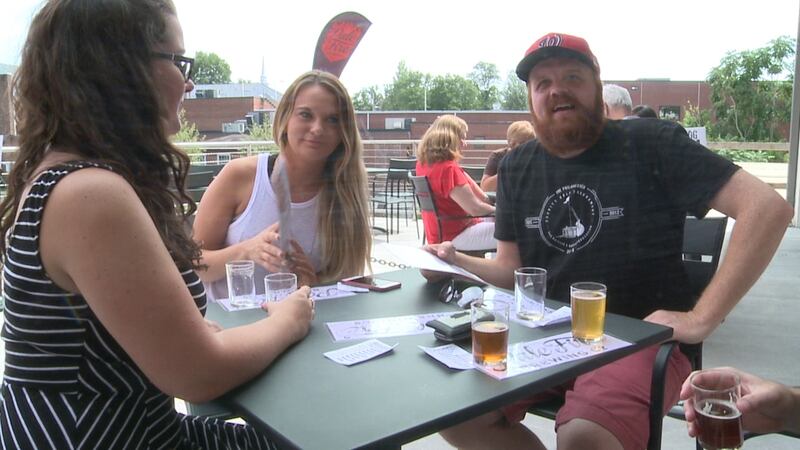 Published: Jul. 14, 2016 at 5:55 PM EDT
Nearly 100 new craft breweries have opened across Virginia in the last four years, including a some right here in the Shenandoah Valley. Barley, hops, yeast and water are all in that pint of your favorite beer, but local brewers told me there is also much more: passion and heart.
After growing and selling vegetables didn't work out for Craig Nargi, he turned to hops. Then, when local brewers didn't want the hops, he turned to the U.S. Dept. of Agriculture.
"They said you need to take and make your own beer," Nargi said.
Four years and many hurdles later, Stable Craft Brewing opened its doors this April --expecting to produce nearly 500 barrels in their first year, and adding more than a dozen jobs.
It is one of the now-more-than 140 craft breweries across the state. That growth came largely because of Virginia's Senate Bill 604 --passed in 2012-- which allowed breweries to serve beer they brew on-site. Now, craft brewing is a billion-dollar-a-year industry in the state.
"As a whole, the brewing industry contributes a lot to the local economy and the state economy, and that's identified --and so we had a lot of support for that," Nargi said.
Nargi said support has come in many different forms: from Augusta County leaders to state delegates --allowing him to give back to the community.
Nargi said: "Day visitors or people who want to drive within an hour or two hours and come and spend some money in our county or in the local area and that money pretty much stays here and the advantage to the local government is that it's not taxing our school systems, it's not taxing our police and fire and rescue, it's not taxing some of those other services, that's a positive dollar for our income at the county level."
According to the Va. Economic Development Partnership, between 2011 and 2015, the number of barrels produced in the state increased by nearly 350 percent. And it's no secret that the growing industry is supported by Gov. Terry McAuliffe, who spoke with WHSV's Katie Caler on a recent visit to Pale Fire Brewing Co.
"Listen, I'm a huge supporter of our craft brew industry," Gov. McAuliffe said. "We have 275 wineries, and we have about 40 cideries now, so we are really taking off, but the craft brewery industry here in Virginia is taking it to another level"
"It's huge; it's huge to be recognized like that and to be kind of singled out as an industry that our state government wants in the state and encourages," Tim Brady said. "That's incredible --that's a nice feeling."
That support extends to other breweries, including Pale Fire Brewing Co. which Tim Brady opened more than a year ago. "The rising tide rises all ships," said Nargi.
"It works out well: we get along with all of the other breweries --that's something that's really nice about our industry, is that we do try to help each other out," added Brady.
Despite support, Nargi and Brady said, while it's not easy, it's worth it
Brady said: "The love and attention that we put into it --this field really draws passionate people-- it's not just something you do while you're in-between jobs. You really have to love being a brewer and really put your heart into it to succeed."
For craft brewers it's about more than just beer; it's the experience. Brady said: "Your clientele is more reserved in their passion for what they want to drink; they're exploring the flavors when you have a craft brewery. You have a whole genre of people who want to be in the craft brew business. They might love one beer and not like another, and they'll go from place to place to place and they'll come back to the ones they really like --and that'll become kind of their home"
Although Pale Fire Brewing Co. is in Harrisonburg and Stable Craft is in Augusta, they are connected by the Shenandoah Beerwerks Trail which opened in April and links 12 breweries between Lexington and Harrisonburg.