Federal hate crime charges filed in Charlottesville rally death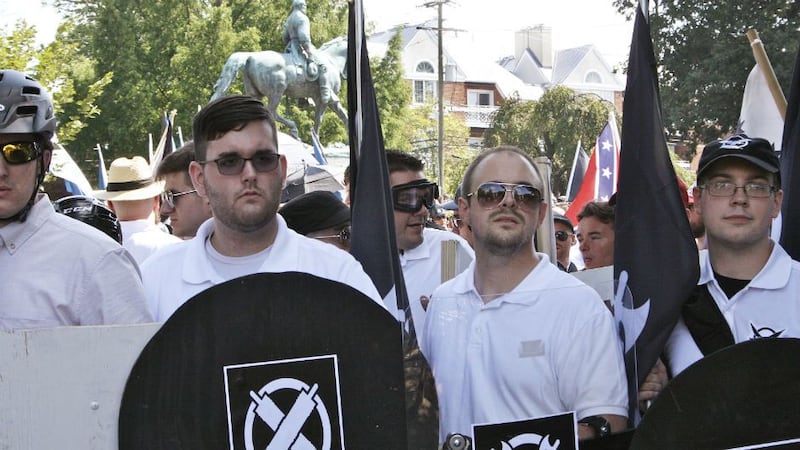 Published: Jun. 27, 2018 at 12:31 PM EDT
A reputed Hitler admirer accused of plowing a car into a crowd of protesters in Charlottesville, killing a young woman, was charged Wednesday with federal hate crimes in a case arising from the white nationalist rally that stirred accusations President Donald Trump was emboldening racists.
James Alex Fields Jr., who already faced murder and other charges under Virginia law, was indicted on 30 additional federal charges stemming from the 2017 attack that killed 32-year-old Heather Heyer and injured dozens of others who had gathered to protest the white nationalists.
"At the Department of Justice, we remain resolute that hateful ideologies will not have the last word and that their adherents will not get away with violent crimes against those they target," Attorney General Jeff Sessions said in a statement. "Last summer's violence in Charlottesville cut short a promising young life and shocked the nation."
With his statement and the decision to bring the charges, Sessions struck a sharply different tone than the president, who sparked an uproar last year when he blamed the violence at the rally on "both sides."
Described by a former teacher as having a keen interest in Nazi Germany and Adolf Hitler, Fields allegedly drove his speeding car into a group of people demonstrating against the "Unite the Right" rally. The Aug. 12 event drew hundreds of white nationalists to the college town, where officials planned to remove a statue of Confederate Gen. Robert E. Lee.
The car attack came after the rally had descended into chaos, with brawling breaking between white nationalists and counterdemonstrators. Authorities then forced the crowd to disband.
Fields, 21, of Maumee, Ohio, has been in custody since the attack. Prosecutor Joseph Platania said in a statement that the federal indictment would have no effect on the pending state case.
The attorney representing Fields on those counts declined to comment.
According to the indictment, on or before August 8, Fields decided to attend the Charlottesville rally, scheduled for Aug. 12. The rally, planned for Emancipation Park (formerly Lee Park) was widely publicized on social media and websites associated with white supremacist individuals and groups.
As he prepared to leave to travel to Charlottesville, a family member sent him a text message urging him to be careful, the indictment said.
Fields replied, "We're not the ones who need to be careful," and attached an image of Adolf Hitler, according to the indictment, which also says Fields used social media to promote racist views.
On the morning of Aug. 12, Fields arrived in the vicinity of Emancipation Park in Charlottesville. Multiple groups and individuals, including Fields, engaged in chants promoting or expressing white supremacist and other racist and anti-Semitic views. After an "unlawful assembly" was declared, rally participants, including Fields, dispersed the area.
Fields returned to his vehicle and, soon after, drove to the vicinity of the intersection of Fourth and East Market streets in downtown Charlottesville.
As alleged in the indictment, Fields drove his car onto Fourth Street, a narrow, downhill, one-way street in downtown Charlottesville. At around the same time, a racially and ethnically diverse crowd of individuals was gathered at the bottom of the hill, at the intersection of Fourth and East Water streets. The indictment alleges that Fields slowly proceeded in his vehicle toward the crowd, stopped, and then observed the crowd while idling in his vehicle.
Many of the individuals in the crowd were chanting and carrying signs promoting equality and protesting against racial and other forms of discrimination. With no vehicle behind him, Fields slowly reversed his vehicle to the top of the hill near the intersection of Fourth and Market streets. Fields then rapidly accelerated, ran through a stop sign and across a raised pedestrian mall, and drove directly into the crowd, striking numerous individuals, killing Heather Heyer, and injuring many others.
Fields's vehicle stopped only when it struck another vehicle near the intersection of Fourth and Water streets. He then rapidly reversed his vehicle and fled the scene.
Surveillance footage from a Virginia State Police helicopter monitoring the event captured the moment of impact by the car and showed the vehicle as it reversed and drove away. It was pulled over a relatively short time later.
The indictment includes charges under two hate crime statutes, including the one under which Dylann Roof was prosecuted for the 2015 killings of nine black parishioners at a church in Charleston, South Carolina.
A single count was brought under a provision of the Civil Rights Act of 1968. That charges accuses Fields of racially motivated violent interference with a federally protected activity — in this case, the use of the public streets and sidewalks of Charlottesville. The charge is death-penalty eligible, although that decision has not yet been made, U.S. Attorney Thomas Cullen said.
"The events of Aug. 12, 2017, in Charlottesville are a grim reminder of why the FBI prioritizes its investigations of civil rights violations among the top of its criminal programs," said FBI Director Christopher Wray. "I hope today will also be a reminder to those who are motivated by hate and intent on committing violence; we are going to be there, just as we were in this case," said FBI Special Agent in Charge Adam S. Lee of the Richmond Division, who also oversees the office in Charlottesville. "I want to thank the Civil Rights Division and the United States Attorney's Office for their outstanding partnership, my team of FBI agents and analysts who worked tirelessly to put the case together, and the business owners and residents of Charlottesville who worked with us and provided a massive volume of evidence in this case."
The federal case is not the first to be filed by Sessions' Justice Department, but it is certainly the highest-profile one. Critics of Sessions have aired concerns for the last year about what they see as less aggressive enforcement of civil rights laws and the department's lack of intervention with police departments that have troubled relationships with minorities.
Kristen Clarke, a former hate crimes prosecutor and president of the liberal Lawyers' Committee for Civil Rights Under Law, said in a statement that her group was pleased the with federal indictment but that more work remains to be done to address the country's growing "hate crime crisis."
Silence on the part of Sessions "was simply not an option" because the Charlottesville rally "stands as one of the most violent hate rallies to be carried out in this country in recent time," she said.
No date has been set yet for Fields' initial appearance in federal court, said Brian McGinn, a spokesman for Cullen.
___
Rankin reported from Richmond. Associated Press Writer Eric Tucker in Washington contributed to this report.