Former EVMS yearbook staffer says picture on Northam's page likely not a mistake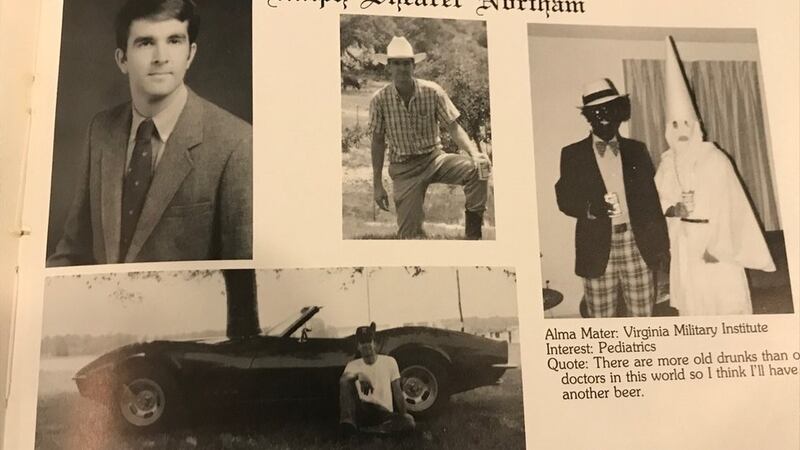 Published: Feb. 4, 2019 at 10:50 PM EST
A former Eastern Virginia Medical School (EVMS) yearbook staff member explained the process of how a
could have been published.
The picture appears on Northam's page in the 1984 EVMS yearbook. It shows two people dressed up; one in a Ku Klux Klan outfit, the other in blackface.
William Elwood, who now lives in McGaheysville, was a page designer for the EVMS yearbook in 1984, the same year the picture on Northam's page was published. Elwood says the yearbook staff only published pictures that were given to them.
"Each student was allowed to submit a certain number of pictures that they wanted to appear on the page with their graduation photograph," said Elwood. "They chose their own pictures, they were submitted in a sealed envelope with their name on them, and the only time that envelope was opened was when the layout was done on their page."
In a press conference, Northam
. He believes it was placed on the wrong page.
When asked about that, Elwood says the chance of a mix-up is unlikely.
"In my personal knowledge and the people I knew that were working on the staff, we went through great pains to make sure that there was not a mix-up," Elwood said. "To my knowledge, nobody complained that their picture ended up on a different page."
Elwood does not recall working on Northam's specific page, but he does recall that blackface pictures were not uncommon in the school's yearbook.
"My understanding is that on another page, there was another group of students that had dressed up like the Supremes and were in blackface and it was in the yearbook," Elwood said. " So I don't think that anybody thought of that as a significant problem back then."
Elwood did not comment on faculty oversight of pictures during that time, but he said the final decision was up to the editor of the yearbook.
EVMS has released statements about the picture on Northam's yearbook page. They suspended the publishing of yearbooks in 2013 after students posed in Confederate garb.
On Tuesday afternoon, the school held a press conference where Dr. Richard V. Homan, the current president of the school, said that EVMS takes full responsibility for the image and others that appeared in the 1984 publication.
Homan acknowledged that there were at least two other photos in the yearbook depicting blackface, as Elwood mentioned to WHSV.
Homan apologized for the pain inflicted on African Americans and said an independent investigation will try to get to the bottom of how the images got there. He also said the school will review all yearbooks.