General Assembly rejects Gov. Northam's proposal to delay May elections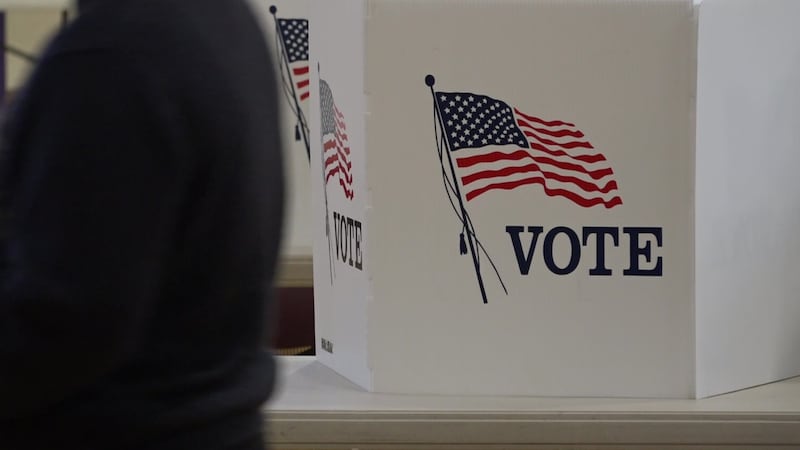 Published: Apr. 23, 2020 at 11:13 AM EDT
As the Virginia General Assembly convened with abnormal accomodations due to COVID-19 on Wednesday, lawmakers considered hundreds of amendments to legislation and the state budget that had been proposed by Governor Ralph Northam.
One of the biggest topics was an amendment that the governor announced in one of his COVID-19 briefings earlier this month. On April 8, Northam
until the same time as November general elections.
"As other states have shown, conducting an election in the middle of this global pandemic would bring unprecedented challenges and potential risk to voters and those who work at polling places across the Commonwealth," said Governor Northam. "Making these decisions now will help election officials prepare and implement the necessary changes. This is about protecting the health and safety of Virginians during this pandemic and ensuring our citizens can make their voices heard in a safe, fair, and uniform manner. I urge the General Assembly to do their part and take action to move our upcoming elections."
The governor's recommendation proposed a plan for one ballot in November that would have included both national elections and the local elections that would have been held in May. Local officials' terms would have been extended by several months.
Northam said his recommendations were made after discussing the changes with Virginia's congressional delegation, as well as leaders in the state House and Senate.
But on Wednesday, lawmakers did not pass the measure.
Initially, the House of Delegates voted along a slim majority not to adopt the amendment. After debate, confusion and technicalities, the amendment passed with two votes. The Senate, which accepted most budget recommendations, simply did not vote on moving May elections.
Delegate Mark Levine, who voted to accept the amendment, said this means elections will be held in May, despite public health concerns. He suggested that since the Senate did not vote to move the elections, the senators should man the polls.
Many Republican lawmakers, who became the minority party this past year, but by a closer margin in the Senate, disagreed with the local election proposal from the time of its announcement.
"We sincerely hope the Governor will reconsider his proposal," Sen. Mark Obenshain said at the time. "There is an option that keeps Virginians safe and healthy, keeps local self-determination in place, does not subordinate local issues to the furor and din of a Presidential election, and maintains the high level of integrity that our electoral system requires and that our citizens expect."
Obenshain said the reason for holding local elections at a separate time from November is to "avoid the hyper partisan rhetoric that overshadows all November elections – especially in a Presidential election year."
Obenshain and other Shenandoah Valley General Assembly members said they thought a better option would have been to move local elections to June 23, the same date to which Northam moved statewide primary elections
But since the Senate took no vote on the governor's recommendation to move May elections, they will remain as scheduled.
It's expected that public officials will heavily encourage absentee voting to avoid large gatherings at polling places.
__________
The Capital News Service contributed to this report.
General info on COVID-19
All of the cancellations, postponements, and closures, locally and nationwide, are happening in hopes of "flattening the curve" of the virus.
While letting the virus spread rapidly could shorten the duration of the pandemic, it could put a lot of strain on hospitals, putting them over capacity. The goal is to keep the apex curve below hospital capacity.
Who gets tested for the virus?
Currently, there are two main reasons someone would be tested for the coronavirus: having symptoms or exposure to an infected person. In our area, requirements for testing include both symptoms and either travel to an affected area or exposure to someone with a confirmed case.
The main symptoms of COVID-19, the disease caused by the coronavirus SARS-CoV-2, are fever, dry cough and shortness of breath. These look a lot like the flu and the common cold, so it takes a physician to determine if testing for the virus is necessary.
How does the coronavirus test work?
For a patient, the process of being tested for the virus is easy and can potentially be done almost anywhere. It typically involves taking a swab from deep in a patient's nasal cavity to collect cells from the back of the nose.
The sample is then sent to a lab, where it will be tested to determine if the patient's cells are infected with the virus. The same process is used to collect a sample from a patient who is tested for flu.
What to know about preventing the virus
Most people don't suffer much from COVID-19, but it can cause severe illness in the elderly and people with existing health problems.
The coronavirus that causes COVID-19 can cause mild to more severe respiratory illness. In a small proportion of patients, COVID-19 can cause death, particularly among those who are older or who have chronic medical conditions. Symptoms include fever, cough, and difficulty breathing. Symptoms appear within 14 days of being exposed to an infectious person. COVID-19 spreads primarily through respiratory droplets produced when an infected person coughs or sneezes.
To lower the risk of respiratory germ spread, including COVID-19, the Virginia Department of Health encourages the following effective behaviors:
• Wash your hands often with soap and water for at least 20 seconds. Use an alcohol-based hand sanitizer only if soap and water are not available.
• Avoid touching your eyes, nose, and mouth.
• Cover your mouth and nose with a tissue or your sleeve (not your hands) when coughing or sneezing.
• Clean and disinfect frequently touched objects and surfaces.
• Stay home when you are sick.
• Avoid contact with sick people.
• Avoid non-essential travel.
For the latest factual information on COVID-19, you're encouraged to check both the
and the
.