Hardy County schools help out school group stranded by drowsy bus drivers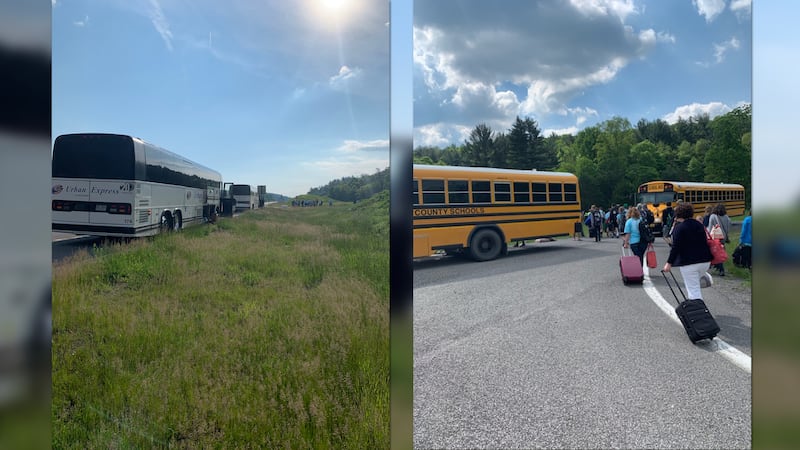 Published: May. 16, 2019 at 3:26 PM EDT
Hardy County schools jumped to the rescue Thursday morning after a school group heading to Washington, D.C. found themselves stranded on Route 48 due to bus drivers who hadn't slept in over a day.
Several people reached out to WHSV on Thursday morning with concerns about buses that appeared to be pulled over along Corridor H in Hardy County.
It turns out that Hardy County school officials were helping out a group of students on their way to the National Zoo in Washington, D.C. after their bus drivers were unfit to drive.
According to a statement from the Hardy County Sheriff's Office, 911 dispatchers received a call at 7:40 a.m. about two commercial buses seen heading east on Corridor H that were swerving all over the roadway, crossing lines and running off the travel lanes into the shoulders multiple times.
Deputies were dispatched to the scene to carry out a welfare check.
They intercepted them at the 121 mile marker and spoke to those on board.
There, they found out the commercial buses were full of students from Belington, West Virginia, on a field trip to Washington, D.C. But both bus drivers were found to be very groggy, and deputies found out they had each been without sleep for 24 hours.
Passengers confirmed the situation.
Hardy County deputies determined that neither driver should continue without a full night's rest, so they arranged other transportation. The drivers were taken to a nearby Moorefield hotel, and Hardy County Schools Superintendent Van Meter called in local school buses to take the students and chaperones to a safe location, where they waited for the bus company to bring in fresh, well-rested drivers.
The Hardy County Sheriff's Office said they are "happy that the incident was resolved safely and the children and chaperones were able to proceed on their trip with drivers who have had a full night of rest."
The West Virginia Department of Transportation was notified about the situation, and deputies say both commercial bus drivers have charges pending against them.