How a lost dog was found two days after a massive fire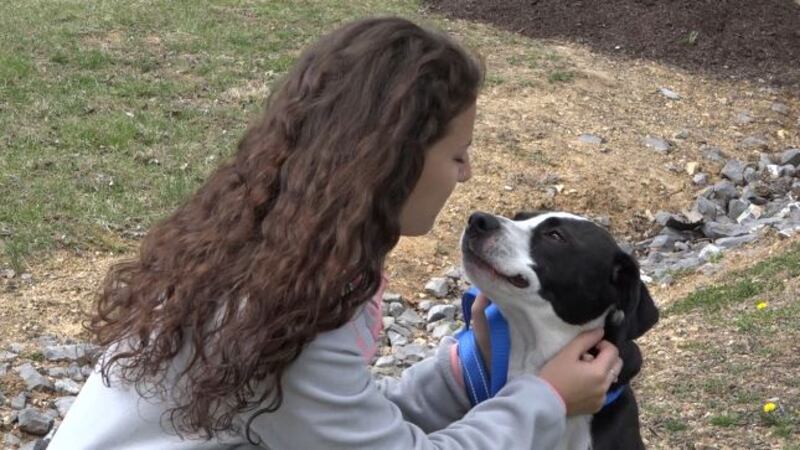 Published: Mar. 31, 2019 at 7:46 PM EDT
After thinking her four-legged friend was gone forever, one woman affected by
in Harrisonburg was reunited with her best friend.
Kayla Blake said she was away from The Hills at Southview Apartments on Thursday morning when she received a call that her apartment was on fire.
"When I got the call, I was a wreck, very hysterical and my first concern was whether or not they were gonna be able to get Rebel out," Blake said.
Blake adopted Rebel three years ago from the Richmond Animal League; since then, the two have been inseparable while she's been studying at James Madison University.
Blake lived on the third floor of the building, and when she arrived to the scene, first responders told her they were unable to make it to her apartment due to it being dangerous.
"The K-9 unit told my parents that there was no way that Rebel would have been able to escape, because at the time they assumed the floors had collapsed," Blake said. "Even if he hadn't fallen through a floor or anything, they said he would have died just from the heat."
Aerial video from the day of the fire showed most of the third floor of the building virtually gone by the time the fire was extinguished.
Blake said she was at a low, knowing that materials could always be replaced, but not the ones you love.
She said two days later, she went with a friend to go check the burnt apartment.
That's when Blake heard barking coming from her old window.
Blake immediately called police and the fire department, who were able to walk up to the third floor through the debris. There, they found Rebel miraculously still alive.
"They walked up within a few minutes, five or six minutes later ,we heard one of the fire fighters yell, "We got him!" and he looked out the window and gave me a thumbs up."
She said Rebel was found almost untouched, besides a burn on his nose, in the corner of her room under a desk.
The firemen said the desk and a JMU flag hanging above Rebel were the only things in the apartment not burned from the flames.
"Rebel goes everywhere with me, so he's definitely gonna be a part of the next part of my journey wherever I end up after this," Blake said.
Blake said she did take Rebel to an emergency veterinarian who said Rebel checked out perfectly healthy.
If you'd like to help out Kayla and her fellow students, some of whom lost a pet to the fire, you can find information on where donations are being accepted
.