Hundreds protest immigration ban in Downtown Harrisonburg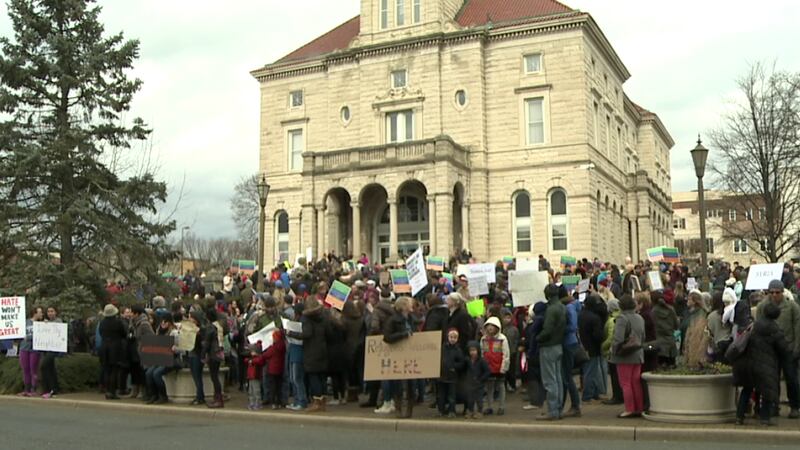 Published: Jan. 29, 2017 at 7:00 PM EST
Hundreds gathered in Downtown Harrisonburg on Sunday, Jan. 29 to oppose President Trump's recent order banning immigration from seven Muslim-majority countries.
Saber Khoshnaw, who was in attendance, has been in the United States nearly 20 years after immigrating from Iraq.
"They came here for a better life, to save their kids and their futures here and to build a good future for their kids," Khoshnaw said when speaking about refugees and immigrants.
Khoshnaw said he is being personally impacted by the executive order. His daughter and granddaughter are both U.S. citizens, but his son-in-law was in the U.S. on a green card. Right now, the three of them are visiting Iraq, but his son-in-law won't be able to return with them.
"America is a country of freedom. It is not in our constitution, yesterday you are American, today you are not," said Khoshnaw.
It remains unclear how the ban will impact green card holders. During an interview with NBC, White House Chief of Staff Rience Preibus gave differing answers on the matter within minutes.
Even through all this turmoil, Khoshnaw still has faith in Harrisonburg, and America.
"I am very proud of America. I love America, I love American people. Look, we are together stronger," said Khoshnaw.
Rebecca Sprague was also on Court Square on Sunday. She settles refugees for a living and said there were more than a dozen folks overseas who were told they would get to come to the Valley and now can't.
"There is one family from Sudan whose father is still in the refugee camp, and every time I see the boy he asks me 'when will my father be able to join me,' and now what am I going to tell him," said Sprague.
The event was organized in roughly 24 hours, so the organizer was shocked to see so many people show up.
"I think the bottom line is that it shows it is really, really important issue to people, especially in Harrisonburg," said Erin Murray,