InDemand: Diesel Technician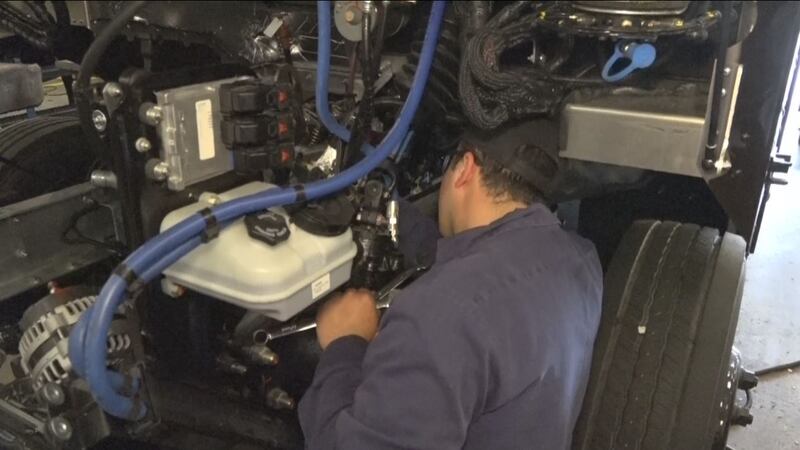 Published: May. 14, 2019 at 2:43 PM EDT
Ben Siron became interested in the diesel tech field when he was in middle school. He is now solving problems with all kinds of vehicles at Excel Truck Group in Weyers Cave.
"The thing I like most about my job is just figuring out a problem that's really tough and challenging," Siron said. "When you find out what's wrong with a truck and fix it, it's a really good feeling, and I enjoy that."
Siron studied in the program at Valley Career and Technical Center. He also took part in competitions through the SkillsUSA program. Through those competitions, he met managers from Excel Truck Group, leading to his job.
Siron said the tech programs at Massanutten Technical Center and at Valley Career and Technical Center offer great opportunities to get involved.
"If you really stick to it and want to learn, it's a good career field to get into," Siron said. "Basically, whatever comes through the door, anything from working on gasoline engines in Isuzus or step vans, or I work on big trucks like these. Engines, transmissions, wiring problems: It's whatever there is to do."
According to economic statistics gathered by the Shenandoah Valley Workforce Development Board, the salary range for a diesel technician is from $34,300 to $51,200.
There's a projected need for 384 diesel technicians over the next 10 years in our area. These positions usually require a high school diploma and on-the-job training.
"I see the trucking industry growing, definitely growing more and more. Everything that we have has been carried by a truck at some point. It's definitely being modernized more and more every year," Siron said.