Judge allows texts and calls from Fields as evidence in trial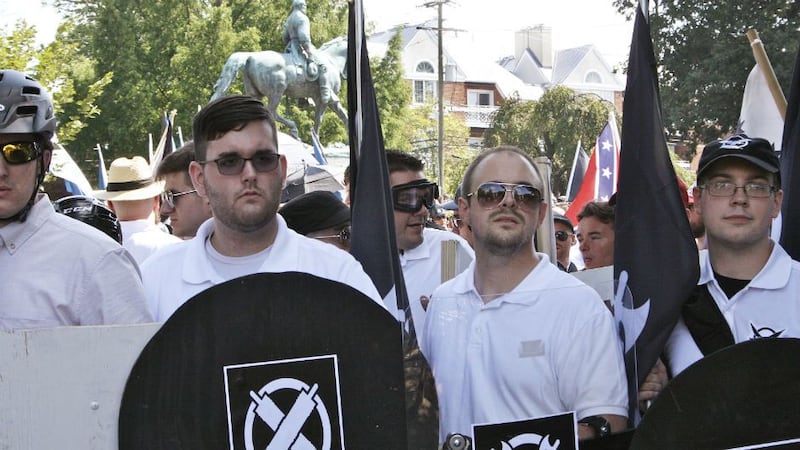 Published: Dec. 4, 2018 at 1:40 PM EST
As the prosecution draws closer to resting its case in the trial of James Alex Fields, Jr., jurors watched an interrogation video from when Fields was arrested, as well as two phone calls made to his mother while he was in jail.
Fields refused to speak in his interrogation tape and only asked for a lawyer, but began crying and hyperventilating when police told him one person had died and several others were hurt in the crash.
In a recorded phone call to his mother from jail on March 21, 2018, Fields told his mother he was "mobbed by a violent group of terrorists."
"They were waving the ISIS flag," he said while referring to them as anti-fascists. "They support them."
"Everybody supports something," Fields mother replied. "I don't see one better than the other."
In a recorded phone call from Dec. 7, 2017, Fields referred to Susan Bro, the mother of Heather Heyer.
"She's one of those anti-white supremacists," said Fields, who also referred to her as a communist.
"She lost her daughter," his mother replied.
"It doesn't [expletive] matter," Fields responded.
Fields' mother then seemed to get angry at her son for that response and told him to stop talking.
Although the jail tapes were admitted as evidence, several parts were redacted due to an objection by the defense.
Only relevant portions were played for the jury, and the jury received copies of them in transcript form.
In both calls, Fields talks about the Nazi flag, Antifa and counter-protesters from Aug. 12, which the judge says also could show malice.
Earlier on Tuesday morning, the judge ruled text exchanges between Fields and his mother before the Unite the Right rally on Aug. 12, 2017 could be submitted as evidence.
He says the jury has the right to consider the texts as evidence because he says they show motive and Fields' state of mind at the time.
On Aug. 8, 2017, Fields texted his mother, "I got the weekend off, so I'll be able to go to the rally."
Two days later, she replied urging him to be careful.
Fields then replied on Aug. 11, "We're not the one [sic] who need to be careful." He also sent a small image of Adolf Hitler.
The prosecution argues this shows malice, which is a critical part of the first-degree murder charge Fields faces for the death of Heather Heyer.
The defense says the image shows prejudice and has no value as evidence in the case.
The judge sided with the Commonwealth, saying the image shows malice, including both hatred and danger, which the jury has the right to see.
The prosecution was initially expected to rest its case before lunch Tuesday, but the motions hearing concerning the text messages took up much of the morning.
Prosecutors have witnesses that are still waiting to be called to testify regarding the car attack on Fourth and Water streets.
Fields, of Maumee, Ohio, is charged with killing Heather Heyer and injuring dozens with his car.