Late-term abortion debate heightens as Dems, GOP hold news conferences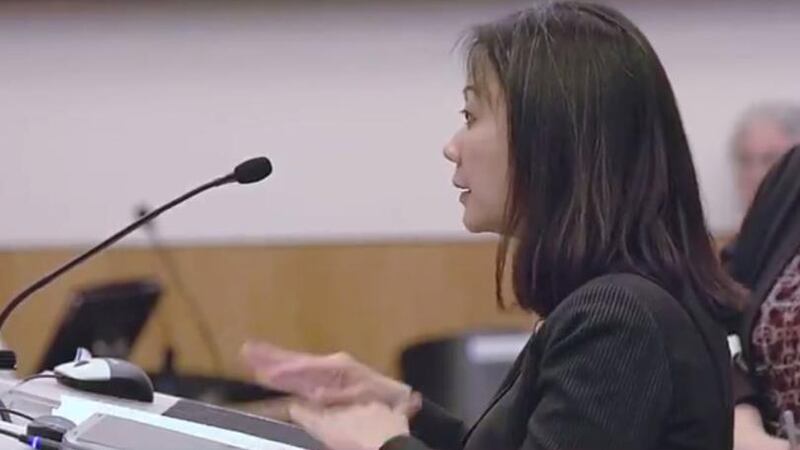 Published: Jan. 31, 2019 at 6:43 PM EST
The debate over late-term abortions is reaching new levels after Virginia Democrats and Republicans held separate news conferences Thursday.
Monday night, Del. Kathy Tran's (D-Fairfax) bill (HB 2491) failed in subcommittee. The bill
in the third trimester.
Similar legislation has been voted down twice before.
Thursday morning, House Speaker Kirk Cox (R-Colonial Heights) and other Republican leaders held a news conference following the heated discussion this week regarding that legislation.
This debate comes following New York's decision to allow late-term abortions.
"When I saw it from New York, it was extremely disturbing," Cox said. "Essentially, you have legislation that doesn't protect the unborn at all. That you can have an abortion up to the point of birth."
Under Virginia law, third-trimester abortions are allowed but require consultation with three doctors. They then determine if the woman could die or if her health would be "substantially and irremediably impaired" without the procedure.
Under Tran's bill, it would require just one doctor to sign off, among some other changes.
"I know women in my family, women in my district, and women across Virginia who have had to make the very personal decision as to whether they're going to have an abortion," Tran said in a video posted to Twitter Thursday. "That's why I introduced a bill to repeal the medically unnecessary and unduly burdensome barriers that Virginia women face when they're accessing this health care service in consultation with their doctor."
Wednesday, Governor Ralph Northam defended Tran's bill during a radio interview on WTOP.
"It's done in cases where there may be severe deformities, there may be a fetus that's non-viable," Northam said. "So in this particular example, if a mother is in labor, I can tell you exactly what would happen. The infant would be delivered. The infant would be kept comfortable. The infant would be resuscitated if that's what the mother and the family desired, and then a discussion would ensue between the physicians and the mother."
Prominent Republicans accused the governor of supporting "born-alive abortions" and even infanticide.
"I think he was very clear in what he said," Cox said. "I think that was very disturbing."
Northam's communications director
clarifying his remarks:
"No woman seeks a third trimester abortion except in the case of tragic or difficult circumstances, such as a nonviable pregnancy or in the event of severe fetal abnormalities, and the governor's comments were limited to the actions physicians would take in the event that a woman in those circumstances went into labor."
Thursday, the Governor, along with other Democratic leaders, held a news conference at 3:30 p.m. regarding the late-term abortion legislation:
On Thursday, Del. Kathy Tran corrected her answer that she gave to Del. Todd Gilbert in the video that went viral.
""I should have said: 'Clearly, no because infanticide is not allowed in Virginia, and what would have happened in that moment would be a live birth," Tran said.
Abortion rights groups such as the National Association for the Repeal of Abortion Laws and Progress Virginia continue to support Tran. Anna Scholl, executive director of Progress Virginia, said that Tran was a champion for women and that Republican legislators are taking her remarks out of context.
"We trust women to make decisions about their health care needs. Shame on politicians like Todd Gilbert and Kirk Cox for trying to distract us from the real issue here: getting politics out of the doctor's office," Scholl said.
Del. Gilbert, a Republican from Shenandoah County, is the House majority leader. At the Republicans' press conference, he equated abortion to murder. Gilbert said Democrats would allow late-term abortions out of concern not just for a woman's physical health but also for her mental health.
"It has nothing to do with saving a woman's life. A mental health concern could include anything that you can name that has an identifiable mental health issue -- depression, anxiety, feelings that one gets when one is about to have to care for a child," Gilbert said.
The House minority leader, Del. Eileen Filler-Corn of Fairfax, said Virginia women wouldn't be intimidated by House Republicans' scare tactics.
"House Republicans have used their majority to try to shame women -- to try to bully and dictate to women what we can and cannot do with our bodies," Filler-Corn said. "Virginia women are watching, and Virginia women are paying attention."
"The extremism of this agenda is now on full display not only for Virginians to see but for the United States and the world," said House Majority Leader Todd Gilbert. "The attention of the United States and the world is focused on Virginia and the agenda of our democratic colleagues on the issues of abortion."
Originally, 23 Democrats co-sponsored Tran's bill, but some, including Del. Dawn Adams of Richmond, said they would pull their support. The controversy has made national headlines and drawn widespread condemnation from Republicans. President Donald Trump criticized Northam for speaking in favor of Tran's bill.
"If Democrats gain control of the General Assembly this fall, they have a Governor who is ready to sign legislation that will remove every protection of unborn children related to abortion," said Delegate Kathy Byron. "We need to take these words seriously. We need to understand that this is what is yet to come folks."
"We believe legislators, most of whom are men, should not be making decisions about women's choices for their reproductive health," Northam said. "We can agree to disagree on this topic, but we can be civil about it." Northam said some Republicans were attempting to use the issue to score political points. Attorney General Mark Herring, who also spoke at the press conference, called Republican efforts to discredit Democrats "desperate" and "ugly."
Delegate Emily Brewer also spoke during the Republican news conference about her upbringing by adoptive parents.
"The testimony I watched earlier this week shook me to my core," Brewer said. "Back on that day in 1984 I didn't quite arrive on time, but I lived. Had this legislation been in place, who knows how things could have turned out."