Man recovering from dog bite asks neighbors to follow animal laws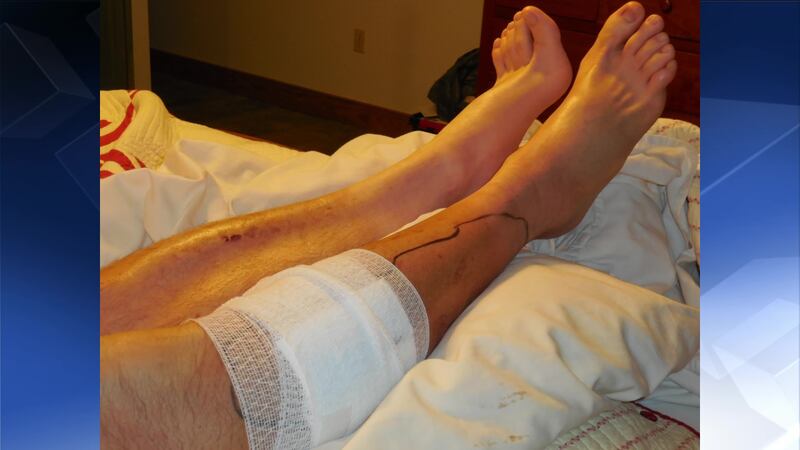 Published: Jun. 9, 2016 at 7:34 PM EDT
An Augusta county man is now beginning to walk around, nearly a month after being attacked by a dog.
"911 what are you reporting?"
"I just got torn off my bicycle by a d__n dog."
65-year-old Lewis Wright didn't expect that a peaceful bike ride along Edison Creek Road in Augusta County would end like this.
"And I'm going to have to have some kind of (non-audible)... I'm torn up pretty good," Wright added during the 911 call.
Four dogs chased after his bike until he felt the jaws of a Great Dane mix, chomping on his leg, crushing his calf muscle. The dog's owners, he says, no where in sight.
The attack stole his ability to walk for nearly a month. "I couldn't do anything," Wright said. "I was flat on my back with my legs propped up."
His active life-style was reduced to --two crutches.
The attack also gifted to him time to think. "I was mad because somebody let this happen," Wright said. "It's just a whole lot of anger."
According to Wright, the dogs were unsupervised, and he later found out his attacker was neither registered nor vaccinated --all of these, a violation of the county's animal code.
Also, Wright says, too many of his neighbors have also been victims.
"It's happened to them," Wright said. "It's happened in my family way too many times; my wife has been knocked off her bike."
This incident was costly to victim, dog, and owner: Wright will testify in court this month.
WHSV's Isabel Rosales reached out to the county's animal control office to get the owner's side of the story, but they can't comment due to the court hearing.
They did say they get calls like Wright's on a daily basis, but they do work hard educate the community on these laws.
Wright is regaining his health, and a healthy sense of humor. "I'm not very mad at the dogs, but I did have these dreams of hitting it with a brick --haha."
Wright asks dogs owners to familiarize themselves with the law, and never leave their dogs on public property unsupervised.