McAuliffe for president? Former governor to decide by March 31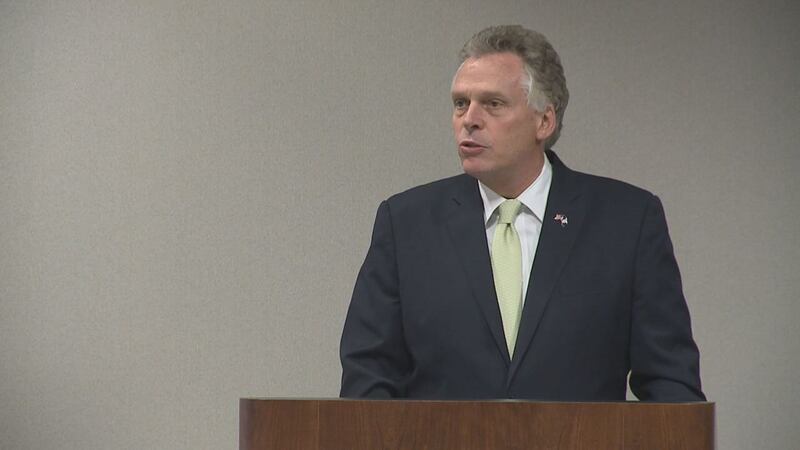 Published: Jan. 25, 2019 at 5:00 PM EST
Former Virginia Gov. Terry McAuliffe was the keynote speaker at the University of Virginia Center for Politics' 20th Annual American Democracy Conference on Thursday.
He said he'll announce his decision about running for the Democratic nomination for president by March 31 and predicted the swelling field of Democratic candidates would quickly be narrowed to a dozen or fewer by the fundraising demands of a presidential campaign.
Serious candidates, he said, would need to raise $50 million this year to be ready to compete.
He said Democrats need to stop making promises like free college for everyone and should focus instead on realistic goals to improve people's lives. He cited job training for well-paying open positions as an example.
"I'm all for aspirational goals," he said. "If you look at all the records we smashed here in Virginia, I'm all for it. We're the first state to end veteran homelessness. We have the best education system. We really redid our state, but it's got to be practical, and it's got to be actionable."
His speech focused on President Donald Trump's two years in office, and he delivered harsh criticism.
"I don't believe the president has a moral core," he said.
McAuliffe recalled Trump's handling of Aug. 12, 2017, when Trump infamously blamed "both sides."
"It was a tough day for us," McAuliffe said, describing his personal sense of loss over the Aug. 12 deaths of two Virginia State Police troopers.
Trooper Berke Bates and Lieutenant Jay Cullen, who'd been part of his security detail, died when their helicopter crashed just outside Charlottesville.
But McAuliffe said his disgust over the actions of Unite the Right rally attendees was surpassed by Trump's response to it.
"The biggest disappointment for me was the President of the United States, who had the opportunity to rise above it, to put an end to this fear, this division, this hatred, this racism, and he failed to do it," McAuliffe said.
McAuliffe also criticized Trump over the ongoing government shutdown.
"I don't think he does anything to try and bring people together or to try to uplift our country," he said. "Everything, everything, is about Trump."