McAuliffe vetoes bills seeking religious protections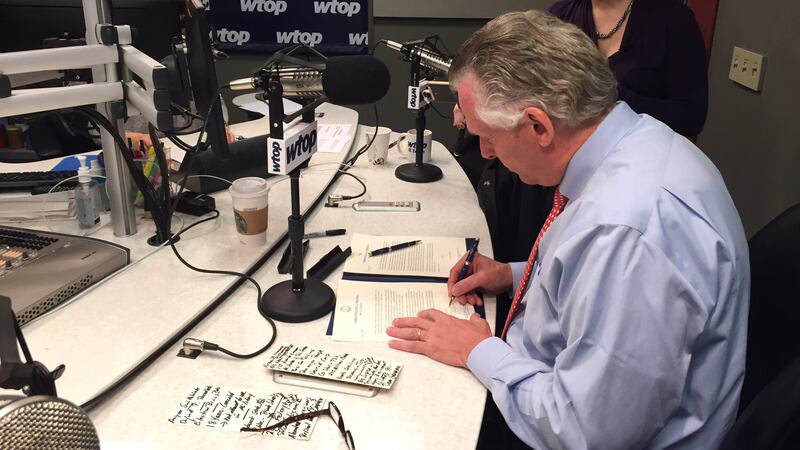 Published: Mar. 23, 2017 at 1:18 PM EDT
Virginia Gov. Terry McAuliffe has vetoed
that would bar the government from punishing anyone who refuses to participate in same-sex weddings because of their religious beliefs.
Senate Bill 1324 and House Bill 2025 were identical bills.
While no one is currently forced to perform a same sex marriage ceremony, the bills targeted the withholding of state grants, loans, scholarships or contracts.
McAuliffe, a Democrat, vetoed similar legislation last year. Republican supporters say the measure is necessary to protect religious freedom.
But the governor said as he signed the veto Thursday while on WTOP-FM that the Constitution already protects legitimate religious freedoms and the vetoed legislation is designed to stigmatize couples. McAuliffe says if the legislation had become law, it would have been detrimental to the state's economy.
The governor, who is often at odds with the GOP-controlled General Assembly over social issues, has now vetoed more bills than any other Virginia governor.
In February, Dean Welty, the Director of the Valley Family Forum, told WHSV a newly elected governor next session may give new hope to supporters of similar bills.
"If they do not understand that religious liberty is the first of our constitutional freedoms, they do not deserve my trust or vote," Welty said of his support for any gubernatorial candidate.
Here is McAuliffe's full statement on his decision to veto the legislation:
Pursuant to Article V, Section 6, of the Constitution of Virginia, I veto Senate Bill 1324, which would shield from civil liability those who actively discriminate against same-sex couples. I vetoed this exact same bill last year, and my rationale for that veto remains the same. Although couched as a "religious freedom" bill, this legislation is nothing more than an attempt to stigmatize. Any legitimate protections afforded by Senate Bill 1324 are duplicative of the First Amendment to the Constitution of the United States; Article I, Section 11 of the Constitution of Virginia; and the Virginia Religious Freedom Restoration Act. Any additional protections are styled in a manner that prefers one religious viewpoint—that marriage can only validly exist between a man and a woman—over all other viewpoints. Such a dynamic is not only unconstitutional, it equates to discrimination under the guise of religious freedom. This legislation is also bad for business and creates roadblocks as we try to build the new Virginia economy. Businesses and job creators do not want to locate or do business in states that appear more concerned with demonizing people than with creating a strong business climate. Legislation that immunizes the discriminatory actions of certain people and institutions at the expense of same-sex couples would damage Virginia's reputation for commonsense, pro-business government. We need only look at the damage these types of laws are doing in other states to understand the harm this bill could bring to our Commonwealth and its economy. We should be pursuing policies to make Virginia a more vibrant and welcoming place to live, work, and raise a family. Senate Bill 1324 would accomplish the opposite by making Virginia unwelcome to same-sex couples, while artificially engendering a sense of fear and persecution among our religious communities. Accordingly, I veto this bill. Sincerely, Terence R. McAuliffe
Bishops Michael Burbidge and Francis DiLorenzo, of the Virginia Catholic Conference, issued their own statement on the governor's veto of the bills:
For the second straight year, Governor McAuliffe has vetoed legislation that would have protected clergy and religious organizations from being punished by the state because they follow the deeply held teachings of their faith. The governor's veto of SB 1324 and HB 2025 ignores Virginia's long tradition of upholding the religious freedom of faith communities which dates back to Thomas Jefferson. It turns a blind eye to the great impact of these organizations that serve Virginians every day. The bill merely sought to preserve fair access to public resources – like tax exempt status, contracts, grants and licensure – for religious charities and schools that hold to their longstanding belief that marriage is between a man and a woman. The governor said the legislation was "another attempt to stigmatize" – when in fact vetoing the legislation did just that by sidelining religious entities that hold to their deeply held religious beliefs. Acting on our behalf and our belief that all people have inherent dignity and are deserving of respect, the Virginia Catholic Conference defended the religious freedom of Catholic organizations that are lifelines to the Virginia communities they serve. They employ nearly 25,000 people, educate over 30,000 students, and provide hundreds of millions of dollars in services to the homeless, elderly, sick, uninsured, refugees, immigrants and children in need of foster care in every corner of Virginia. Just as serving the most vulnerable is inherent to our Catholic faith, so is our understanding about the nature of marriage. We cannot sever one from the other. We are dismayed that with this veto the Governor fails to recognize the right of these organizations to profess and practice their faith. We will continue to stand for Virginia's long tradition of upholding the religious freedom of faith communities. Tolerance of and respect for religious beliefs makes our Commonwealth strong and our communities even stronger. We would also like to thank SB 1324 patron Senator Bill Carrico and HB 2025 patron Delegate Nicholas Freitas for defending these values with passion, persistence and eloquence throughout the 2017 Virginia General Assembly session.