Middle school students attend 11th Annual Handicapped Kids Fishing Day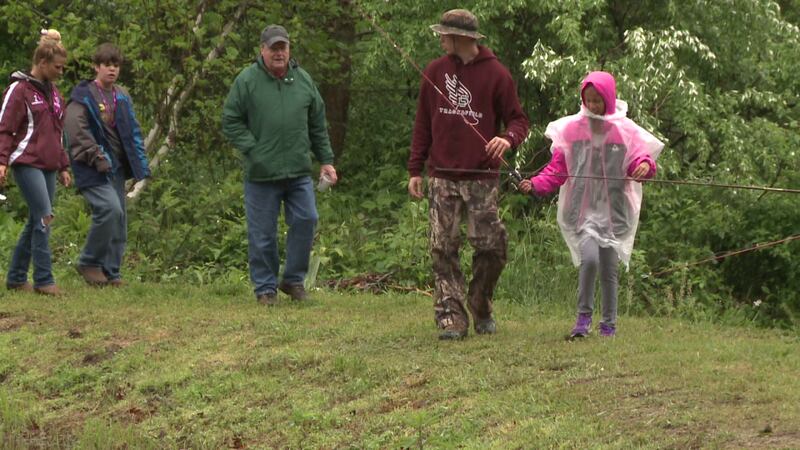 Published: May. 12, 2017 at 2:27 PM EDT
For some, it's already a tradition, while others see it as an opportunity to try something new. It's the 11th Annual Handicapped Kids Fishing Day in Churchville.
Every year, the Staunton Augusta Chapter of the
invites middle school students to participate in a day filled with fun on the 130-acre property.
The Izaak Walton League is a national organization that strives to protect our natural resources through outreach and education programs with members of the community.
Members pop a few trout in the pond and let the kids do the rest!
Frank Wade, league member and chairman for the event, said this day gives students with disabilities the opportunity to chat with other kids in the area, while learning different skills.
"The students act so much different here in this relaxed atmosphere outside of the school and outside of the classroom and they grow," said Wade. "It's also a part of their educational process. Teachers have different goals for them, to come out here, it's socialization and they also teach them about fish and other things in the classroom."
Bethany Bloser is a special education teacher at Stuarts Draft Middle School. Blosser said she's attended this event for the last three years and it's something her kids always look forward to.
"The fact that a group of men want to take time out of their busy schedules to work with my students, there's not a lot of people who want to do that," said Blosser. "So it was really special."
Eighteen students from Stuarts Draft and Wilson Middle School stopped by.
This event is put on every year in honor of Erik Johnson, a member's son who died from a heart attack at just 34 years old. His father said he was great with kids and would've been out here with the rest of them if he was still alive.
The 11th Annual Handicapped Kids Fishing Day is sponsored by the Staunton Augusta Chapter of the Izaak Walton League. Volunteers and local business owners helped to make this event possible.