Monument honoring families who lost homes in national park to be unveiled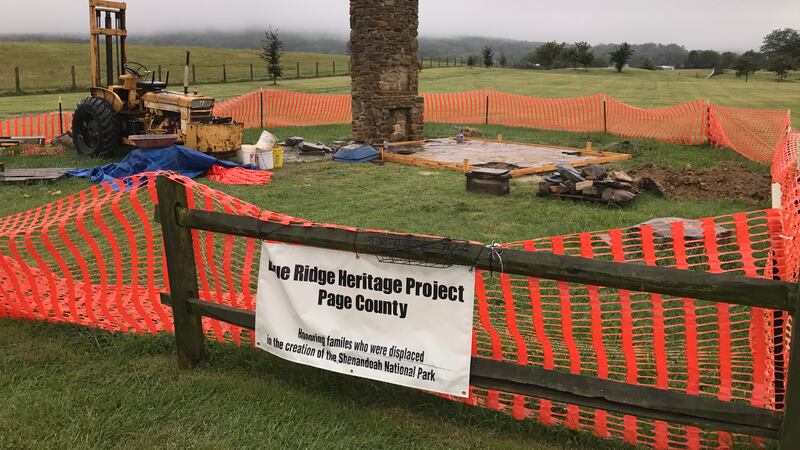 Published: Aug. 29, 2017 at 11:53 AM EDT
The Blue Ridge Heritage Project is putting the finishing touches on a monument in Ed Good Park in Stanley to honor the families who were displaced in Page County when the Shenandoah National Park was formed in 1935.
The monument is the fourth of eight planned monuments put together by the Blue Ridge Heritage Project to honor at least 500 families that lost their homes in the early 20th century to Shenandoah National Park. In Page County alone, more than 130 families were removed.
For an in-depth look at how families throughout the area were impacted for generations due to the forced relocations, check out a WHSV special report by Meteorologist Laura Mock
.
The new monument is like the other three in Madison, Albemarle and Rappahanock Counties. It features a chimney representing the ruins left behind, the patio is similar to the floor of many cabins in the early 20th century, and there will be a plaque listing the family names. There are still plans to build monuments in Rockingham, Greene, Warren and Augusta Counties.
The Page County monument was put together by stonemason Clyde Jenkins who knew some of the families and says this project has been the highlight of his life.
"It was a real honor to be able to do something like this, in memory of them," said Jenkins. "Most of them are gone and it's sad, but this is something that other people will be able to see and enjoy."
Jenkins says he also recruited some local teenagers to get them active in the community and teach them about masonry.
There will be a dedication ceremony on September 17th at 3 p.m. at Ed Good Park in Stanley.
You can track the progress on these monuments through
.