Northam declares State of Emergency ahead of Charlottesville anniversary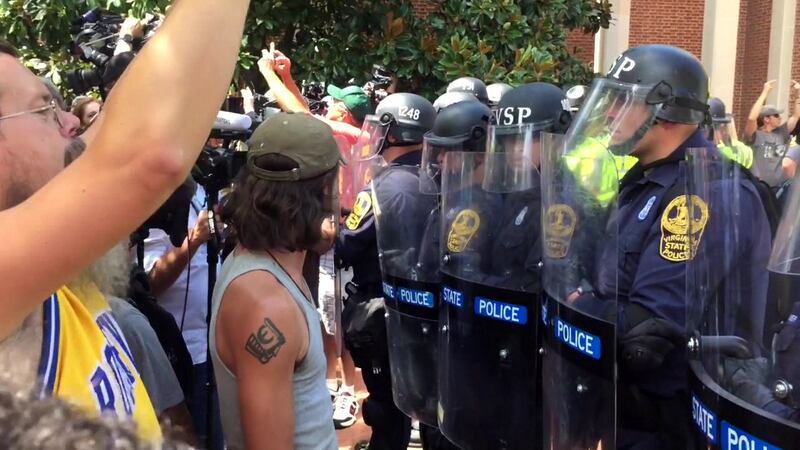 Published: Aug. 8, 2018 at 3:04 PM EDT
Governor Ralph Northam has declared a state of emergency for the Commonwealth of Virginia and the city of Charlottesville ahead of this weekend's planned events to mark the anniversary of the deadly "Unite the Right" rally in 2017.
Several events are planned in Charlottesville and northern Virginia around Washington, D.C., and concerns of potential violence have pushed Governor Northam to declare the states of emergency.
The announcement allows Virginia to fund state resources, such as the Virginia National Guard and State Police, to be deployed to Charlottesville in the response of the planned rallies.
In a press release from the governor's office, Governor Northam remembered last year's event and spoke of the need of the state of emergency.
"Virginia continues to mourn the three Virginians who lost their lives in the course of the demonstrations a year ago," Northam said.
Last year, 32-year-old Heather Heyer was killed while protesting in the city when James Alex Fields allegedly drove a car directly into a crowd. Virginia State Police Troopers Lieutenant H. Jay Cullen, III and Trooper-Pilot Berke M.M. Bates died when a State Police helicopter that had been monitoring violence in Charlottesville crashed just outside of the city.
"I am urging Virginians to make alternative plans to engaging with planned demonstrations of hate, should those arise," the governor continued. "Declaring this state of emergency in advance of the anniversary and the related planned events will help us ensure that the state and the city have all available resources to support emergency responders in case they are needed," the governor continued.
"We have learned many lessons from the tragic events of August 12, 2017. For the anniversary of that difficult August weekend which resulted in three lost lives, the City of Charlottesville, Albemarle County, and the University of Virginia are working closely with law enforcement and public safety agencies from around Virginia to plan for potential events and to keep our city safe from violence," said Charlottesville's Interim City Manager Mike Murphy. "We join the Commonwealth in declaring a state of emergency in advance of these planned events to ensure all available resources are in place and that we are fully prepared to keep the peace in Charlottesville August 10–12."
Jason Kessler, the organizer of last year's rally and those planned for this year, was rejected for a permit to hold an anniversary rally in Charlottesville. He challenged the decision in court, but dropped the lawsuit at the last minute and instead chose to focus efforts on Washington, D.C., where former KKK leader David Duke is expected to speak this weekend.
The Virginia state of emergency will mobilize and fund state resources from the state Department of Emergency Management, Virginia State Police, Department of health, National Guard and other agencies.
It also activated the Virginia Emergency Operations Center to coordinate state resources.
The declaration allocates $2 million to pay for this response and authorizes the Virginia National Guard to assign forces to assist in security efforts.
With regards to the security area downtown, law enforcement personnel will man two entry points for pedestrians seeking to end the security area.
Those entry points will be on First Street S and Water Street and at Second Street SE and Water Street.
The city has also announced a list of prohibited items that will not be allowed within the security area, which includes BB guns, pellet guns, air rifles or pistols, paintball guns, pellet guns, nunchucks, tasers, stun guns, heavy gauge metal chains, lengths of lumber or wood, poles, bricks, rocks, metal beverages or food cans or containers, glass bottle, axes, axe handles, hatchets, ice picks, acidic or caustic materials, hazardous or flammable or combustible liquids, skateboards, swords, knives, daggers, razor blades or other sharp items, metal pipes, pepper or bear spray, mace, aerosol sprays, catapults, wrist rockets, bats, sticks, clubs, drones, explosives, fireworks, open fire or open flames, and any other item that can be considered an "implement of riot."
Law enforcement officers will also be enforcing the state law against the wearing of masks in certain places. These include hoods or other devices that cover a "substantial portion of the face."
The security checkpoints will be effective the evening of Aug. 10 and last through the weekend.
You can read the governor's executive order declaring the state of emergency
.
You can find Charlottesville's plans to respond to any demonstrations this weekend
.