People gather across the Valley to ask 'Where is Bob?'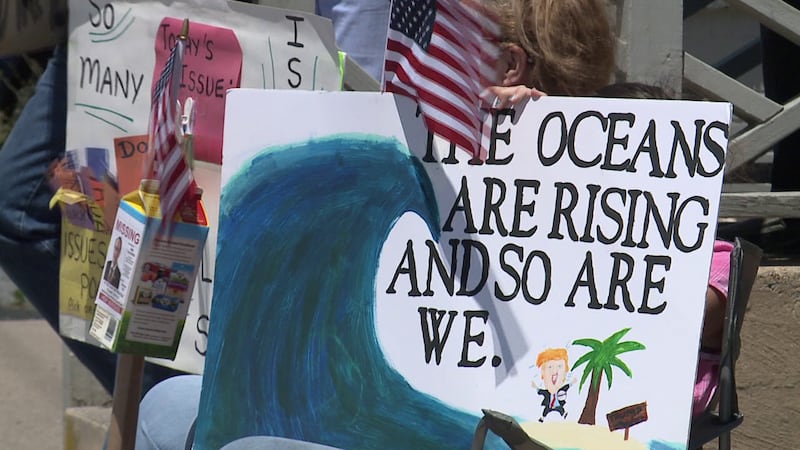 Published: Jun. 2, 2017 at 6:11 PM EDT
People in the Shenandoah Valley were on the hunt for Congressman Bob Goodlatte on Friday, coming out to several places both in and around the Shenandoah Valley.
In both Staunton and Harrisonburg, folks came out to ask one question — 'Where is Bob?'
People in the sixth district came to the steps of Bob Goodlatte's office because they feel like they aren't being heard.
They want Bob Goodlatte to sit down and meet with them face to face.
Protesters understand he has had Facebook Live town halls and phone call town halls, but they say it isn't the same as meeting with someone in person.
It's a demand his constituents have made before
.
We asked the people there on Friday what they see as a solution, and while they had some suggestions, one stuck out to them.
"You know, I have a sign that might address that. It's called the top ten places to retire. If he is not willing to do his job, perhaps he should consider stepping aside for someone who is," said Laura Henderson, with Indivisible of Warren County.
There were signs of all kinds at the event.
While the event mainly took aim at Goodlatte, President Trump and the GOP also showed up in many signs.
This isn't the first time people in our area have come out to voice their frustration with representative Bob Goodlatte, and it is sure to not be the last.
One of the most recent times Goodlatte was in the area was for an
in March. Earlier, he stopped by WHSV for a
about the GOP's plan to replace Obamacare.