Many call on Northam to resign over racist yearbook photo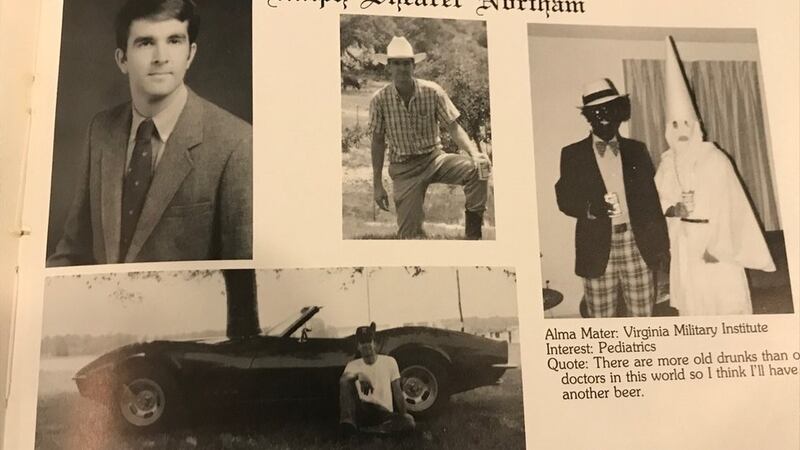 Published: Feb. 1, 2019 at 4:57 PM EST
UPDATE (12:45 p.m.):
Virginia Gov. Ralph Northam appears all but certain to resign after losing support from every Democratic state lawmaker and other close allies.
Virginia's Legislative Black Caucus, the state House Democratic Caucus and the state Senate Democratic caucus all called on Northam to resign late Friday after acknowledging he appeared in a photo from his 1984 medical school yearbook in a racist costume.
Several other influential advocacy groups with strong ties to the Democratic governor, including the League of Conservation Voters and NARAL Pro-Choice Virginia, also called on Northam to resign late Friday.
The governor had previously resisted calls for his resignation after the photo went public Friday afternoon.
But he now faces an almost untenable situation without the support of any Democratic lawmakers or other allies.
__________
UPDATE (11:45 p.m.):
Virginia Gov. Ralph Northam released a video apology on Twitter today around 8:30 p.m. In the video, he says his actions do not represent who he is today.
"But I accept responsibility for my actions, and I am ready to do the hard work of regaining your trust."
In the video, Northam also says he is committed to serving out the remainder of his term as governor.
Despite the video apology and the statement, there are increasing calls nationwide for the governor to resign, including tweets from Democratic presidential hopefuls Sen. Kamala Harris, D-California, Sen. Kirsten Gillibrand, D-New York, Sen. Cory Booker, D-New Jersey.
The Virginia Education Association is calling on Northam to resign.
Both the Virginia House and Senate Democrats have called for Northam's resignation. The Republican Party of Virginia also called for his resignation.
Former Virginia governor Terry McAuliffe released a statement on Twitter as well, saying "It's time for Ralph to step down, and for the Commonwealth to move forward."
The Virginia Legislative Black Caucus also called for the governor's resignation. Political analyst Dave McQuilkin said earlier this evening that Northam's fate is up in the air.
"How are the democrats in the party across the state going to respond? How are the affected constituencies going to respond," McQuilkin said. "Will they rally around him, or will they simply turn their back upon him?"
WHSV's Hannah Hall also spoke with a member of the Harrisonburg-Rockingham NAACP chapter. Elizabeth Nathanson said she thought the picture was horrible.
"I thought all of that was said and done and over with many, many years ago. And it was, I thought, not fitting of a governor."
The national president of the NAACP also issued a statement calling on Northam to resign.
We'll continue to update this story as we have more information, and you can see statements from other lawmakers and politicians below.
_____________
UPDATE (6:15 p.m.):
Virginia Gov. Ralph Northam acknowledged Friday that he appears in a photo on his 1984 medical school yearbook page that shows a person in blackface and another wearing a Ku Klux Klan robe.
The revelation of the photograph prompted the Republican Party of Virginia to call for his resignation. Northam issued the following statement as an apology:
"Earlier today, a website published a photograph of me from my 1984 medical school yearbook in a costume that is clearly racist and offensive. "I am deeply sorry for the decision I made to appear as I did in this photo and for the hurt that decision caused then and now. "This behavior is not in keeping with who I am today and the values I have fought for throughout my career in the military, in medicine, and in public service. But I want to be clear, I understand how this decision shakes Virginians' faith in that commitment. "I recognize that it will take time and serious effort to heal the damage this conduct has caused. I am ready to do that important work. The first step is to offer my sincerest apology and to state my absolute commitment to living up to the expectations Virginians set for me when they elected me to be their Governor."
Northam did not identify which costume he was wearing in the photo. At this point, it is unclear what action, if any, the General Assembly will take.
If Northam were to resign, as many have demanded, Lt. Gov. Justin Fairfax, who is African-American, would assume the governor's office as Virginia's second African-American governor in history.
Fairfax
for stepping down from the dais in the General Assembly in protest of the Virginia Senate honoring Confederate Gen. Robert E. Lee.
_________
A photo that was included on a college yearbook page of future Governor Ralph Northam shows two people, one in blackface and another in a Ku Klux Klan costume.
The picture comes from the 1984 Eastern Virginia Medical School yearbook. The page for Northam, who was earning his medical degree, includes several photos of Northam, including a headshot and two more casual photos. Beside the photos where Northam is clearly identified, a photo of two people in costume appears.
The photo shows two people looking at the camera — one in blackface wearing a hat, bow tie and plaid pants; the other in white Klan robes. The two individuals are both shown holding canned drinks.
Underneath is a quote: "There are more old drunks than old doctors in this world so I think I'll have another beer." The page also lists his undergraduate alma mater and his interest as pediatrics.
It is not clear who either individual in the photo is.
In response to the photo, Republican Party of Virginia Chairman Jack Wilson called on Northam to resign if it depicts him.
"Racism has no place in Virginia," said Wilson. "These pictures are wholly inappropriate. If Governor Northam appeared in blackface or dressed in a KKK robe, he should resign immediately."
Last week, Florida's secretary of state resigned after photos from a 2005 Halloween party showed him in blackface while dressed as a Hurricane Katrina victim.
House of Delegates Speaker Kirk Cox (R-Colonial Heights), Senate Majority Leader Thomas K. Norment, Jr. (R-James City), House Majority Leader Todd Gilbert (R-Shenandoah), and Senate Rules Committee Chairman Ryan T. McDougle (R-Hanover) today issued the following statement:
"This is a deeply disturbing and offensive photograph in need of an immediate explanation by the Governor."
The photos were first published by the conservative news outlet Big League Politics, founded by a former Breitbart writer.
In a statement to ABC News, EVMS Director of Marketing and Communications Jennifer McCarrall said, "I can confirm the picture in question does appear in a 1984 student-produced publication. The EVMS library is open to the public and does provide access to its materials."
WHSV's ABC affiliate WVEC has confirmed the photo is in the yearbook, and has reached out to Governor Northam's office for comment.
For now, neither Northam nor Northam's close allies haven't said anything publicly. Democratic Sen. Jennifer McClellan, a well-known African-American lawmaker from Richmond, just shook her head when approached by a reporter seeking comment.
Northam, a folksy pediatric neurologist who is personal friends with many GOP lawmakers, has recently come under fire from Republicans for
.
"It's done in cases where there may be severe deformities, there may be a fetus that's non-viable," Northam said in an interview with WTOP. "So in this particular example, if a mother is in labor, I can tell you exactly what would happen. The infant would be delivered. The infant would be kept comfortable. The infant would be resuscitated if that's what the mother and the family desired, and then a discussion would ensue between the physicians and the mother."
Prominent Republicans accused the governor of supporting "born-alive abortions" and even infanticide.
"I think he was very clear in what he said," Majority Leader Kirk Cox said. "I think that was very disturbing."
Northam's communications director
clarifying his remarks:
"No woman seeks a third trimester abortion except in the case of tragic or difficult circumstances, such as a nonviable pregnancy or in the event of severe fetal abnormalities, and the governor's comments were limited to the actions physicians would take in the event that a woman in those circumstances went into labor."