Police encourage safety when 'catching 'em all'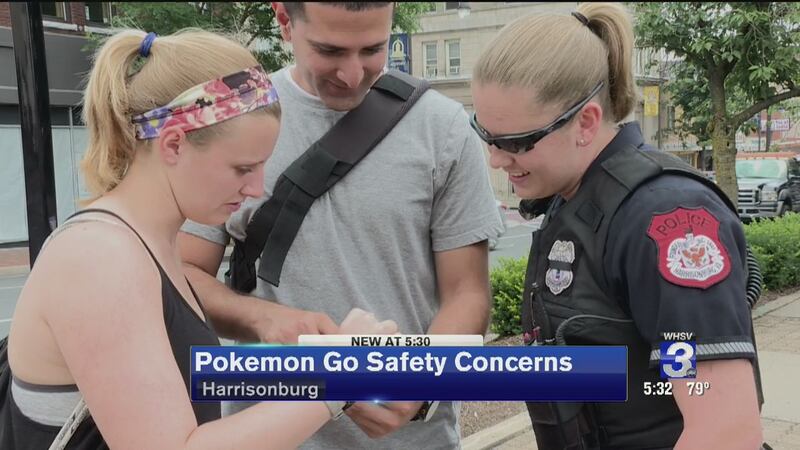 Published: Jul. 12, 2016 at 6:25 PM EDT
Pokemon GO, the location-based social application taking the country by storm, is also prompting warnings from local police.
The Harrisonburg Police Department want players to have fun, but to be safe while doing so. While police in the Friendly City have not had any issues with robberies related to the game, like have been reported in other parts of the country, officers say the game has created concern.
Since Monday, multiple local law enforcement agencies have used social media to warn about potential dangers, including Harrisonburg Police, the Augusta County Sheriff's Office, and Winchester Police.
Police are warning against using the app when driving, and they encourage users to pay attention while walking and using the app and to be aware of your surroundings.
The app, the say, can be dangerous to both pedestrians and drivers.
"They need to be taking the steps to make sure they're safe but we're gonna be out and making sure that we're doing what we can to keep people in the safest places they can be while they're playing the game. We want them to have fun, we just want them to be safe while they're doing it," explained Officer Brooke Wetherell, Community Resource Officer with the Harrisonburg Police Department.
Officer Wetherell added that just as you shouldn't text and drive, "don't be playing Pokemon while you're driving either, because it's just so unsafe. If you're focusing on anything other than your driving or your walking, then you're putting yourself and a lot of other people at risk."
Police also suggest not going to places you are not familiar with alone. In addition, they remind people that going on private property in search of Pokemon is illegal. In Virginia, it is illegal to be on school or church property without authorization past dark.
If your child plays Pokemon GO, police suggest setting limits for where your kids can search for Pokemon, like specific neighborhoods.
Police also remind them to not to talk to strangers at places where players may gather, or recommend using a buddy system, and to stay away from unfamiliar places.