Help Stuff the Bus with school supplies for thousands of Valley students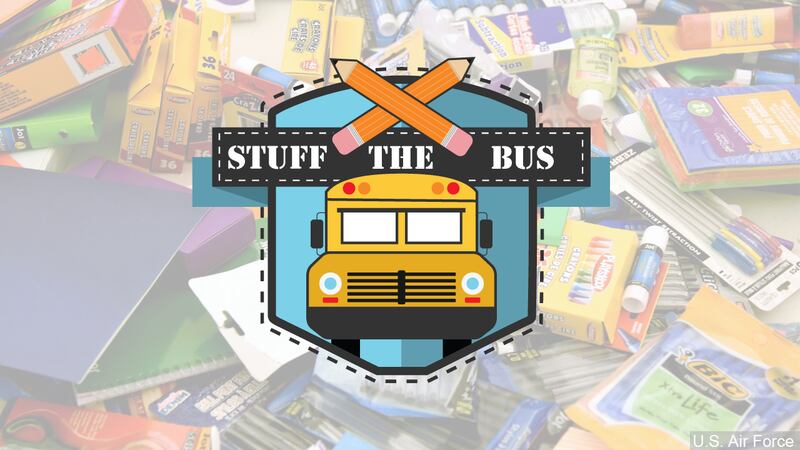 Published: Jun. 28, 2018 at 6:27 PM EDT
It is once again time to help "Stuff the Bus" and send kids in the Valley back to school with the supplies they need.
The Shenandoah County Sheriff's Office held its Stuff the Bus event July 6-8. SCSO collected enough supplies to fill backpacks for 760-780 students.
The
;
; and
districts are holding their Stuff the Bus supply drives from August 3-5 — over the tax-free weekend.
Volunteers will be collecting supplies from 9 a.m. to 6 p.m at Walmart stores in Harrisonburg, Dayton, Timberville, Staunton, Waynesboro, and Luray. There will also be a box to collect supplies at the Walmart Neighborhood Market on Port Republic Road. School supplies will stay in the county you donate them.
The United Way of Greater Augusta said they are looking to collect $70,000 in supplies. Last year volunteers collected more than $61,000 in supplies. All supplies collected go to local schools to be distributed to students. In the Greater Augusta area, about 50% of students are on free or reduced lunch, which means about 3,500 students are in need in the area.
In Harrisonburg and Rockingham County, the United Way collected almost $143,000 in supplies. This year they are hoping to collect more than last year. It also had a record-breaking 450 volunteers help collect, sort, count and distribute donations. Click
to volunteer at Harrisonburg or Rockingham County locations.
Page One said it collected more than 15,000 items last year. This year the organization hopes to collect 18,000 items.
Any school supplies can be donated. This year, the United Way of Greater Augusta said they've seen more supply lists include headphones or USB drives.
Other items added to the list this year include paper towels and Ziploc bags.
Here is a list of the most needed supplies requested for donation:
Glue sticks
#2 Pencils
Scissors
Pens
Back packs
Wide-ruled and college-ruled notebook paper
Index cards
Construction paper
Hand sanitizer
Tape
White bottled glue
Colored pencils
Crayons
Markers
1 and 2 inch 3-ring Binders
Erasers
Pencil boxes/pouches
Paper towels
Earphones/headphones
Pencil sharpeners
Spiral 1-subject notebooks
Marble composition books
2-Pocket folders
Tissues
Highlighters
Dry erase markers
Rulers
Ziploc bags
Binder Dividers