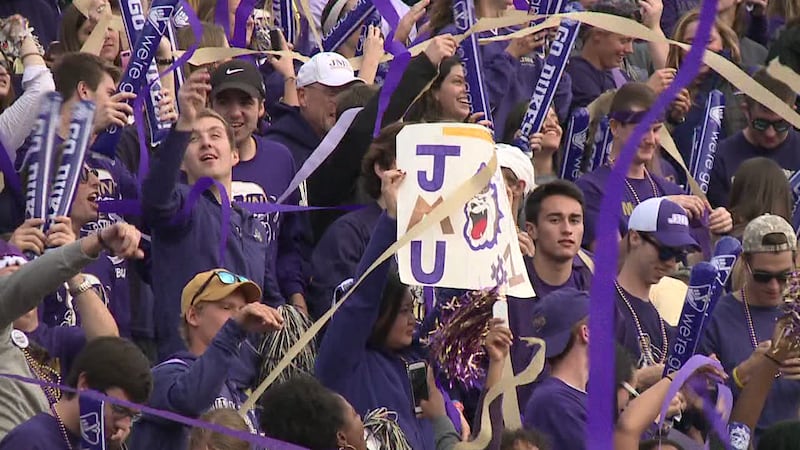 Published: Aug. 11, 2016 at 7:18 PM EDT
Three weeks from Saturday, James Madison football will take the field in its season opener at Bridgeforth Stadium, kicking off what Dukes fans hope will be an even better school year than the last.
In a special report you'll see only on WHSV, David DeGuzman sits down with JMU Athletic Director Jeff Bourne with a look at the state of the Dukes' athletic program after a year that saw unprecedented success.
The last 12 months have been a memorable school year for the Purple and Gold: a visit from ESPN's College Gameday, a historic run by the school's softball team and NCAA appearances by JMU athletes across nine different sports.
Jeff Bourne was astonished at the school's success.
"To be a hundred percent transparent, I never would've thought that a year ago, some of the things would've happened, that did happen this year," Bourne said. "I felt like we had bright days ahead of us. I just didn't expect quite the breadth of our success... best year in 30 years that we probably had competitively at this institution."
The 2015-2016 school year saw JMU own the best winning percentage of all Division One schools in Virginia.
But the Dukes endured losses as well —particularly with coaching staff.
Football, men's basketball and women's basketball saw a change of leadership, creating some uncertainty for JMU's major revenue sports heading into the new year.
David DeGuzman asked, "With the personnel that you have now, going into next year, how happy are you overall with your coaching roster?"
"I will tell you, I think the group that we've got on board right now are outstanding.... you get that optimism," said Bourne. "That 'can-do, we're gonna do it' type of mentality. And they work great together. They support each other. And that to me as a director tells you a lot about where your programs are going to go, based on that."
Long term, JMU is investing in its facilities. Jeff Bourne plans to expand seating for softball at Veterans Memorial Park. Meanwhile, fundraising for a new convocation center continues, though the money has come in more slowly than expected.
"When I wake up every morning, one of the first thoughts on my mind is: 'today, where do I go to find new dollars for that project because it's a critical project for us,'" Bourne continued. "I'm optimistic that if we keep doing our work, end of fall, we'll get that thing funded and then we'll be able to go into design and drawings. The goal would be to finish up that effort this fall and then, sometime next year, finish the plans for construction to follow as soon as possible."
What Bourne is not rushing towards is a move up to a conference in the Football Bowl Subdivision or FBS. This summer, the Big 12 announced plans to explore expanding its league: a move that could cause a domino effect and open the door for JMU to become an FBS school.
"This next year is going to be an interesting year to track because of the impact of what's going to happen with expansion in other leagues," Bourne said. "And there will have to be changes in those other leagues for anything to ever formally happen for JMU and for other schools. I do feel like that's going to happen. I'm not sure how soon and I'm not sure exactly which teams, but I know there will be change."
DeGuzman said, "But safe to say, JMU is waiting for the right opportunity before jumping ship."
"That is correct," Bourne responded. "We will not go and make a bad decision. We will go and make a strategic decision. And until that comes along, we make sure that our programs win championships, graduate kids at a high level and have fans that love what they see."
In the months ahead, Bourne hopes fans see an even better level of success than last year.
"Last year's the springboard and I really see this year as the year that we take the energy, the enthusiasm and excitement from all those positives and we build on it to even push us to a higher level," he said.
Just how high the Dukes can go will be a question answered on the field.
Jeff Bourne has a very optimistic outlook on many JMU teams this upcoming year.
From football and basketball to baseball and softball, you can find out what he thinks about those programs by checking out the extended interview video segments at the top of this article.