17-year-old graduates from Mary Baldwin with grad schools lining up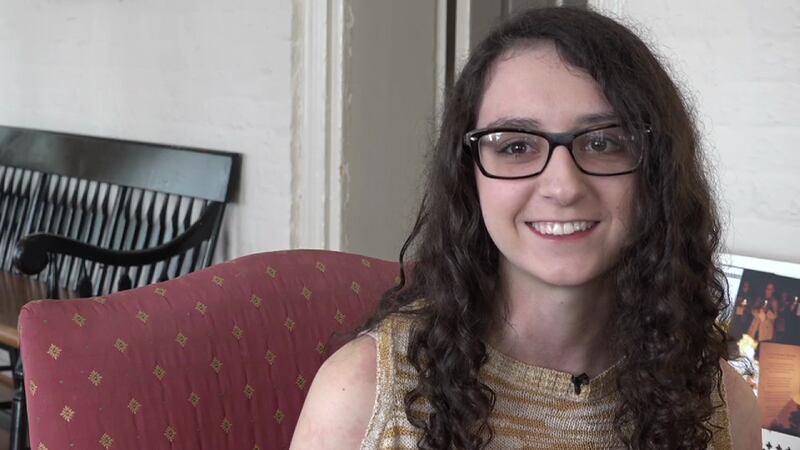 Published: Mar. 23, 2018 at 6:17 PM EDT
At just 17-years-old, Corinne Weeks is getting ready to graduate from Mary Baldwin University with a degree in applied mathematics and minors in chemistry and physics. And she already has her pick of prestigious graduate schools.
She has been attending Mary Baldwin since she was 15, as a part of their
.
"I liked that I could start on my college degree when I knew that, like, if I stayed in high school, I would just be trying to take as many AP classes as I could," said Weeks.
Weeks' academic advisor, Dr. John Ong, said her success was clear from the start.
"Within a year, you could tell she was going to do well no matter what, cause she's got ambition, she's got the work ethic, she's got the talent, and she's just a nice person," said Ong.
Through the program, Weeks said she has been able to keep her mind challenged by working with other bright, young women.
"I always think of her like a Sherlock Holmes, where she chips at a problem just using steady logic, so there's no flash of brilliance except at the very end, like Sherlock Holmes," said Ong.
In addition to challenging herself academically, Weeks said her experience at MBU brought her out of her shell.
"I definitely wasn't expecting to be involved in any leadership activities," said Weeks. "I know in high school, I stayed far away from any leadership activities 'cause we had like some 2,000 students in my high school, so that definitely took me by surprise."
Corinne is president of the Math Club; she served as co-president of the PEG residence hall; and this semester, she's on the MBU Honor Council, part of the Student Government Association.
After she graduates, Weeks says she is planning on getting her doctoral degree in chemical engineering — and after receiving nine full ride scholarships from top schools across the country, she has her pick of where to study next.
"I wasn't really expecting to get into any of the top schools. I was just hoping to get into, like, whatever I could, so I was definitely really shocked when I got like even my first acceptance, which I got from Purdue," said Weeks.
Right now, she has offers from Stanford, Princeton, Cornell, Michigan State, Purdue, and Case Western Reserve universities and the universities of Illinois, Texas, and Virginia.
Even though she hasn't made her final decision yet, Weeks said right now, she is leaning towards attending Stanford in the fall.
Although she will be leaving Mary Baldwin this spring, Weeks said she will always carry the school with her.
The PEG program at Mary Baldwin was created in 1985 and provides a special, all-female residence hall for the students, as well as tailored social outings for them and the same academic assistance as traditional MBU students.
Corinne Weeks' little sister, Camille, is now also a freshman in the PEG program at Mary Baldwin. The two can frequently be seen together around downtown Staunton.