The 'Snowmageddon' snow storm, February 2010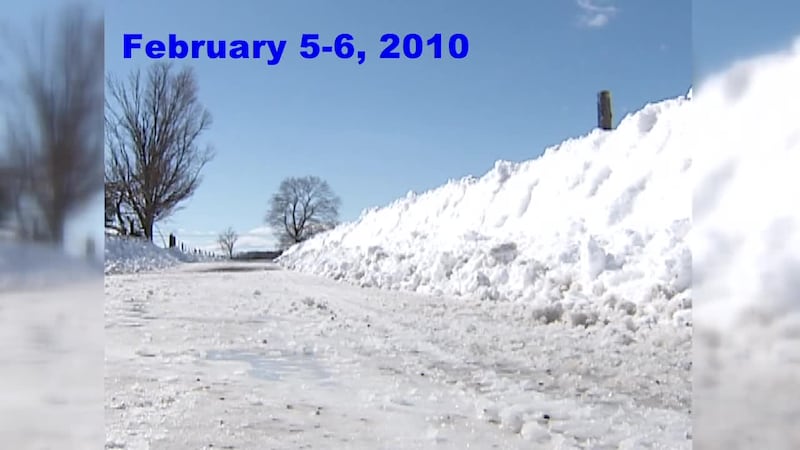 Published: Feb. 5, 2020 at 9:18 PM EST
|
Updated: Feb. 6, 2023 at 2:45 PM EST
By early February 2010, the area had already seen several big snow storms. The Alleghenies had already picked up more than 100″snow, and at least 30-40″ of snow for the rest of the area. On February 5-6, 2010, it was another major snow storm.
Snow started in the area as early as sunrise on Friday, February 5, 2010 and continued into Saturday evening on February 6th.
The area saw very heavy snow, at times leading to some very high, but not record-breaking, snowfall accumulations. Widespread, 15"-30" of snow fell. The highest total was in Moorefield and Lost City, West Virginia at 30".
For members of Staunton's Public Works Department, this storm was one of the most challenging in recent memory. Plows couldn't clear the roads since more than an inch of snow fell per hour. The other problem was the compaction of the snow on the road and cold temperatures in the following nights, led to the snow turning into ice on the roads, making it even more challenging to clear especially secondary roads.
The storm led to thousands of power outages across the state and plenty of clean-up work. At this point after multiple storms, many people were just trying to figure out where to put the additional snow.
For many people in the Valley, the storm brought just more days off from work or school; however, for those who plowed the streets, it meant some of the longest days they can remember.
The weight of the snow led to damage and roof collapses at poultry houses, barns, and some businesses. While some enjoyed the snow, it created a lot of extra work for local farmers. One dairy farmer in Weyers Cave lost dozens of cows when the roof of his barn collapsed.
By the end of the 2009-2010 season, snowfall for the Alleghenies topped 200″-300." The rest of the area picked up anywhere from 50″-70″ of snow for the season.
While this was not the snowiest winter on record, it is in the top five for the area.
STORIES FROM THE STORM