Phase 2 starts for most of Virginia this Friday; Full guidelines released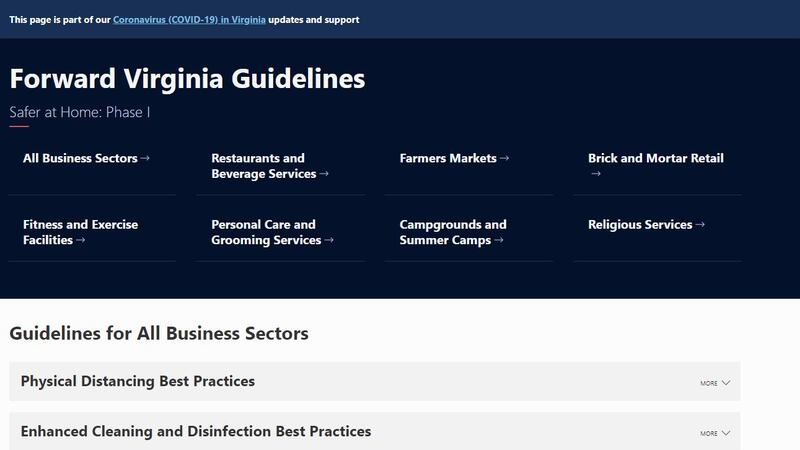 Published: Jun. 2, 2020 at 4:36 PM EDT
In
, Governor Ralph Northam also announced that most of Virginia will move into Phase 2 of reopening this coming Friday, June 5.
Northam signed
on Tuesday, presenting the official plan for Phase 2 of his "Forward Virginia" blueprint to steadily lift public health restrictions while continuing to limit the spread of COVID-19.
Northern Virginia and Richmond, which each entered Phase 1 this past Friday after 2-week delays, will not be included in the move to Phase 2 on Friday. Northam said that's because the data on cases in those areas has not yet improved to the point to allow a move to Phase 2 in those areas.
Accomack County, however, which entered Phase 1 at the same time, will join the rest of Virginia in Phase 2 on Friday. Northam said that's because their high numbers were due to specific outbreaks at poultry plants that now appear to be under control.
The governor said based on key health metrics around the commonwealth, including weeks of the percentage of Virginians testing positive dropping, steady hospital bed capacity, downward trends in the number of people hospitalized with COVID-19 cases, and much more testing available, public health officials determined it would be safe to move forward with Phase 2, though the data will continue being evaluated.
"Because of our collective efforts, Virginia has made tremendous progress in fighting this virus and saved lives," said Governor Northam. "Please continue to wear a face covering, maintain physical distance, and stay home if you are high-risk or experience COVID-19 symptoms. Virginians have all sacrificed to help contain the spread of this disease, and we must remain vigilant as we take steps to slowly lift restrictions in our Commonwealth."
Executive Order 65, signed by Northam on Tuesday, establishes the guidelines for Phase 2, which call for the following:
The original 'Stay at Home' order is a 'Safer at Home' strategy, calling for people to continue social distancing, teleworking, and requiring individuals to wear face coverings in indoor public settings, in accordance with the executive order signed last week.
Virginia's 10-person limit on gatherings will be expanded to a 50-person limit, and all businesses still need to adhere to physical distancing guidelines, frequently clean and sanitize high contact surfaces, and continue enhanced workplace safety measures.
Specific business changes are as follows:
Restaurant and beverage establishments may offer indoor dining at 50 percent occupancy
Fitness centers may open indoor areas at 30 percent occupancy with fitness equipment separated by at least 10 feet
Certain recreation and entertainment venues without shared equipment may open with restrictions. These venues include museums, zoos, aquariums, botanical gardens, and outdoor concert, sporting, and performing arts venues.
Swimming pools can open up to both indoor and outdoor exercise (like lap swimming), diving, and swim instruction. (Splash pads, saunas, hot tubs, etc. must stay closed
The current guidelines for religious services, non-essential retail, and personal grooming services will largely remain the same in Phase Two, including 50% capacity in both retail and houses of worship, and health restrictions for personal grooming services.
Overnight summer camps, most indoor entertainment venues, amusement parks, fairs, and carnivals will remain closed in Phase Two.
You can find the full Phase 2 guidelines for specific sectors
. The order at that link details mandatory requirements and recommendations for all sectors, including, for instance, the specific signage requirements for restaurants.
Answers to many frequently asked questions are available at
, although that overall page still mainly references Phase 1 guidelines.
The governor said more specifics would be outlined at his Thursday press conference.