Virginia transgender student drops part of landmark bathroom case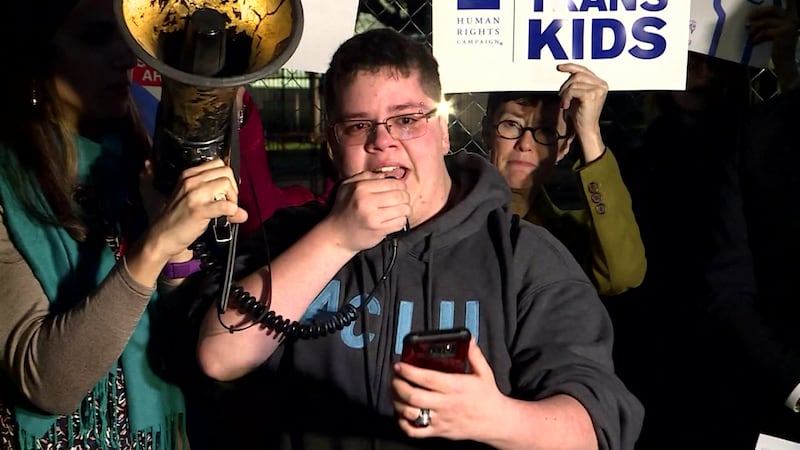 Published: Aug. 11, 2017 at 4:31 PM EDT
Gavin Grimm, the Virginia transgender student who took a fight to use the boy's bathroom at his high school to the Supreme Court, dropped part of his case Friday, after years of high-profile litigation that could have marked the first transgender case to be heard by the high court.
According to WUSA9, documents were filed in Richmond on Friday afternoon to drop the appeal for an injunction, based on concerns that Grimm no longer has standing in the case.
The ACLU, however,
Grimm's fight is continuing with a claim for damages and his demand to end the school's policy permanently, although his request for a preliminary injunction has been dropped. Lawyers with the ACLU will continue to seek a longer-term approach to permanently end the school policy.
"We believe that today's filing represents the most efficient path forward to ensuring that justice is served for Gavin," said Josh Block, senior staff attorney with the ACLU's LGBT & HIV Project.
His case was sent back from the 4th U.S. Circuit Court of Appeals to a district court earlier this month, so that a district judge could decide whether the case is now moot because Grimm recently graduated.
Grimm's case had come back to the appeals court after the Supreme Court declined to hear it. The Supreme Court decision came after President Donald Trump revoked guidance from the Obama administration saying transgender students should be allowed to use the bathroom of their choice.
Grimm hoped to change his Gloucester County school's bathroom policy, which prevented Grimm from using the men's room.
Grimm was born a female but identified as male from his freshman year, and has since been taking hormone therapy.
The Supreme Court said in an opinion without dissent that the case should return to a lower court in Virginia, after the Trump administration changed the U.S. Department of Education's policy on transgender bathrooms.
This is a developing story. Stay tuned to WHSV for updates