Red Hen reopens amid small protest for asking Sanders to leave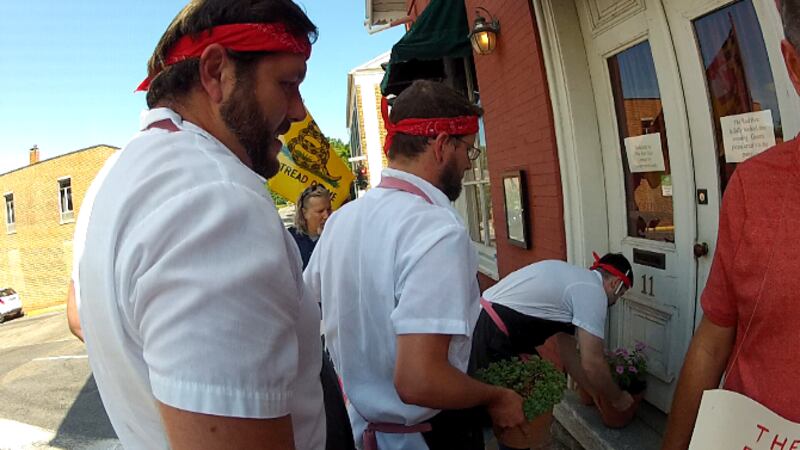 Published: Jul. 6, 2018 at 2:38 PM EDT
The Red Hen in Lexington reopened for the first time in about two weeks Thursday night.
The restaurant has been closed since June 23, when a tweet from Press Secretary Sarah Huckabee Sanders went viral saying she had been asked to leave the night before.
At 5 p.m. Thursday, three Red Hen employees laid flowers down at the foot of the restaurant. They did not say anything, but instead placed signs. One said, in part, "The Red Hen is fully booked this evening."
A crowd looked on.
"For the second time in a week, we've come three hours because this is a very important place to be," said Jeff Hulbert, founder of the Patriot Picket, based in Annapolis, Maryland.
About eight or nine people were protesting, holding signs and waving flags.
"We're here today, because actions have consequences," said Paul Brockman, spokesman for the Patriot Picket.
Others were hoping to support The Red Hen.
"We really feel like people need to stand up for what they believe and when people do it, it's bad to let them hang," said Marty Barlow, from Harrisonburg.
Thursday, those with reservations trickled in past protesters. Others tried to get a spot, but were turned away.
"I think it was very brave what the owner did, probably a very hard decision," said Don Mandelkorn, from Vermont, who was not able to eat at the restaurant.
The two sides had some arguments.
Terry Layman, from New Jersey, spoke out against protesters who were holding signs that said, "Red Hen 2018 = 1960 Woolworth Lunch Counter!"
"It wasn't about gender, it wasn't about sexuality or sexual preference. It was about enabling certain policies that were actually hurtful to the people who were making the food," said Layman.
It was clear that two weeks later, this is still a topic of conversation.
"I'm not really worried about fanning the flame as much as I am about getting the word out that we should have a discussion about this," said Hulbert.
It was a mostly calm crowd on re-opening night with everyone wanting to make sure their beliefs were shared.
"We have to have the courage to stand with people who believe they've done the right thing," said Barlow.
"We think the place for political statements is at the ballot box, not at the dinner table," said Brockman.
The restaurant denied WDBJ7's request for comment. It is not clear when they will be accepting walk-ins again.