JMU Lacrosse: #16 Dukes Take Down #3 UNC in Double-Overtime Thriller, 15-14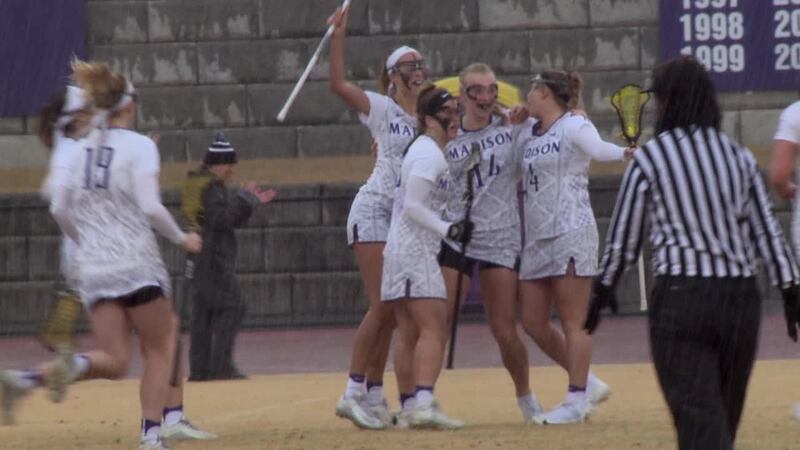 Published: Feb. 10, 2018 at 11:46 PM EST
Behind a career-high five goals from both senior attacker Kristen Gaudian and senior midfielder Elena Romesburg, 16th-ranked James Madison topped No. 3 North Carolina 15-14 in double overtime in the 2018 season opener on Saturday afternoon at Sentara Park.
The win marked JMU's first against the Tar Heels since Feb. 29, 2000, ending UNC's five-game win streak in the series.
Trailing 14-12 with less than five minutes to play, JMU scored twice down the stretch to force overtime. Romesburg pulled the Dukes to within one with a goal out front with 4:41 to play, and Gaudian squared the game at 14-14 with only 1:26 left when she ripped a shot through multiple UNC defenders for the score. After a scoreless first overtime, Gaudian rushed past a defender down low and placed a bounce shot in the bottom corner of the cage for the game winner just 67 seconds in.
Gaudian tied her career high with five goals and four draw controls, while Romesburg had a career-best five goals and matched her single-game best of five draw controls. Senior midfielder Haley Warden won a career-high eight draw controls, as the Dukes won the battle in the circle, 18-15. Warden is now third all-time at JMU with 145 career draws.
Senior attacker Katie Kerrigan also dished out four assists, one of her career best, and senior defender Rebecca Tooker notched a career-high five ground balls.
JMU out-shot UNC 34-31, including a 27-24 edge in shots on goal. JMU also forced 11 caused turnovers, to UNC's six and the Dukes held a 17-14 advantage in ground balls.