Strong pitching leads JMU baseball into conference play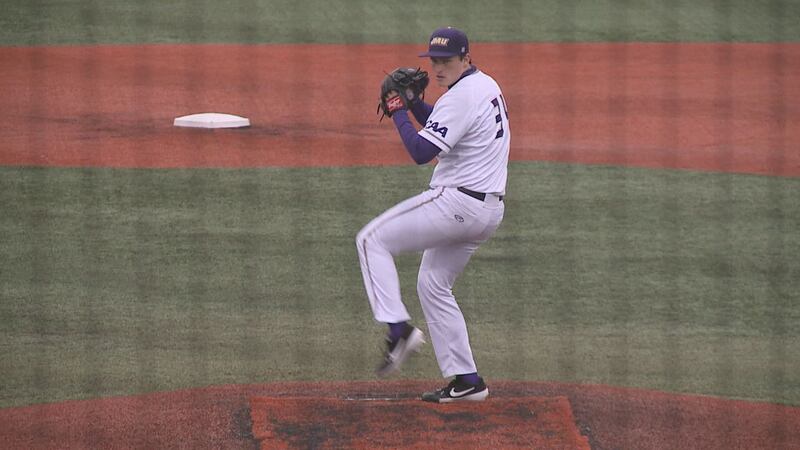 Published: Mar. 21, 2019 at 7:36 PM EDT
The James Madison baseball team opens conference play Friday at home against Delaware. The Dukes are led by one of the top pitching staffs in the CAA.
JMU's staff has recorded the most strikeouts of any team in the CAA with 218 K's in 22 games. The Dukes' team ERA of 3.78 ranks second among conference teams, behind William & Mary (3.47).
"They've been consistent and that's all we ask out of them," said JMU head coach Marlin Ikenberry, when discussing the Dukes' pitching staff. "We knew they were talented. The biggest thing for us is trying to find the right roles and create the right opportunities to be successful."
JMU is led by ace Kevin Kelly who is 4-1 with a 0.93 ERA in 29 innings pitched. Sophomore Nick Stewart has been a steady arm in the weekend rotation with a 2.35 ERA in 22 innings pitched.
The Dukes' bullpen features a deep group of talented hurlers. Redshirt junior Shelton Perkins has stuck out 27 batters in 17.1 innings pitched while fellow redshirt junior Brett Ayer has a 0.64 ERA to go along with 22 K's in 14 innings pitched. Redshirt sophomore Nick Robertson (0.84 ERA, 6 saves) has been lights out as JMU's closer.
JMU Projected Weekend Rotation
vs. Delaware - March 22-24
Friday, March 22 - 4 p.m.
Kevin Kelly (RHP) - 4-1, 0.93 ERA, 34 K, 29 IP
Saturday, March 23 - 4 p.m.
Nick Stewart (RHP) - 2-2, 2.35 ERA, 19 K, 23 IP
Sunday, March 24 - 3 p.m.
Joe Williams (LHP) - 1-1, 5.24 ERA, 21 K, 22.1 IP