Local author's latest thriller takes place in Augusta County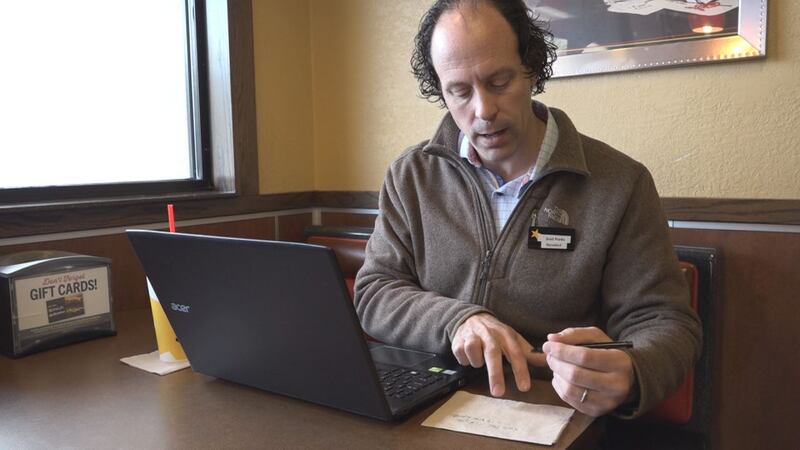 Published: Mar. 27, 2018 at 7:21 AM EDT
Local author Brad Parks recently published his latest thriller, and it takes place in the Valley!
"Closer Than You Know" is the title of Brad Parks's latest novel.
Parks said when he moved to Staunton, he thought the best way to get to know the area would be to meet the people and write a book!
"'Closer Than You Know' features Melanie Barrick, a young working mother who comes to pick up her child from daycare one day, only to learn that her baby has been taken away by social services and no one will tell her why," said Parks.
Barrick is a survivor.
"She has been through a lot in her life, and yet she has the resources to survive," said Parks.
She's named after a real person in Parks' life!
"Melanie Barrick is the breakfast manager here at Hardee's!"
That's not the only unique name.
"Mr. Honeywell is named after my thermostat!"
Parks has been a fiction writer since 2009 and calls Hardee's his writing sanctuary.
Hardee's will be installing a plaque commemorating Parks' work in his favorite booth.
"In this very booth, award winning author Brad Parks wrote his 2018 crime thriller 'Closer Than You Know.' It wasn't his first novel written at Hardee's, and we believe it won't be his last," said Parks, reading the inscription that will go on the plaque. "They are absolutely right!"
If you live in the Valley, you will recognize places in the novel, such as the Augusta County Courthouse and Middle River Regional Jail.
"Augusta County is the donut, and Staunton is the hole. I have things happening in the donut that don't happen in the hole," said Parks.
Parks says he didn't know it was possible to have so much fun working. He loves writing to entertain and move readers.
"When I get that e-mail from a reader, saying 'I stayed up until 2 a.m. finishing it,' that warms my heart in a way I cannot describe. That's the best feeling in the world!"
He reminds other writers that writing is a muscle; the more you work it, the better you'll get.
Parks also says you have to be bad before you'll be good, so don't give up!
You can find more information about the book and links to purchase it on Parks' website at
.