RCPS high school students address the school board for greatest needs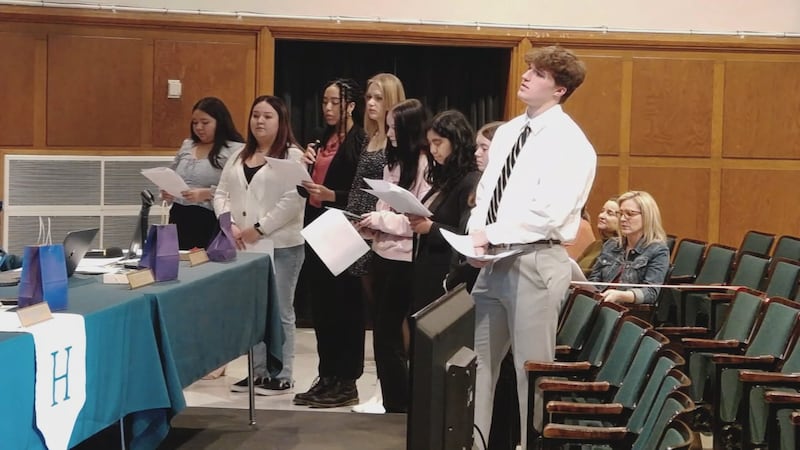 Published: Feb. 13, 2023 at 11:50 PM EST
BROADWAY, Va. (WHSV) - Eight students from Rockingham County public high schools presented what they believe students in the division's greatest needs are to the school board at their regular meeting on Monday.
This conversation was part of RCPS' Community Dialogue Group. The students were asked to assess what students need in order for everyone to have a safe and caring experience in RCPS.
Through a project including 450 high school juniors, student delegates came up with practical solutions to their "needs" based on psychologist Abraham Maslow's Hierarchy of needs. They presented that and an umbrella solution.
Their big solution was establishing a student advisory committee, similar to the ones that already exist.
"The mission for the RCPS student advisory committee is to allow student stakeholders to have a seat at any table at which decisions are made that impact education as well as before policies are implemented," one student representative said.
The board agreed that this was a solid solution.
"I absolutely love the idea and what I'll say is when you look at the topics that came up tonight, this wasn't the process where advisors, teachers, the office staff, or the superintendent were there to give them ideas. They actually brought the ideas to us," Superintendent Oskar Schiekl said.
Other needs addressed food insecurity, self-defense, mental health resources, project-based learning and more.
The committee has already been implemented by Dr. Scheikl. Since there was no policy change involved, it did not require a vote from the board. All that's left to do now is fine-tune the details.
To view the full meeting, click here.
Copyright 2023 WHSV. All rights reserved.